ANALISIS PENGENDALIAN PERSEDIAAN BAHAN BAKU DALAM MEMINIMASI BIAYA PRODUKSI DI PT VOLEX BATAM
Keywords:
bahan baku, eoq, silver meal
Abstract
Policy in determining the level of control of raw material inventory that must be maintained,
by placing orders to increase inventory to be made and how large orders must be held.
Cable raw material inventory data for several months, such as in March 2021 the company
experienced an excess of 3,000 pcs of raw materials, in April 2021 there was a shortage
of raw materials of 500 pcs, and the biggest shortage occurred in December 2021, which
was 4,000 pcs. occurs due to erratic demand from customers so that companies often
experience shortages and excess raw materials, sometimes shortages of raw materials
for delivery occur from suppliers who arrive late. The method used in this research is the
method of Economic Order Quantity (EOQ) and Silver Meal. The results of calculations
using the Economic Order Quantity (EOQ) inventory model, obtained the number of orders
for one order of cable raw materials is 39,200 pcs. Then for the safety stock of cable raw
materials outside the routine needs of cable raw materials as many as 23 pcs. The results
of the calculation of the time for reordering raw materials are 1,640 pcs. The total cost that
must be incurred by the company if using the Economic Order Quantity (EOQ) inventory
model is Rp. 11,091,666, - and using the Silver Meal method the company incurs a cost
of Rp. 8,241,666, - for cable raw materials.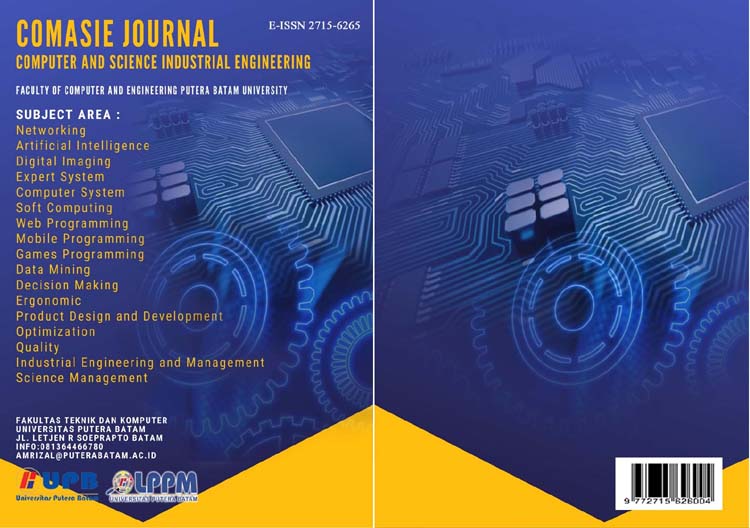 Downloads
How to Cite
Marpaung, R., & Susanti, E. (2022). ANALISIS PENGENDALIAN PERSEDIAAN BAHAN BAKU DALAM MEMINIMASI BIAYA PRODUKSI DI PT VOLEX BATAM. Computer and Science Industrial Engineering (COMASIE), 7(7), 116–126. Retrieved from https://ejournal.upbatam.ac.id/index.php/comasiejournal/article/view/6039