PERANCANGAN ALAT BANTU PENGAMBILAN PART YANG ERGONOMIS BAGI OPERATOR PRODUKSI DI PT NITTOH
Keywords:
Anthropometry; EFD; MSDs; NBM.
Abstract
This study is a research conducted on production operators at PT Nittoh Batam, in the manual handling work process workers have a high risk of Musculoskeletal Disorders (MSDs). The study was conducted by observing and distributing questionnaires to workers, the results of the Nordic Body Map (NBM) questionnaire total complaints obtained were 65% on body parts in the Neck, Shoulders, Waist, Hips, Buttocks, Hands, Thighs and Feet at work. From this situation, it is necessary to make improvements. To make improvements, the Ergonomic Function Deployment (EFD) method is used in designing based on the ergonomic aspects of ENASE, namely the tool in the form of a tray, anthropometric data used in determining the dimensions of the tool to suit the user are Shoulder Width (LB), Forearm Length (PLB) and Diameter Hand Grip (DGT). After the calculation, the dimensions of the tool are 45 cm wide, 35 cm long and 3 cm high, the complaint value which was previously 65% ​​after the design has decreased to 39%.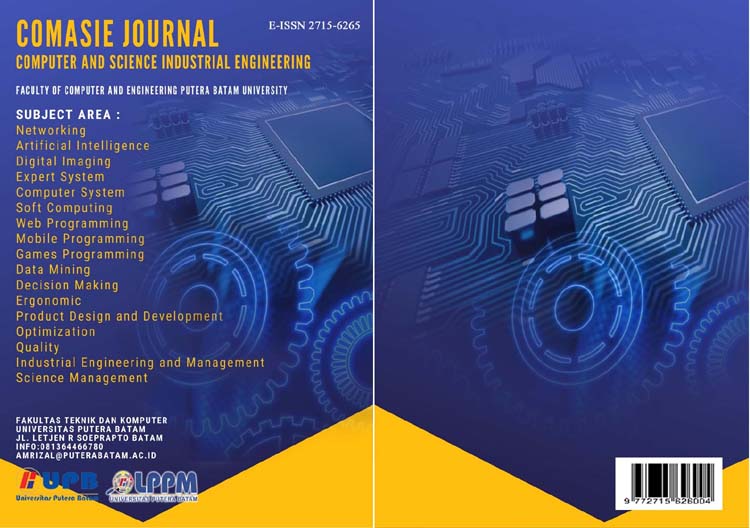 Downloads
How to Cite
USMAN, U. F. A., & Zetli, S. (2022). PERANCANGAN ALAT BANTU PENGAMBILAN PART YANG ERGONOMIS BAGI OPERATOR PRODUKSI DI PT NITTOH. Computer and Science Industrial Engineering (COMASIE), 7(4), 30–39. Retrieved from https://ejournal.upbatam.ac.id/index.php/comasiejournal/article/view/6070