SISTEM PAKAR DIAGNOSA PENYAKIT ASAM LAMBUNG PADA ORANG DEWASA MENGGUNAKAN METODE FORWARD CHAINING BERBASIS WEB
Keywords:
Keywords: Expert System, Forward Chaining, Stomach Illness
Abstract
ABSTRACT
A specialist framework is a framework that can mimic the thinking of a specialist into a PC so the PC can tackle issues which is to be expected by specialists or specialists. The information put away in the master framework is for the most part taken from a specialist regarding this situation. human. Master frameworks are typically utilized for investigation, discussion, finding and assist with simply deciding. The most common way of fostering this master framework utilizes the strategy for information securing with information assortment procedures utilized, in particular meetings and perceptions. While the strategy utilized is the forward tying technique which is utilized to dissect the side effects of the infection into a choice on the name of the illness. This master framework was made determined to help patients in diagnosing gastric sicknesses and giving accommodation to clients to counsel about illnesses of the stomach without meeting the specialists straightforwardly.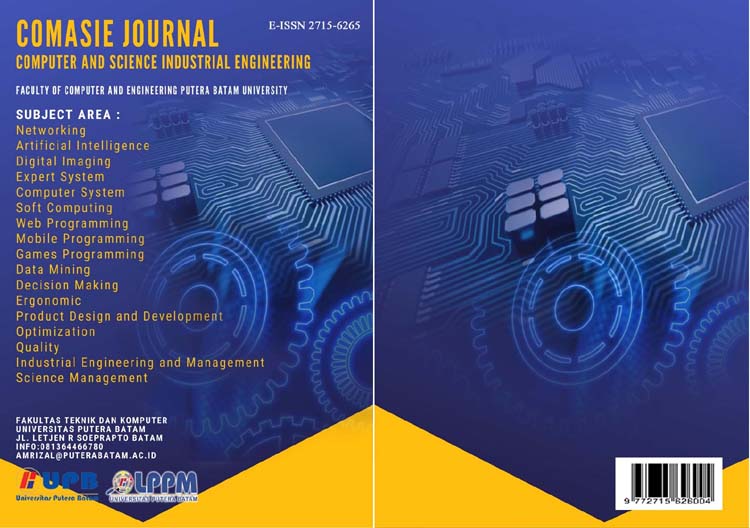 Downloads
How to Cite
Momy Dahlia Sinaga, M. D. S., & Fajrin, A. (2022). SISTEM PAKAR DIAGNOSA PENYAKIT ASAM LAMBUNG PADA ORANG DEWASA MENGGUNAKAN METODE FORWARD CHAINING BERBASIS WEB. Computer and Science Industrial Engineering (COMASIE), 7(7), 28–35. Retrieved from https://ejournal.upbatam.ac.id/index.php/comasiejournal/article/view/6073