ANALISIS PENERAPAN LEAN MANUFACTURING PADA LINE AUTOMOTIVE DI PT. OSI ELECTRONICS
Keywords:
OPTIMASI SISTEM MANUFAKTUR
Abstract
PT. Osi Electronics is a company engaged in electronics manufacturing services. inefficient activities that resulted in Line efficiency, namely 61.67% and balance delays 38.33%. other work processes have a low cycle time and many defects are found in the packing process that is not neatly arranged, resulting in direct rejection of the product using the Largest Candidate Rule method, this can be seen from the number of work stations in the process of combining work elements there is the elimination of 1 work station from another. previously 9 workstations became 8 workstations and previously each workstation had a fairly varied level of work efficiency because in the process there were differences in the work process at each workstation. The results for after work time efficiency are proportional to time efficiency, delay balance and efficiency index are quite good. The result for line efficiency is 96.26% which previously 61.67% stated that the ratio in carrying out a series of assembly activities at workstations has a fairly good proportion. and the Balance Delay result obtained previously was 6.4% 38.33% while at idle time it was 7.2 seconds, it is very low if we look at the previous result of 114.88 seconds. and for the Bottleneck condition in the Packing process, it decreased from 33.30 seconds to 24 seconds because of the good sequence of work elements.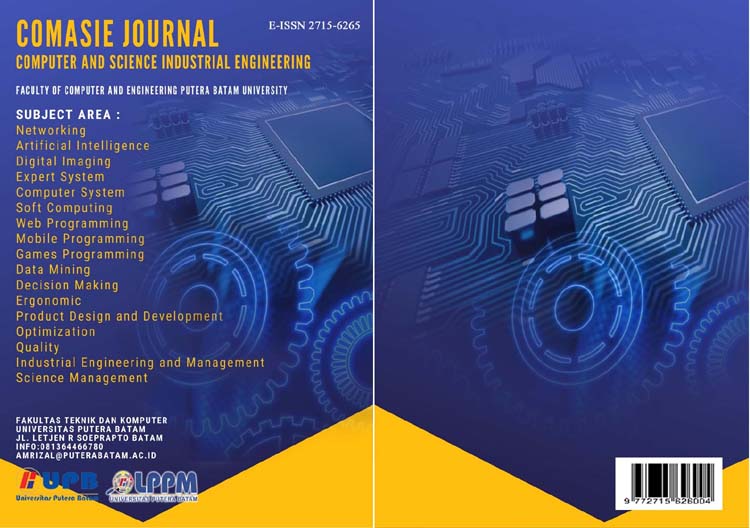 Downloads
How to Cite
Kardova, K. rendika harahap, & Zetli, S. (2022). ANALISIS PENERAPAN LEAN MANUFACTURING PADA LINE AUTOMOTIVE DI PT. OSI ELECTRONICS. Computer and Science Industrial Engineering (COMASIE), 7(4), 40–47. Retrieved from https://ejournal.upbatam.ac.id/index.php/comasiejournal/article/view/6104