PERANCANGAN ALAT JARINGAN BERBASIS AUGMENTED REALITY DENGAN METODE MARKER BASED TRACKING
Keywords:
Keywords: Augmented Reality, Networking Tools, Media Recognition, Marker Based Tracking, Unity 3D.
Abstract
ABSTRACT
Innovation in training is presently developing quickly, a few new advancements that can right now assist understudies with picking up something, one of which is expanded reality innovation. This innovation can be a medium that consolidates articles or articles that can be shown in three-layered structure which makes it look more alluring and intelligent for clients. Expanded reality innovation is still seldom applied to the presentation of organization devices, which we know up to this point its presentation is as yet aloof and not boosted, with increased reality innovation it can improve clients comprehend the apparatuses that are shown in three-layered structure since they are more intelligent and furthermore fascinating. This study utilizes marker based following which is a marker or marker to raise the three-layered object where the consequence of this exploration is an android application involving expanded reality innovation for the presentation and plan of organization devices which likewise depicts data from every one of the apparatuses showed in the application..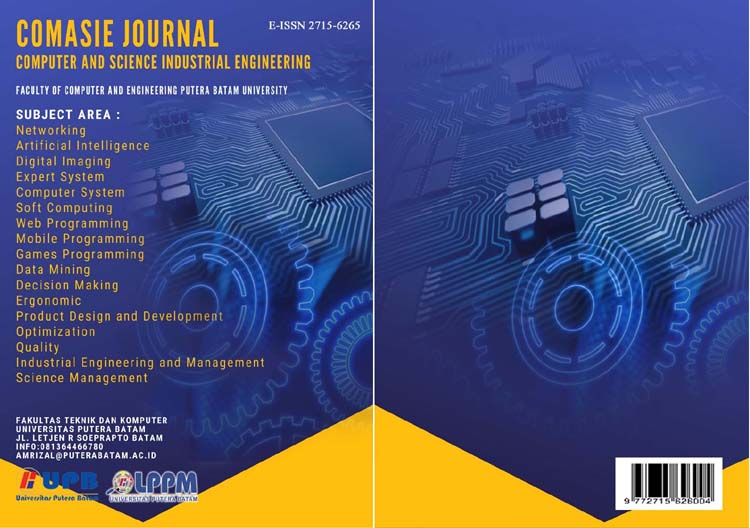 Downloads
How to Cite
Sinaga, D. Y. S., & Nopriadi, N. (2023). PERANCANGAN ALAT JARINGAN BERBASIS AUGMENTED REALITY DENGAN METODE MARKER BASED TRACKING. Computer and Science Industrial Engineering (COMASIE), 7(6), 10–18. Retrieved from https://ejournal.upbatam.ac.id/index.php/comasiejournal/article/view/6108