PENGARUH LINGKUNGAN KERJA TERHADAP PRODUKTIVITAS KARYAWAN DI PT EUSUN TECHNOLOGY BATAM
Keywords:
Work Environment, Employee Productiviity
Abstract
ABSTRACT

This research is entitled thee effeect of thee work environment on employee productiviity at PT Eusun Technology Batam. Ths stuidy aims to determine thee effeect of thee worke environmeent orn employe productiviity. Thee population inthis stuldy werre all employesof PT Eusun Technology Batam as many as 466 people. This type of techniique in this study obtained a probability sampliing techniqque whih is asampling technique based on thee fact that every member of thee population has thee same opportunity to be selected as a sample, so that it has a sample of 82 respondents. Thee variable value of thee work environment description is 14.80 with a percentage value of 49.35%. This value is not good, which means thee work environment at PT. Esun Technology Batam. While thee average value of employee productiviity is 38.87 with a percentage value of 59.80%. This value is not good, which means thee productiviity of employees at PT. Esun Technology Batam. Thee results of this study using correlation analysis showed a sig (2-tailed) value of 0.001which meatns a significaant value of less than 0.05 which means correlated. While thee Pearson correlation value is 0.520.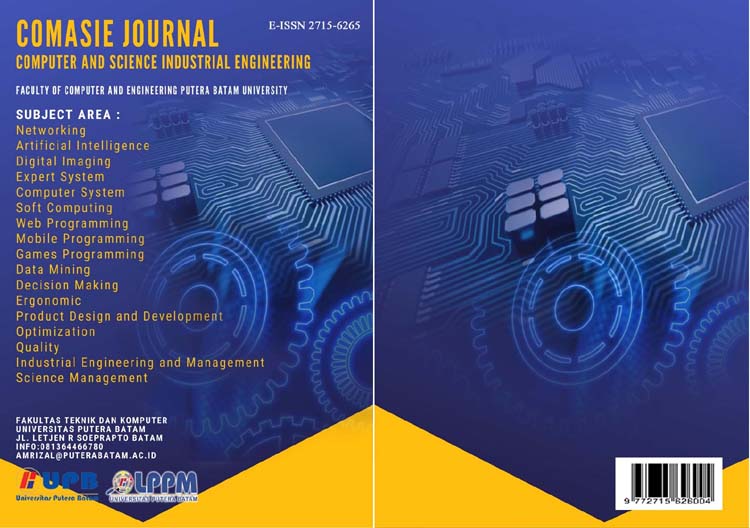 Downloads
How to Cite
Sedaryanto_Telaumbanua, & Zetli, S. (2022). PENGARUH LINGKUNGAN KERJA TERHADAP PRODUKTIVITAS KARYAWAN DI PT EUSUN TECHNOLOGY BATAM. Computer and Science Industrial Engineering (COMASIE), 7(7), 63–74. Retrieved from https://ejournal.upbatam.ac.id/index.php/comasiejournal/article/view/6244