ANALISIS RISIKO KESELAMATAN DAN KESEHATAN KERJA PADA PENGOPERASIAN FORKLIFT DI PT SHIMANO BATAM
Keywords:
Forklift; HIRARC; Potensi Bahaya
Abstract
This study discusses the analysis of work safety s in forklift operations at PT      XYZ. This study aims to identify the level of forklift operation in the FGWH department. In this study, the prevention of work accidents was carried out using the HIRARC (hazard identification  risk asessment risk control and  assessment likelihood & severity based on the Malaysia Ministry of Human Resources, 2008. The stages of forklift operation in this study, check forklift, gate in , picking, wrapping and container loading.The results of this assessment there are 10 potential hazards found in the FGWH department.There are 3 work processes that have a high level with percentage 55%. There are 3 work processes that have a moderate level with percentage 34%. There are 4 work processes that have a low  level with percentage of 11%.  Control recommended by researchers, namely establishing forklift paths, establishing pedestrian paths and setting forklift operating paths in areas with a large number of workers, making SOP, controlling existing controls, relayout, providing training operation of forklifts, presenting hazard signs in the work area, carrying out  management activities on a regular basis and other scientific approaches such as accident investigation, human factors in safety and ergonomic.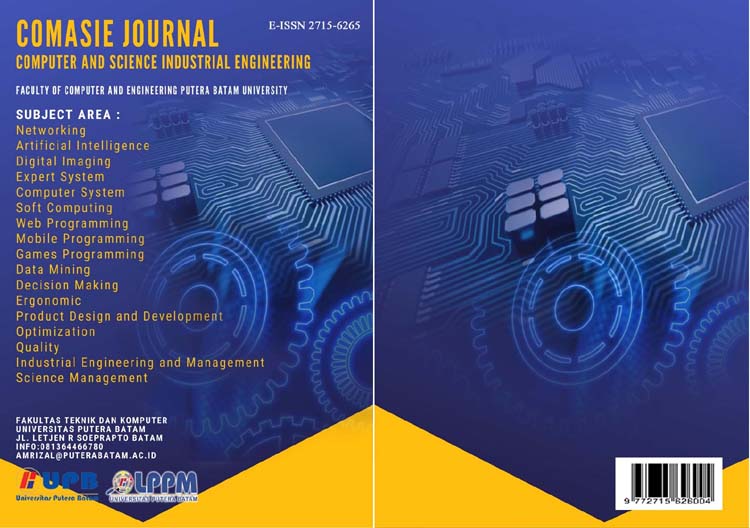 Downloads
How to Cite
Gultom, R. M., & Asmarawati, C. (2022). ANALISIS RISIKO KESELAMATAN DAN KESEHATAN KERJA PADA PENGOPERASIAN FORKLIFT DI PT SHIMANO BATAM. Computer and Science Industrial Engineering (COMASIE), 7(7), 84–94. Retrieved from https://ejournal.upbatam.ac.id/index.php/comasiejournal/article/view/6247