PERANCANGAN ULANG TATA LETAK FASILITAS PRODUKSI DI PT XYZ
Keywords:
ARC;Blockplan; Chart;Redesign.
Abstract
The disadvantage of the current layout is that the layout of each work station is not appropriate, because it does not take into account the degree of proximity between work stations, seen in the initial material picking work station which is located far from the printer machine. The purpose of this study was to find out how the redesign of the layout of the production process at PT. XYz. This research was conducted at PT XYz by analyzing data using From chat, Activity relationship chat (ARC) and then inputting data into Blocpan software. In this study, there are several processes, namely the preparation of raw materials, mixing of raw materials, printing and drying and storage. The results of this study are the coordinates of the preparatory post are (10.98, 18.22), with a length of 22 m and an area of ​​36.4 m. at the stirring post has coordinates (26.07, 18.22), with a length of 8.2 m and a width of 36.4 m. the printing and drying posts have coordinates (30.19, 40.58) with a length of 60.4m and a width of 8.3m. the storage post has coordinates (45.28,18.22) with a length of 30.2 m and a width of 36.4 m. It is recommended to improve the layout of the existing company so that work is more efficient.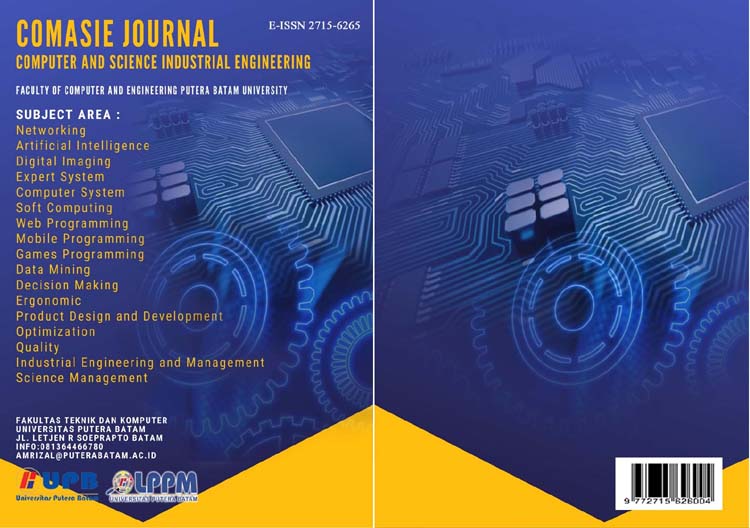 Downloads
How to Cite
Jenni Napitupulu, & Sumantika, A. (2022). PERANCANGAN ULANG TATA LETAK FASILITAS PRODUKSI DI PT XYZ. Computer and Science Industrial Engineering (COMASIE), 7(7), 138–147. Retrieved from https://ejournal.upbatam.ac.id/index.php/comasiejournal/article/view/6270