IMPLEMENTASI ALGORITMA APRIORI DALAM PEMODELAN POLA PEMBELIAN PRODUK PADA EDUKITS BTC
Keywords:
Associations, Data Mining, Apriori Algorithms, Retail.
Abstract
In competition in the business world, especially the retail industry, requires developers to find an appropriate strategy in order to increase sales of school equipment, one way is to know the sales pattern of school equipment so that we can apply the right steps to provide more facilities, in order to increase selling power. A priori algorithm is a type of association rule in data mining. A priori is a very famous algorithm for finding high frequency patterns. A high frequency pattern is an item pattern in the database that has frequency or support above a certain threshold which is called the minimum support term. Using an a priori algorithm can help develop a marketing strategy. The results showed that with a minimum support of 30%, there were 4 combination patterns of one item set that achieved minimum support, with the highest support for Stationery Office of 72.6%, for a combination of 2 itemsets there were 4 combination patterns with the highest support (School Stationery, Stationery Office) namely 54.8%, for a combination of 3 itemsets there was 1 combination pattern with the highest support (Art & Craft, School Stationery, Office Stationery) namely 32.9%.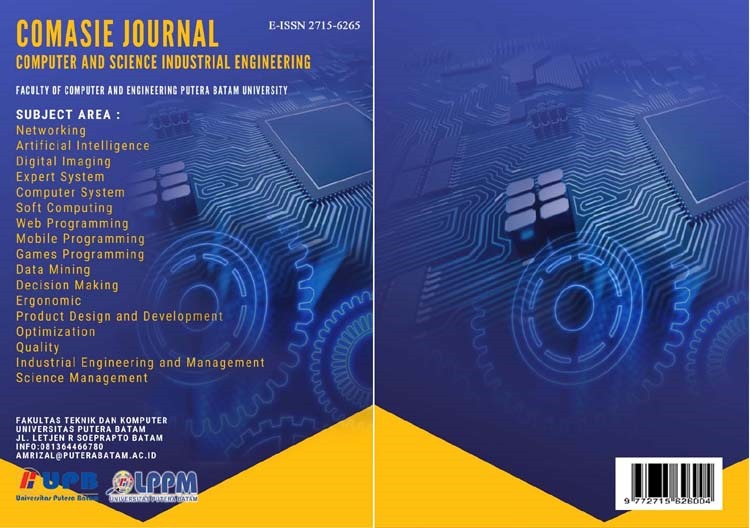 Downloads
How to Cite
Reisyer, K. E., & Harman, R. (2023). IMPLEMENTASI ALGORITMA APRIORI DALAM PEMODELAN POLA PEMBELIAN PRODUK PADA EDUKITS BTC. Computer and Science Industrial Engineering (COMASIE), 9(3). https://doi.org/10.33884/comasiejournal.v9i3.7656