IMPLEMENTASI MANAJEMEN BANDWIDTH MENGGUNAKAN METODE PEER CONNECTION QUEUE PADA MIKROTIK
Keywords:
Mikrotik, PCQ, Router, WLAN
Abstract
A hotspot consists of one or more WLAN or Wireless LAN Access Points of standard 802.11a/b/g that provide a restricted area in which users can freely join Access Points with WLAN-enabled mobile devices. With advances in technology, a router is a device that is used to perform the routing process. However, since routers are expensive, there are hardware alternatives such as Mikrotik. Mikrotik RouterOS is an operating system that can turn a computer into a router, or often called a PC Router. solutions to take advantage of bandwidth management and use Mikrotik router boards as a tool to divide bandwidth evenly. Because excessive use will cause a long load when accessing the internet or limited bandwidth. To distribute the load and manage the client connection path to a service on the server, the PCQ (Peer Connection Queue) method is used. The way to do PCQ is to upload with type pcq-dpwnload-phd, set the queue size and total queue size, and check the classification list for different addresses. In addition, to implement bandwidth management with PCQ for uploads, you must create the type pcq-upload-pd, set the queue size and total queue size, and check the classifier list for the source address. For setting upload and download targets on the proxy, you must point to the network address 192.168.100.0/24, with a maximum upload speed of 10 MBPS and 30 MBPS download. The results of this study indicate that the use of a PCQ-based proxy network can be applied properly for Pizza Hut delivery in Batam City.
References
Agung, Halim. 2017. "ANALISIS METODE RED DAN PCQ PADA MIKROTIK DESA WISATA CIBUNTU- KUNINGAN." (1):1–14.
Akbar, Rangga Ilham. 2021. "Implementasi Manajemen Bandwidth Dengan Metode Peer Connection Queue (PCQ) Menggunakan Queue Tree Pada Departemen Matematika FMIPA UI Depok." Cybernetics 5(01):12–25. doi: 10.29406/cbn.v5i01.2746.
Anwar, Muhammad Syaiful. 2022. "Analisis QoS (Quality of Service) Manajemen Bandwidth Menggunakan Metode Kombinasi Simple Queue Dan PCQ (Per Connection Queue) Pada Fakultas Teknik Universitas Islam Sumatera Utara." Sudo Jurnal Teknik Informatika 1(2):82–97. doi: 10.56211/sudo.v1i2.24.
Asykur Romadhona, Muhammad Ainun. 2022. "Bandwidth Management Pada Jaringan Komputer Menggunakan Algoritma Per Connection Queue." Skripsi 35–67.
Christanto, Febrian Wahyu, April Firman Daru, and Arif Kurniawan. 2021. "Metode PCQ Dan Queue Tree Untuk Implementasi Manajemen Bandwidth Berbasis Mikrotik." Jurnal RESTI (Rekayasa Sistem Dan Teknologi Informasi) 5(2):407–12. doi: 10.29207/resti.v5i2.3026.
Feoh, Gerson, Putu Wida Gunawan, Teknik Informatika, and Universitas Dhyana Pura. 2022. "Implementation of Bandwidth Management with Hierarchical Token Bucket (Htb), Per Connection Queue (Pcq) and Layer 7 Protocol Methods Using a Mikrotik Router." 1(1):65–84.
Gede Widia Pratama Putra, Ketut, Gede Saindra Santyadiputra, and Made Windu Antara Kesiman. 2020. "Penerapan Manajemen Bandwidth Menggunakan Metode Hierarchical Token Bucket Pada Layanan Hotspot Mikrotik Undiksha." CESS (Journal of Computer Engineering System and Science) 5(1):146–54.
Hafiz, Aliy, and Sulasminarti. 2020. "Manajemen Bandwidth Dengan Mikrotik Menggunakan Metode Queue Tree Pada Kantor Pekon Sidoharjo Kecamatan Pringsewu." Jurnal Informatika Software Dan Network 01(01):33–40.
Marlina, Andreas Perdana. 2020. "IMPLEMENTASI MANAJEMEN BANDWIDTH MENGGUNAKAN QUEUE TREE ROUTER MIKROTIK." Dharmawacana 6(August):128.
Mirsantoso, Toibah Umi Kalsum, and Reno Supardi. 2017. "Implementasi Dan Analisa Per Connection Queue (PCQ) Sebagai Kontrol Penggunaan Internet Pada Laboratorium Komputer." Jurnal Media Infotama 11(2):139–48.
Saputra, Dwi, and Wiwin Sulistyo. 2015. "Implementasi Manajemen Bandwidth Menggunakan PCQ-Queue Tree Untuk Optimasi Jaringan Internet Di SMK Negeri 1 Bancak."
Situmorang, Herison Pandapotan, and Joko Christian Chandra. 2019. "Implementasi Manajemen Bandwidth Menggunakan Metode Peer Connection Queue Pada SMK Budi Mulia Tangerang." Idealis 2(3):202–8.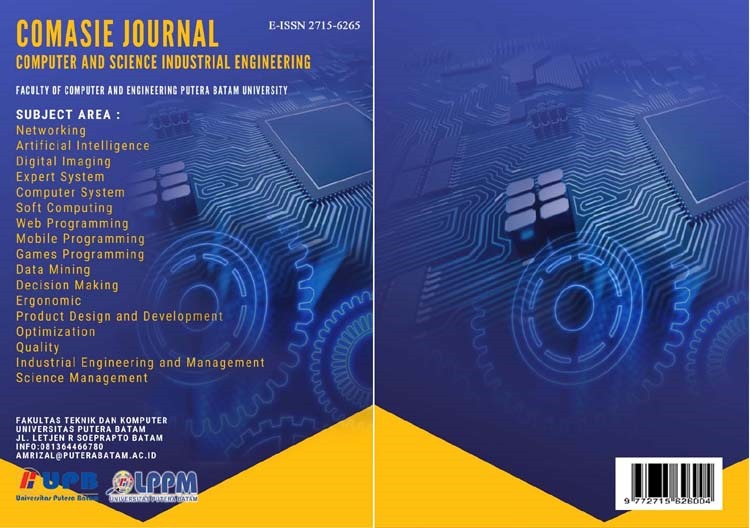 Downloads
How to Cite
Mariyanto, M., & Maslan, A. (2023). IMPLEMENTASI MANAJEMEN BANDWIDTH MENGGUNAKAN METODE PEER CONNECTION QUEUE PADA MIKROTIK. Computer and Science Industrial Engineering (COMASIE), 9(3). https://doi.org/10.33884/comasiejournal.v9i3.7697