ANALISIS PENGENDALIAN KUALITAS PRODUK PLASTIK DI PT. YEAKIN PLASTIC INDUSTRY
Keywords:
Statistical Proses Control, Peta P, Fishbone Diagram
Abstract
In an increasingly advanced age, All kinds of work and ways change very quickly every year. oth in the field of service and manufacturing. Pt yeakin plastic industry has 3 lines one of which is plastic production, in the manufacture of its own plastic products, pt yeakin plasticindustry batam only production material that has become plastic roll into plastic polybag based on the results of observational research in the field, in finding problems in the quality of the product and in finding various defects in the product that cause the quality of plastic to be decreased and not in accordance with the standard. Procedures based on standards set by the company, the company sets its own target of a maximum of 5% of total production in the production process.the purpose of this study is to identify the level of variation in defects in the plastic production process, triggering the types of defects that occur in plastic during the cutting process at PT Yeakin Plastic Industry Batam
References
Devani, V., & Wahyuni, F. (2017). Pengendalian Kualitas Kertas Dengan Menggunakan Statistical Process Control di Paper Machine 3. Jurnal Ilmiah Teknik Industri, 15(2), 87. https://doi.org/10.23917/jiti.v15i2.1504
Fadilla, F. N., & Adji, S. (2020). Dalam Upaya Meminimalisir Produk Gagal Menggunakan Pendekatan Statistical Quality Control ( Sqc ). 02, 107–118.
Hamdani, H., & Fakhriza, F. (2019). Pengendalian Kualitas Pada Hasil Pembubutan Dengan Menggunakan Metode SQC. Jurnal Rekayasa Material, Manufaktur Dan Energi, 2(1), 1–9. https://doi.org/10.30596/rmme.v2i1.3063
Kaban, R. (2016). Pengendalian Kualitas Kemasan Plastik Pouch Menggunakan Statistical Procces Control (SPC) di PT Incasi Raya Padang. Jurnal Optimasi Sistem Industri, 13(1), 518. https://doi.org/10.25077/josi.v13.n1.p518-547.2014
Khikmawati, E., & Anggraini, M. (2018). MENGIDENTIFIKASI KERUSAKAN PADA PRODUK TEPUNG TAPIOKA PT . UMAS JAYA AGROTAMA LAMPUNG. 2, 20–26.
Meldayanoor, M., Amalia, R. R., & Ramadhani, M. (2018). Analisis Statistical Quality Control (SQC)
Sebagai Pengendalian dan Perbaikan Kualitas Produk Tortilla di UD. Noor Dina Group. Jurnal Teknologi Agro-Industri, 5(2), 132. https://doi.org/10.34128/jtai.v5i2.79
Meri, M., Irsan, & Wijaya, H. (2017). Analisis Pengendalian Kualitas Pada Produk SMS ( Sumber Minuman Sehat ) dengan Metode Statistical Process Control ( SPC ). Jurnal Teknologi, 7(1), 120.
Bakhtiar, S., Tahir, S., & Hasni, R. A. (2013). Analisa Pengendalian Kualitas Dengan Menggunakan Metode Statistical Quality Control (SQC). Malikussaleh Industrial Engineering Journal, 2(1), 29–36. https://103.107.186.27/miej/article/viewFile/26/17%0Ahttps://www.mendeley.com/catalogue/090dd3e8-7ab9-3d9d-a098-98a8f093fd2a/?utm_source=desktop&utm_medium=1.19.8&utm_campaign=ope
Novitasari, D. A. (2015). Analisis Kapabilitas Proses Untuk Pengendalian Kualitas Produk Pembatas Buku Industri Rumahan. Jurnal Ekbis, 14(2), 6. https://doi.org/10.30736/ekbis.v14i2.124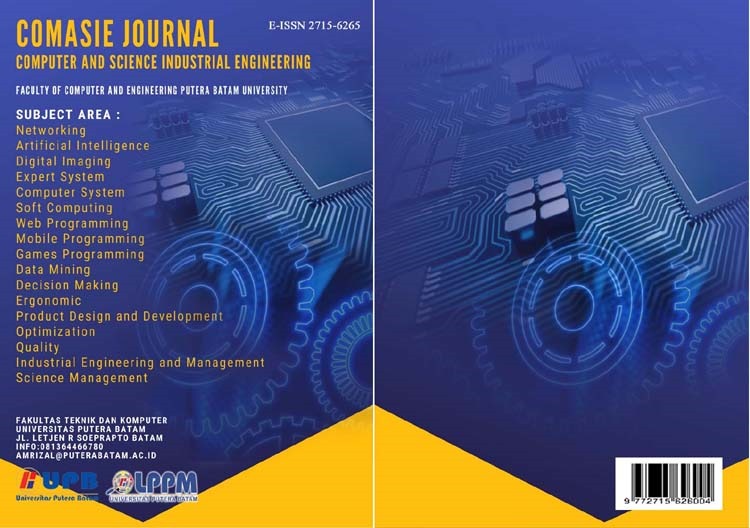 Downloads
How to Cite
Ardianto, S. F., & Sumantika, A. (2023). ANALISIS PENGENDALIAN KUALITAS PRODUK PLASTIK DI PT. YEAKIN PLASTIC INDUSTRY. Computer and Science Industrial Engineering (COMASIE), 9(8). https://doi.org/10.33884/comasiejournal.v9i8.7964