Evaluasi Pelaksanaan Tugas Unit Pelaksana Teknis Dinas Pendidikan Kecamatan Rantau Pandan Kabupaten Bungo Provinsi Jambi
Keywords:
Evaluasi; Pelaksanaan Tugas; Pendidikan.
Abstract
This research was conducted due to several problems, including: weak annual work program planning, weak program control, this research was conducted on 60 people involved in the Technical Implementation Unit in Rantau Pandan using the survey method with a descriptive qualitative approach with the aim of knowing how far. where is the implementation of the Technical Service Unit of the Rantau Pandan District Education Office. The results obtained: the duties and functions have not been carried out optimally, in providing direction it is quite good, there is still a lack of supervision carried out and from the results above there are several conditions that cause this to occur including the skill factor and the employee discipline factor.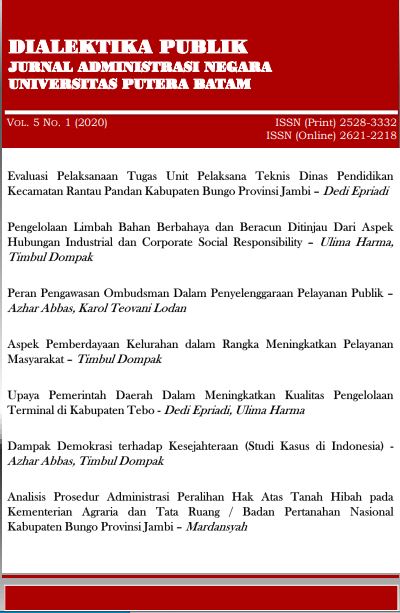 Downloads