Aspek Pemberdayaan Kelurahan dalam Rangka Meningkatkan Pelayanan Masyarakat
Keywords:
Pemberdayaan, Kelurahan, Pelayanan Masyarakat
Abstract
This research raises the issue of the importance of empowering Kelurahan in improving community services. On this occasion, the researcher used a qualitative design with a literature study method using theories and existing journals as reference materials. Empowerment is the strengthening of the development process, independence, self-empowerment, and the negotiating position of the lower classes against the oppressed forces of all levels of society. According to Law Number 25 of 2009 concerning Public Services, public services are defined as activities or series of activities in the context of meeting service needs in accordance with the laws and regulations for every citizen and resident for goods, services and / or administrative services provided by service providers. public. To improve services at the kelurahan level, the Kelurahan needs to be empowered by referring to aspects, in the form of; freedom of mobility, the ability to buy small commodities, the ability to buy large commodities, to be involved in making household decisions, the relative freedom from family domination, legal and political awareness, involvement in campaigns and protests, economic security and contributions to the family.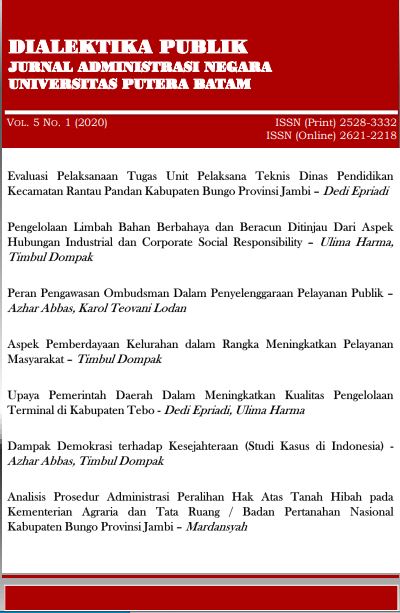 Downloads