Dampak Demokrasi terhadap Kesejahteraan (Studi Kasus di Indonesia)
Keywords:
Demokrasi, Kesejahteraan KORESPONDENSI
Abstract
Elections in Indonesia, have been held periodically since 1955, then in 1971 After that, elections are held every 5 years, starting in 1977, 1982, 1987, 1992, and 1997. The democratization process carried out with the Elections above, especially during the New Order have not been able to produce the expected democratic values. During the Reformation period, Indonesia had begun elections in 1999, then in 2004, 2009, 2014 and 2019.There is something interesting about the dynamics of the development of democracy in this country since the reformation began in 1998. One thing that stands out is the impact of democracy on people's welfare. In the midst of public space, various discussions emerged about whether democracy is still an appropriate system for answering the concept of a better state and being able to provide welfare for all the people of Indonesia. Through elections, voters can channel their chosen aspirations. The hope, of course, is choosing leaders who can realize programs that can improve people's welfare.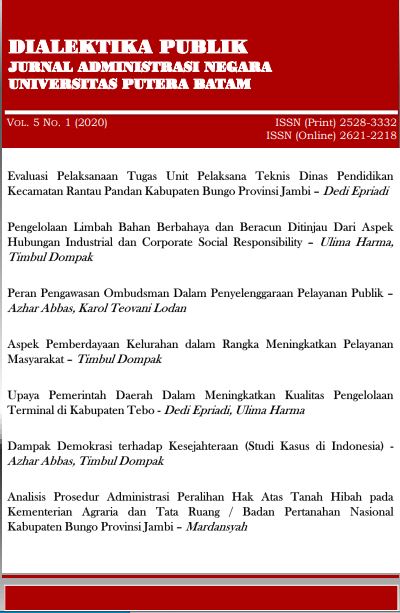 Downloads