THE EFFECTIVENESS OF MAKING VIDEO BLOG (VLOG) TO MINIMIZE STUDENTS' ANXIETY IN PUBLIC SPEAKING ON DESCRIPTIVE TEXT MATERIAL
Dani Fitria Brilianti

Politeknik Harapan Bersama

Arief Zul Fauzi

Politeknik Harapan Bersama
Abstract
The ability in to speak English in the public place being a scourge for students due to minimize the anxiety because of lack of speaking practice in their life, so that an effective media is needed to decrease the students' anxiety in speaking by making video blog (VLOG) . The aims of this study are to minimize students' anxiety in public speaking that focus on descriptive text teaching materials, and to improve students' speaking skills in the context of description through VLOG media. The subjects in this study is the student of DIII Computer Engineering at the Polytechnic of Harapan Bersama Tegal with a qualitative descriptive research approach by using the Classroom Action Research (CAR) method in two cycles, each of the cycle consists of four stages of planning, implementation, observation, and reflection. The data collection method in this study is to use a questionnaire, interview, observation, and reflection in accordance with the Action Research guidelines. The finding showed that the average of pre test score was only 52.5, after treating by video blog it was improved to 74.5 in cycle 1, then it improved more in cycle 2 and reached 87.3. So, it improved 34.8 point from pre test to the post test. In line with the data, designing video blog is effective to minimize students' anxiety in teaching spoken descriptive test and it works to improve the students speaking skill. Moreover, students also get their own motivation to speak confidently in the public place. Some aspects that improved are fluency, pronunciation, vocabulary items and content. As the final result, it can be inferred that making video blog minimize students' anxiety in speaking and it improves students' speaking performance.
References
Anderson, Mark and Anderson, Kathy. 1997. Test Type in English 2. South Yarra: Maccmillan Australia Pty Ltd.
Balley, Katheen M. 2005. Practical English Language Teaching: Speaking. Singapore: McGraw_Hill ELT.
Brilianti, DF.,. 2017. The Effectiveness of Using Flash Animation as an Alternative Media in Teaching Spoken Report of Computer Engineering Students at Polytechnic Harapan Bersama Tegal. Concept. Volume 10 (1). Cirebon: UMC Press.
Brown, HD. 1993. Understanding Research in Second Language Learning: A Teacher's Guide to Static and Research Design. Cambridge University Press.
Evyanto, Winda. 2018. Efektifitas Media Audio Visual dalam Meningkatkan Keterampilan Berbicara Bahasa Inggris Siswa. Basis Journal. Volume 4 (1). Batam: UPB Press.
Gerlach, Vernon S. 1971. Teaching and Media. New Jersey: Hall Inc..
Horwitz, E. K., et.al. 1986. Foreign Language Classroom Anxiety. The Modern Language Journal. 70(2). 125-132.
Kirschner, C. (2012). What on earth is vlogging?. MNN HOLDINGS, LLC, 8, 12.
Liu, Yu-Ling. 2014. The Integration of Technology and Aesthetics when Student Teachers Undertake Blended Learning in Adolescent Psychology: An Interdisciplinary Approach. Academic Journal. Vol 9 (20). Pp. 1002-1012.
Indrianty, Septy. 2016. Students' Axienty in Speaking English. ELTIN Journal. Volume IV(I).
Mark, A. and Kathy Anderson. Text Types in English 1. MacMillan.
Maulidah, I. .2017. Vlog: the Mean to Improve Students' Speaking Ability. In International Conference on English Language Teaching (ICONELT 2017). Atlantis Press.
Mogallapu, Anusha. 2011. Social Network Analysis of the Video Bloggers' Community in Youtube. Dissertation. Missoury University.
Nunan. D. 2000. Language Teaching Methodology. Pearson Edu. Limited.
Safitri, N. S. A., & Khoiriyah, I. (2017, July). Students' Perceptions on the Use of English Vlog (Video Blog) to Enhance Speaking Skill. In ASEAN/Asian Academic Society International Conference Proceeding Series.
Sari, P. (2017). Using Vlog in the Youtube Channel as a Means To Improve Students' Motivation And Confidence to Speak English in Intermediate 1 Level of LB-LIA Jambi. International Journal of Language Teaching and Education, 1(1), 38-44.
T. Danova, "Business Insider," Tech Insider, 5 January 2004. [Online]. Available: http://www.businessinsider.com/mobile-videostatistics-and-growth201312?IR=T&r=US&IR=T. [Accessed 14 May 2020].
Thornbury, Scott. 2005. How to Teach Speaking. Longman.
Wulandari, M. (2019). Improving Efl Learners'speaking Proficiency Through Instagram Vlog. LLT Journal: A Journal on Language and Language Teaching, 22(1), 111-125.
Zhiping, Dhiao., et. Al. 2013. Axienty of Speaking English in Class Among International Students in Malaysian University. Vol 1(11).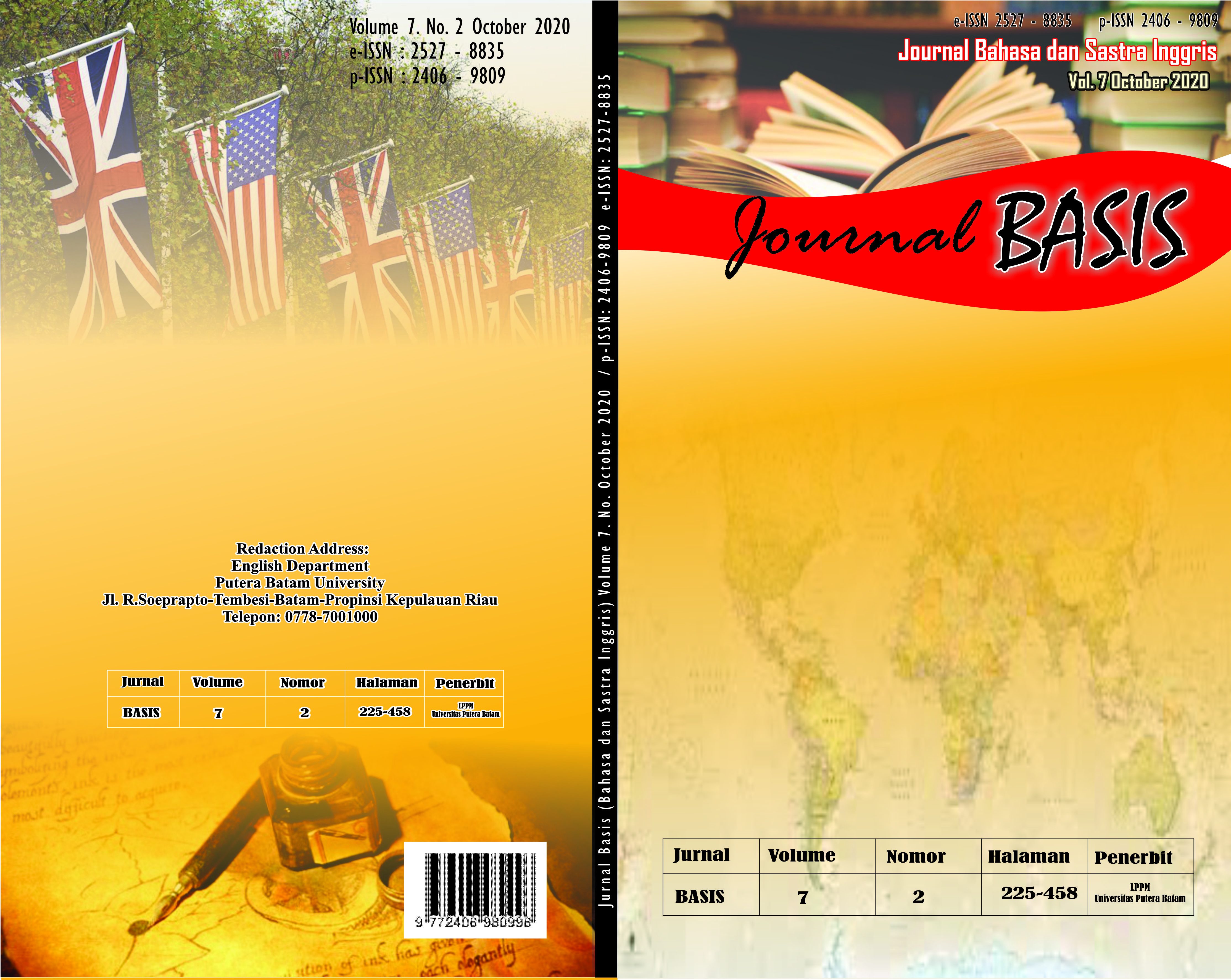 Section
BASIS VOLUME 7 NO 2 OKTOBER 2020