THE DESCRIPTION OF HANDS SHAKE AND VOICE TREMBLES IN CONDUCTING CLASS PRESENTATION BY THE 4TH SEMESTER STUDENTS AT PUTERA BATAM UNIVERSITY
Fasaaro Hulu

Universitas Putera Batam
Abstract
The purpose of this research is to identify the students' hands shake and voice trambles in conducting presentation.  The method used is qualitative describtive method. In data collection, researcher applied the closed quesionnaire through fifty students in three classes and to analyse the data by comparing and  categorisation according to each its parts. And result displays in the form of text, table and chart. The result of this present research were found by the fifty students which were involved in the presentation. The first result were 33 students who got hands shake an there were 17 students who did not got hands shake in conducting presentation. the second, there were 34 students who got voice trembles and 16 students who did not got voice trembles in doing the class presentation. The most dominant faced by students in doing presentation is the voice trembles and the more dominant is the hands shake as found 16 students.
References
Bartholomay, Emily M., Houlihan Daniel D., 2016. Public Speaking Anxiety Scale, Minnesota State University, Mankato, United States: Elsevier
Brown, H. D. (2001). Teaching by principles. NewYork: Pearson Education
Çağatay, S. (2015). Examining EFL Students' Foreign Language Speaking Anxiety: The Case at a Turkish State University. Procedia - Social and Behavioral Sciences, 199, 648–656. https://doi.org/10.1016/j.sbspro.2015.07.594
Linguistik, K., Sastra, D., & Silitonga, F. (2017). THE TEENEGERS' CHARACTERISTICS IN GENDER WRITTEN TEXT BY DISCOURSE ANALYSIS AT BATAM. Kajian Linguistik Dan Sastra/ KLS, 2(1), 61–75. https://doi.org/https://doi.org/10.23917/kls.v2i1.5353
Creswell, J.W. (2009). Research Design. Third Edition. Sage Publications, California.
Dörnyei, Z. (2005). The psychology of the language learner: Individual differences in second language acquisition.New Jersey: Lawrence Erlbaum Associates, Inc
Ehrman, M. E. (1995). Understanding second language learning difficulties: Looking beneath the surface.Thousand Oaks, CA: Sage
Harmer, J. (2004). The Practice of English Language Teaching (6th ed.). Harlow: Pearson Education Limited.
Homer, S. R., Deeprose, C., & Andrade, J. (2015). Negative mental imagery in public speaking anxiety: Forming cognitive resistance by taxing visuospatial working memory. Journal of Behavior Therapy and Experimental Psychiatry. https://doi.org/10.1016/j.jbtep.2015.05.004
Silitonga, f. (2018). THE VOCABULARY UNDERSTANDING OF READING TEXT IN HOSANNAH BATAM SCHOOL. BASIS (BAHASA DAN SASTRA INGGRIS), 2(2), 111-116. Retrieved from http://ejournal.upbatam.ac.id/index.php/basis/article/view/310
Marinho, Anna Carolina Ferreira, E. (2016). Fear of Public Speaking: Perception of College Students and Correlates. Journal of Voice, 5. https://doi.org/10.1016/j.jvoice.2015.12.012
Wang, L. J., & Chang, H. F. (2010). Applying innovation method to assess English speaking performance on communication apprehension. Belt Journal, 1(2), 147-158
Weber, Elizabeth (2008). Cambridge Advance Learner's Dictionary, 3rd ed. Cambridge: Cambridge University Press
https://www.verywellmind.com/top-symptoms-of-panic-attacks-2584270, (accessed on March 1st, 2018)
https://www.quora.com/How-do-I-stop-my-voice-from-shaking-when-public-speaking-How-do-I-calm-my-nerves-down, Arijit Goswami, (2017) as Public speaker and mentor, Toastmaster, CC, CL, ALB, (accessed on March 1st, 2018)

https://www.mindtools.com/pages/article/presentation-mistakes.htm, Avoiding Common Pitfalls in Your Presentations, (accessed on March 1st, 2018)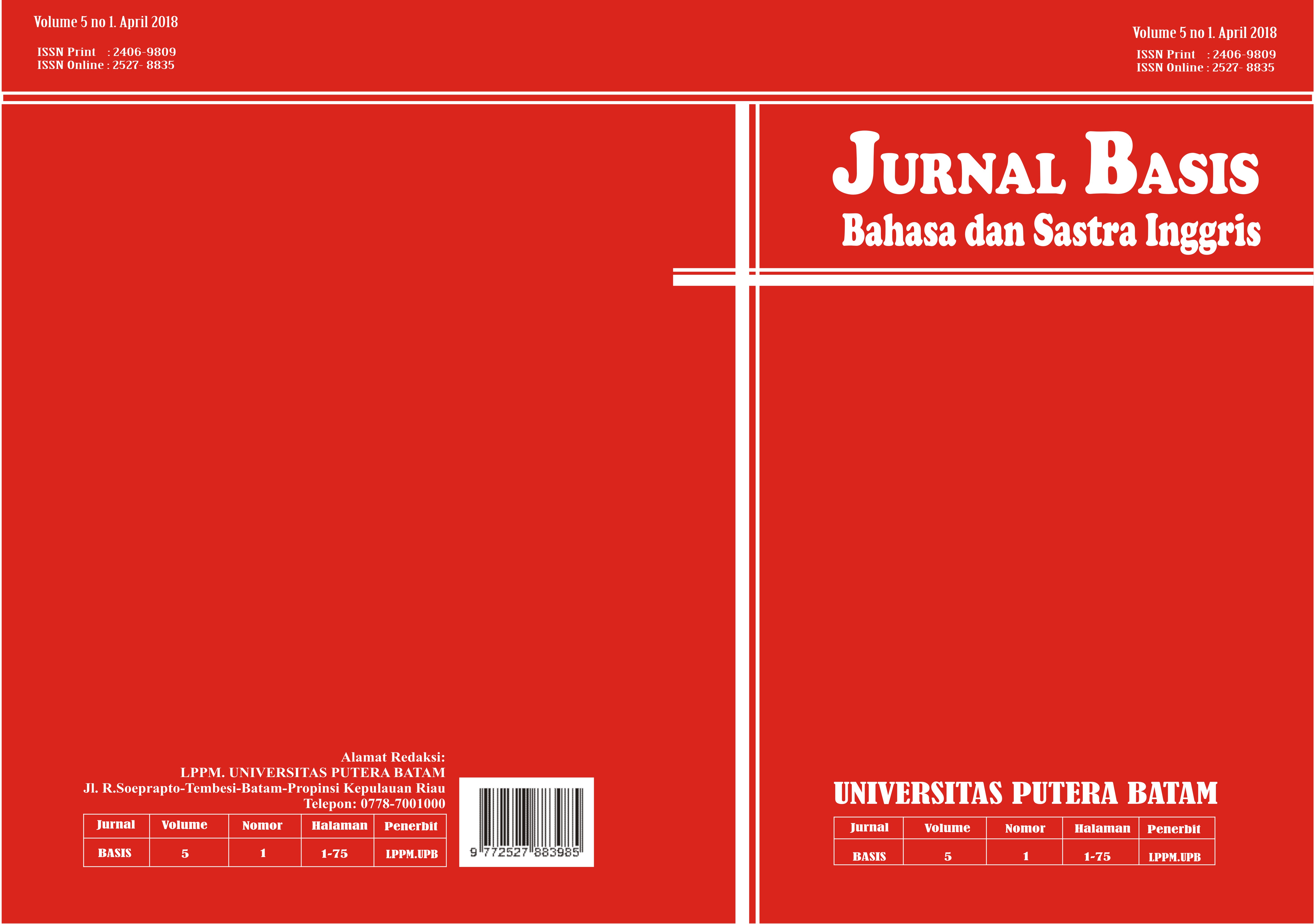 How to Cite
HULU, Fasaaro. THE DESCRIPTION OF HANDS SHAKE AND VOICE TREMBLES IN CONDUCTING CLASS PRESENTATION BY THE 4TH SEMESTER STUDENTS AT PUTERA BATAM UNIVERSITY.
JURNAL BASIS
, [S.l.], v. 5, n. 1, p. 1-12, apr. 2018. ISSN 2527-8835. Available at: <
http://ejournal.upbatam.ac.id/index.php/basis/article/view/330
>. Date accessed: 16 feb. 2019.
Section
BASIS VOLUME 5 NO 1 APRIL 2018