PENERAPAN TEORI ANTROPOLINGUISTIK MODERN (COMPETENCE, PERFORMANCE, INDEXICALITY, & PARTISIPATION) DALAM UMPASA BUDAYA BATAK TOBA
COMPETENCE, PERFORMANCE, INDEXICALITY, & PARTISIPATION DALAM UMPASA BUDAYA BATAK TOBA
DAIRI SAPTA RINDU SIMANJUNTAK

Universitas Putera Batam
Abstract
This studies, discusses the application of the modern anthropolinguistics (competence, performance, indexicality, and participation) in Umpasa of Batak Toba culture. The linguistic anthropology examines the structure and relationships through kinship term, the concept of color, parenting, or examine how community members communicate with each other in certain situations such us the costum ceremonies, then connects it with the culture's concept. Umpasa contains the poetic value, contains philosophy of life that is 'Hagabeon' (happiness), 'Hamoraon' (wealth), 'Hasangapon' (respected), and 'Saur Matua' (longevity and prosperity). The writer applies the anthropolinguistics modern theory to know how is the knowledge of a language that is controlled by a speaker of a language and the use of language that is evident in the actual communication as a reflection of the mind of speaker regarding the sign that have a relationship existential with the referenced and the involvement of the speaker to produce the form of acceptable speech in in 'umpasa' of Batak Toba culture.
References
Duranti, Alessandro. 2000. Linguistic Anthropology: University Press. Cambridge.

Chaer, Abdul dan Agustina, Leonie. 2004. Sosiolinguistik: Rineka Cipta. Jakarta.
Holmes, Janet. 2001. An Introduction to Sosiolinguistics: Longman. London.
Sharifian, Farzad dan Palmer, Gary B (Ed). 2007. Applied Cultural Linguistisc: John Benjamin Publishing and Co. Philadelpia.
Linguistik, K., Sastra, D., & Silitonga, F. (2017). THE TEENEGERS' CHARACTERISTICS IN GENDER WRITTEN TEXT BY DISCOURSE ANALYSIS AT BATAM. Kajian Linguistik Dan Sastra/ KLS, 2(1), 61–75. https://doi.org/https://doi.org/10.23917/kls.v2i1.5353
Sibarani, R. 2004. Antropologi Linguistik, Linguistik Antropologi. Medan: Poda.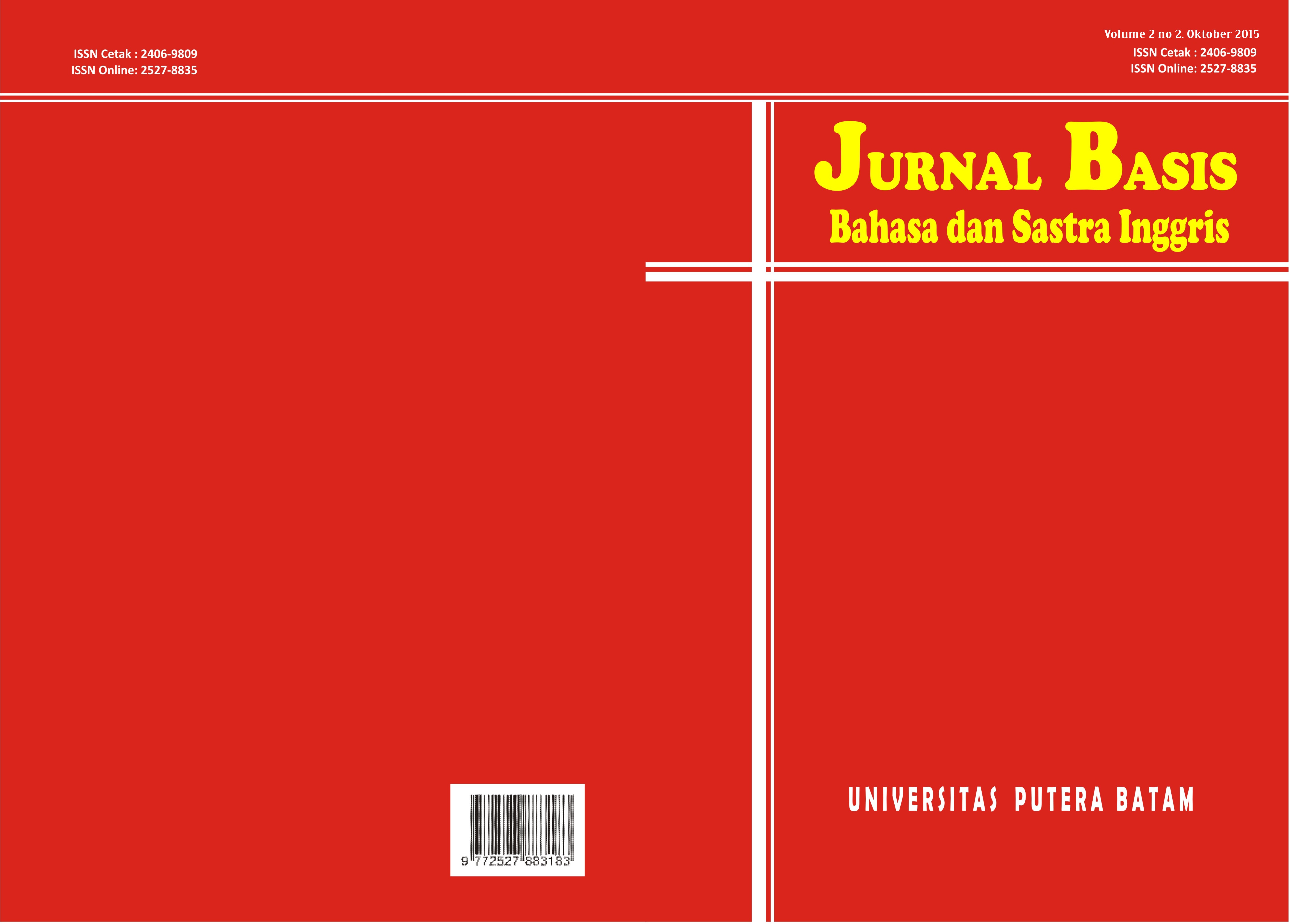 How to Cite
SIMANJUNTAK, DAIRI SAPTA RINDU. PENERAPAN TEORI ANTROPOLINGUISTIK MODERN (COMPETENCE, PERFORMANCE, INDEXICALITY, & PARTISIPATION) DALAM UMPASA BUDAYA BATAK TOBA.
JURNAL BASIS
, [S.l.], v. 2, n. 2, p. 71-78, oct. 2015. ISSN 2527-8835. Available at: <
http://ejournal.upbatam.ac.id/index.php/basis/article/view/407
>. Date accessed: 11 apr. 2021.
Section
BASIS VOLUME 2 NO 2 OKTOBER 2015