THE SIMPLE PAST TENSE UNDERSTANDING IN SMA MAITREYAWIRA BATAM
Hidayat Polim. E17m3252@soka-u.jp TESOL Department Soka University. Japan Frangky Silitonga. Hb16000@siswa.uthm.edu.my FPTV Department Universiti Tun Hussein Onn Malaysia Mamal Zakriamal. zakrimamal@gmail.com English Department Putera Batam University. Indonesia
Hidayat Polim, HP

Soka University, Japan

Frangky Silitonga, FS

UTHM, Malaysia

Mamal Zakrimal, ZM

UPB, Indonesia
Abstract
Penelitian ini membahas tentang pengaruh pemahaman aspek tata bahasa (grammar) terhadap keterampilan menulis (writing skills) oleh Siswa Kelas 11 SMA Maitreyawira Batam Tahun Akademik 2012/2013. Peneliti membatasi permasalahan penelitian pada pemahaman simple past tense meliputi kata kerja beraturan (regular verb) dan tidak beraturan (irregular verb) terhadap keterampilan menulis teks narasi (narrative writing skills).Tujuan penelitian ini adalah untuk menemukan pengaruh pemahaman simple past tense terhadap keterampilan menulis dalam teks narasi. Peneliti menggunakan data kuantitatif dalam desain penelitian cross-sectional (satu waktu). Instrumen utama untuk memperoleh data ialah kuisioner tata bahasa dan keterampilan menulis yang diproses melalui aplikasi SPSS®. Hasil penelitian menunjukkan koefisien F-Hitung (124.312) bernilai lebih besar dari F-Tabel (4.043). Hal ini membuktikan bahwa terdapat pengaruh pemahaman simple past tense terhadap keterampilan dalam menulis teks narasi. Lebih lanjut, hasil pengolahan data menunjukkan nilai R-square yaitu 84.1%. Nilai ini menggambarkan bahwa pengaruh pemahaman simple past tense terhadap keterampilan menulis teks narasi adalah dominan.
References
Cohen, Louis [et al]. 2007. Research Methods in Education. Routledge. New York

Edge, Julian. (1999). Essential of English Language Teaching. Longman: UK.

Hewings, Ann & Hewings, Martin. (2005). Grammar and Context. Routledge. UK.
Linguistik, K., Sastra, D., & Silitonga, F. (2017). THE TEENEGERS' CHARACTERISTICS IN GENDER WRITTEN TEXT BY DISCOURSE ANALYSIS AT BATAM. Kajian Linguistik Dan Sastra/ KLS, 2(1), 61–75. https://doi.org/https://doi.org/10.23917/kls.v2i1.5353


Huddleston, Rodney & Pullum, Geoffrey K. (2007). A Student's Introduction to English Grammar. Cambridge University Press. New York.

Jackson, Sherri L. (2011). Research Methods: A Modular Approach. Wadsworth. USA.

Jarvie, Gordon. (2007). Bloomsbury Grammar Guide Second Edition. A & C Black Publishers Ltd. UK.

Litosseliti, Lia. (2010). Research Methods in Linguistics. Continuum International Publishing. UK.

Madsen, Harold S. (1983). Techniques in Testing. Oxford University Press. USA

Min, Young-Kyung. (2012). ESL: Coherence and Cohesion. Accessed on 09 Dec 2012. Available at: http://www.uwb.edu/wacc/resources/eslhandbook/ coherence

O'Graddy, William, [et.al]. (1997). Contemporary Linguistics. Longman: UK.

Richards, Jack C. and Schmidt, Richard. (2010). Longman Dictionary of Language Teaching and Applied Linguistics: Fourth Edition. Pearson Education Limited. UK.

Rumengan, Jeremy.(2010). Metode Penelitian dengan SPSS. Uniba Press. Batam.

Sahai, Hardeo & Khursid, Anwer. (2001). Pocket Dictionary of Statistics. McGraw-Hill. USA.

Sarosdy, Judit [et al]. (2006). Applied Linguistics I for BA Students in English. Bolcsezs Kozorcium. Hungary.

SIL. (2009) What are Writing Skills? Accessed on 12 Dec 2012. Available at: http://www.sil.org/lingualinks/literacy/referencematerials/glossaryofliteracytermswhatarewritingskills.htm

Sudarwati, Th. M & Eudia Grace. (2007). Look Ahead 2: An English Course. Erlangga. Indonesia.

Tim Gitamedia Press. (2006). Serious English for Serious Student. Gitamedia Press. Surabaya.

University of Victoria. (2008). Simple Past: Regular Verb. Accessed on 18 Nov 2012. Available at: http://web2.uvcs.uvic.ca/courses/elc/studyzone/330/grammar/pasted.htm

Vagias, Wade M. (2006). Likert-type Scale Response Anchors. Accessed on 18 Dec 2012. Available at: www.clemson.edu/centers-institutes/tourism/documents/sample-scales.pdf

Wibowo, Agung Edy. (2012). Aplikasi Praktis SPSS Dalam Penelitian. Gava Media. Yogyakarta.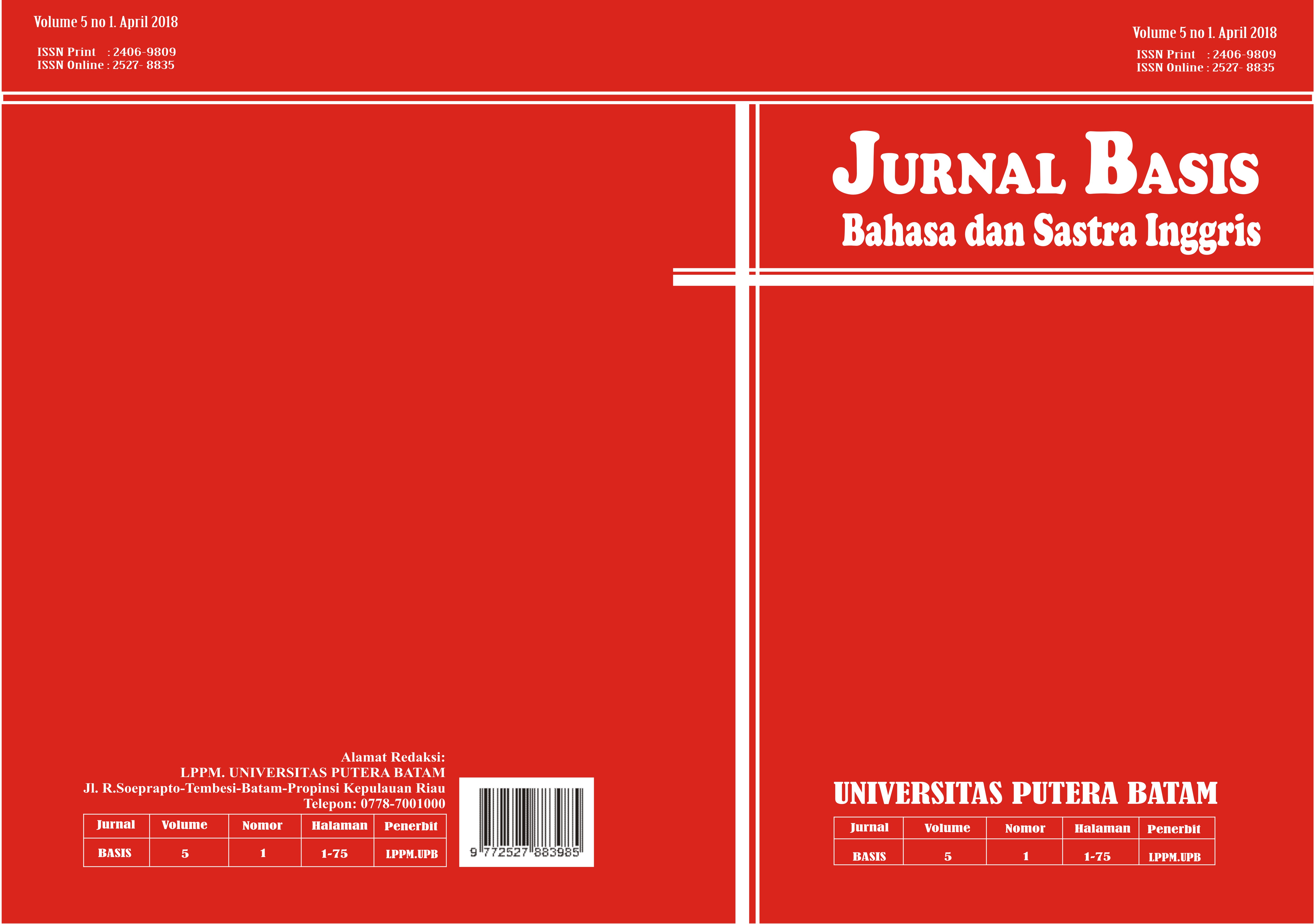 Section
BASIS VOLUME 5 NO 1 APRIL 2018