PERBANDINGAN PERIBAHASA BAHASA INDONESIA DAN BAHASA INGGRIS: KAJIAN SEMANTIK KOGNITIF
Muhammad Hafiz Kurniawan

Universitas Ahmad Dahlan
Abstract
Bahasa merupakan media untuk berkomunikasi antar sesama manusia dan hal tersebut sering juga disebut sebagai fungsi bahasa sebagai fungsi ekspresif dan sosial yang tidak bisa dipisahkan. Kedua fungsi tersebut itulah lalu muncul keberagaman penggunaan bahasa yang salah satunya adalah penggunaan peribahasa untuk mengekspresikan sesuatu dalam percakapan sehari-hari yang terkait dengan fungsi sosial bahasa. Peribahasa yang merupakan salah satu artefak bahasa menunjukkan ciri budaya masyarakat pengguna peribahasa tersebut. Oleh karena itu, penilitian ini bertujuan untuk membandingkan dua peribahasa dari bahasa Inggris dan bahasa Indonesia untuk menganalisis unsur-unsur yang dipakai dalam kedua bahasa tersebut sehingga dapat diketahui ciri-ciri budaya dari bahasa Inggris dan bahasa Indoesia. Data yang diambil dari penelitian ini adalah data yang terdapat di kamus Oxford dan buku peribahasa Indonesia. Penelitian ini menggunakan model prisma yang dikembangkan oleh Geeraerts yang kemudian disederhanakan untuk mengenalisis metafora yang digunakan dalam peribahasa Indonesia dan Inggris. Hasil dari penilitian ini menunjukkan bahwa peribahasa mencerminkan budaya dari pengguna peribahasa tersebut.
References
Ahearn, L. M. (2012). Living Language: An Introduction to Linguistic Anthropology. India: Wiley-Blackwell.
Ahimsa-Putra, H. S. (2013). Strukturalisme Levi-Strauss Mitos dan Karya Sastra. Yogyakarta: Kepel Press.
Chaniago, N. A. & Pratama, B. (1998). Duaribu Tujuh Ratus Peribahasa Indonesia. Bandung: Pustaka Setia.
Duranti, A. (1997). Linguistic Anthropology. United Kingdom: Cambridge University Press.
Foley, W. A. 1997. Anthropological Linguistics: An Introduction. Great Britain: Blackwell Publishers.
Hadi, F.L., & Nurhadi, D.N. (2018) Kajian Makna dan Nilai Budaya Peribahasa Jepang dan Indonesia yang Menggunakan Unsur Nama Binatang. GoKen, 6(2).
Hanindar, M. & Andini, R. (2017). Analisis makna kotowaza yang terbentuk dari kata anjing serta padanannya dalam peribahasa Bahasa Indonesia. Japanology 5(2), 146-157.
Kovecses, Z. (2010). Metaphor: A Practical Introduction. New York: Oxford University Press.
Langlotz, A. (2006). Idiomatic Creativity: A Cognitive-linguistic Model of Idiom-representation and Idiom-variation in English. Amsterdam: John Benjamin Publishing Company.
Lyon, J. (1977). Semantics, Vol.1. Cambridge: Cambridge University Press.
Mirahyuni, N.K., & Garnida, S.C. (2016). Nilai sikap bekerja dalam peribahasa Inggris sehubungan dengan kuda dan padanannya dalam bahasa Indonesia. Parafrase, 16 (1), 9-20.
Moleong, L.J. (2015). Metode Penelitian Kualitatif. Bandung: PT Remaja Rosda Karya.
Ogden, C. K & Richards, I.A. (1923). The Meaning of Meaning. London: Routledge & Keagen Paul.
Oxford. (2005). Oxford Advanced Learners' Dictionary. New York: Oxford University Press.
Poedjosoedarmo, S. (1983). "Penentuan Metode Penelitian". Materi Kuliah Pascasarjana S-2 Linguistik 2007/2008. Yogyakarta: Buku Hand Out.
Saussure, F. (1959). Course in General Linguistics. Trans. Wade Baskin. New York: Philosophical Library.
Tarigan, H.G. (1985). Pengajaran Gaya Bahasa. Bandung: Angkasa.
Wittgenstein. (1958). Philosophical Investigations. Great Britain: Basil Blackwell.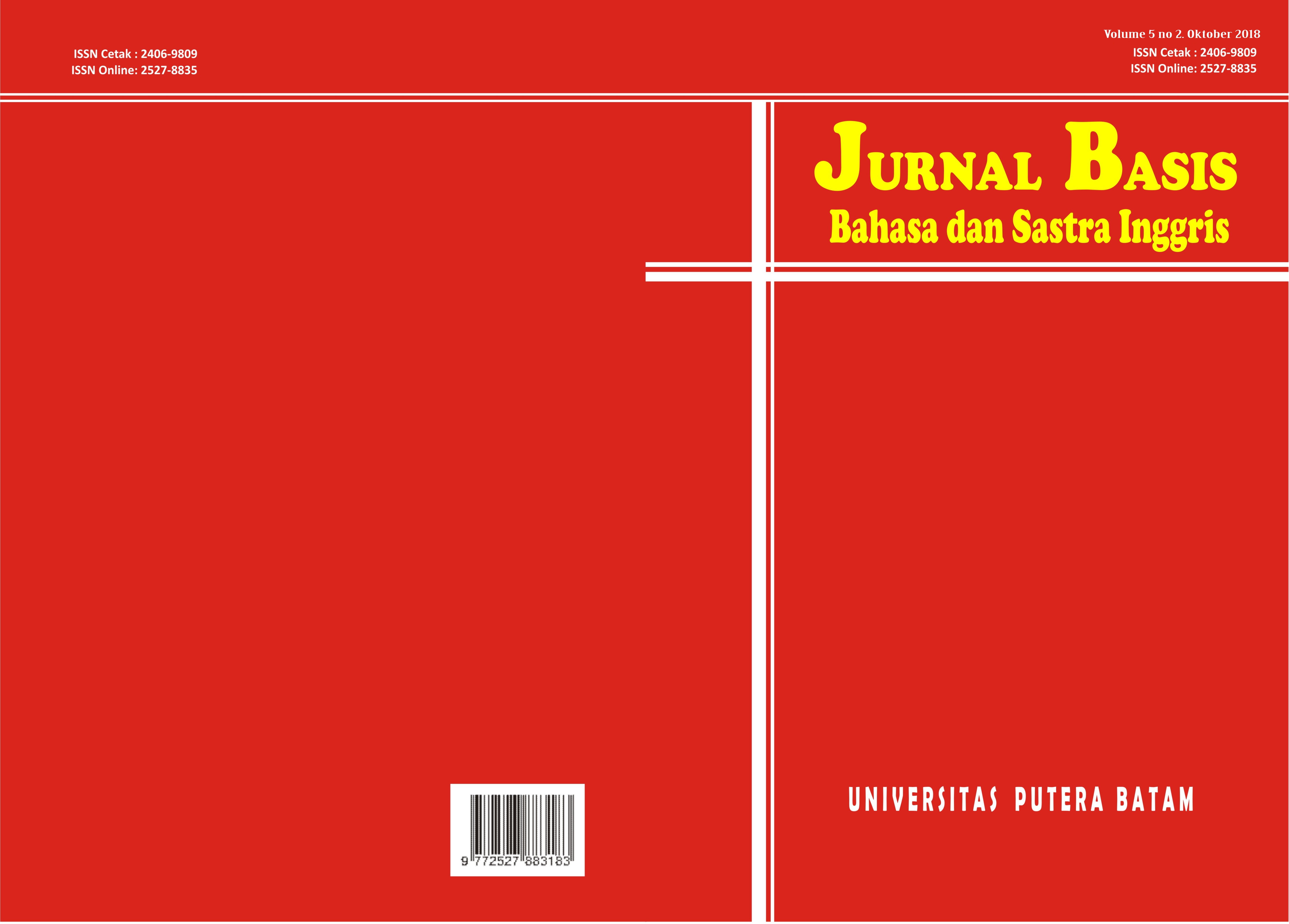 Section
BASIS VOLUME 5 NO 2 OKTOBER 2018