ONOMATOPOEIA IN MOVIE HOW TO TRAIN YOUR DRAGON: SEMIOTIC APPROACH
Keywords:
Onomatopoeia, types of onomatopoeia, types of sound, piercian semiotic model
Abstract
There were so many movies that using onomatopoeia in their script. Onomatopoeia was when the sound of a word imitated what the word referred to. One of those movies was How To Train Your Dragon. Moreover. Words can be categorized as onomatopoeia if it fulfilled a certain condition and divided into three types of onomatopoeia. However there were types of sound that explained the processes and sources of that sound of words.  Because of that, this study wanted to analyze those two topics from the aspect of the references to the meaning of the signs. The data were collected and analyzed in five steps: 1) downloading the movie script from fandom.com, 2) transcribing in table of analysis, 3) analyzing the semiotic aspects of onomatopoeia using Peircian model and 4) classifying their types using Bredin's theory and then 5) analyzing the process of onomatopoeia using semantic extension. This research found twenty one onomatopoeia that consist of thirteen direct onomatopoeia, six associative, and two exemplary. Also, the researcher have been gathered the type of sound. They were two voice – human, six voices – non-human, and twenty three noises, or sound produced by non-living this. Using these theories, onomatopoeic words can be further classified and analyzed both types and process, and these findings are expected to help the investigation of language analysis especially in analyzing onomatopoeia.
References
Akita, K. (2013). Constraints on the semantic extension of onomatopoeia. Osaka: Osaka University.
Bakhurst, D. (1995). Social Being And The Human Essence: An Unresolved Issue In Soviet Philosophy. City: Kluwer Academic Publishers.
Barbieri, M. (2010). On the origin of language. Biosemiotics, 3(2), 201-223.
Berdin, H. (1996).Onomatopoeia as A Figure and A Linguistic Principle. New Literary History
Bouchard, D. (2013). The Nature and Origin of Language. Oxford: Oxford University Press.
Chandler. D. (2017). Semiotics the basics. New York: Routledge.
Cresswell, J.W. (2014).Research Design Qualitative,Quantitative. And Mixed Methods Approaches. City:Sage
De Saussure, F. (1916). Course in General Linguistics. London: McGraw-Hill Book Company
Eliza, T. (2013). An analysis of onomatopoeias in Garfield comic. Vivid: Journal of Language and Literature, 2(2).
How to Train Your Dragon: Transcript. Retrieved July 9th, 2020, from https://transcripts.fandom.com/wiki/How_to_Train_Your_Dragon
How to Train Your Dragon 2: Transcript. Retrieved July 9th, 2020, from https://transcripts.fandom.com/wiki/How_to_Train_Your_Dragon_2
How to Train Your Dragon: The Hidden World: Transcript. Retrieved July 9th, 2020, from https://transcripts.fandom.com/wiki/How_to_Train_Your_Dragon:_The_Hidden_World
Kambara, K., & Tsukada, K. (2010, September). Onomatopen: painting using onomatopoeia. In International Conference on Entertainment Computing (pp. 43-54). Springer, Berlin, Heidelberg.
Karina, M. D. (2017). English Onomatopoeia in Children's Book: Types and Readers' Understanding. Yogyakarta: Universitas Sanata Dharma.
Kusuma, S. M. (2013). The Study of Onomatopoeia Types and Translation Strategies in Don Rosa's The Life and Times of Scrooge McDuck. Unpublished Thesis. Yogyakarta: Sanata Dharma University.
Lestari, F. (2014).Onomatopoeia Translation in Wreck-It Ralph The Movie. Jakarta: State Islamic University Syarif Hidayatullah
Sapir, E. (1921) .Language An Introduction To The Study Of Speech. New York: Harcourt.
Tiwiyanti, L. (2017). An Analysis on Onomatopoeic Words and their Translation Procedures in Harry Potter and The Prisoner of Azkaban and Its Translation Version. Scope: Journal of English Language Teaching, 1(1), 39-48.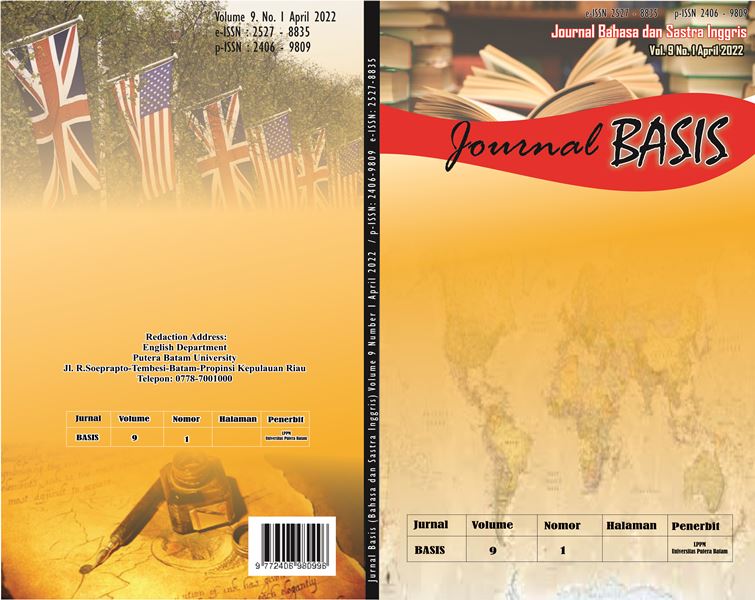 Downloads
Section
BASIS VOLUME 9 NO 1 APRIL 2022
License