GENTLEMAN'S RESTRICTED CODES AND ELABORATED CODES IN THE "KINGSMAN: THE GOLDEN CIRCLE" MOVIE
Keywords:
restricted codes, elaborated codes, gentleman, slang language, semiotic analysis
Abstract
The present study aims to analyse the content of the Kingsman: The Golden Circle movie (2017). The use of restricted codes and elaborated code by the main character Gary 'Eggsy' Unwin in the movie and how they convey the concept of English gentleman was investigated by applying the descriptive qualitative method. The movie script and the scenes in the movie were the data that were being analysed. Data were collected through observation using a non-participatory technique. The data were analysed using the Barthesian semiotic analysis method. It was found that there were seven types of restricted codes namely secrecy, intimacy, novelty, jocularity, sympathy, expressiveness, and nominative. While the use of elaborated code was found in the forms of verbal and non-verbal communications. The findings in this research showed that the main character employed the restricted codes and the elaborated codes to express proximity and to convey the idea of the new English gentleman of the 21st century.
References
Adi, W. T., & Azmi, A. (2018). Slang expression in Little Man Movie based on the social dimension. Lingua: Journal of Language, Literature and Teaching, 15(2), 97.
Agsa, J., & Ambalegin, A. (2020). The Form of Slang Terms in the "Kingsman: The Golden Circle" Movie. Linguistic, English Education and Art (LEEA) Journal, 3(2), 400–413. https://journal.ipm2kpe.or.id/index.php/LEEA/article/view/1260
Aristya Dewi, P., Suastra, I. M., & Udayana, I. N. (2018). The Analysis of American Slang in Movie Script "The Wolf of Wall Street." Humanis, 22, 1.
Bennett, J. (2013). Chav-spotting in Britain: the representation of social class as private choice. Social Semiotics, 23(1), 146–162.
Berberich, C. (2016). The Image of the English Gentleman in Twentieth-Century Literature. Routledge.
Bernstein, B. (2005). Class, codes, and control. In Class, Codes and Control: Theoretical Studies Towards a Sociology of Language (Vol. 1). Psychology Press.
Bouzida, F. (2014). The Semiology Analysis in Media Studies Roland Barthes Approach. SOCIOINT14-International Conference on Social Sciences and Humanities, September 1001–1007.
Dianiya, V. (2020). Semiotic Analysis of Roland Barthes Film Parasite. Profetik Jurnal Komunikasi, 13(2), 212–224.
Fiorensera, R., & Handayani, N. D. (2021). Code Switching Used By Public Figures in Deddy Corbuzier'S Podcast: Sociolinguistics Approach. Jurnal Basis, 8(1), 31. https://ejournal.upbatam.ac.id/index.php/basis/article/view/2769
Hardini, S., & Sitohang, R. (2019). The Use of Language as a Sociocultural Communication. Jurnal Littera: Fakultas Sastra Darma Agung, 1(2), 238–249.
Hart, B., & Risley, T. R. (1995). Meaningful differences in the everyday experience of young American children. Paul H Brookes Publishing.
Hastuti, E., Utami, H. A., & Oswari, T. (2021). Illocutionary Acts Uttered by The Main Character in Fear of Rain Movie: Pragmatic Approach. Jurnal BASIS, 8(2), 153-164. https://ejournal.upbatam.ac.id/index.php/basis/article/view/4441
Ivinson, G. (2018). Re-imagining Bernstein's restricted codes. European Educational Research Journal, 17(4), 539–554.
Johnson, D. C., Johnson, E. J., Hetrick, D., & Johnson, D. C. (2020). Normalization of language deficit ideology for a new generation of minoritized U . S . youth. Social Semiotics, 0(0), 1–16.
Kolodny, O., & Edelman, S. (2018). The evolution of the capacity for language: The ecological context and adaptive value of a process of cognitive hijacking. Philosophical Transactions of the Royal Society B: Biological Sciences, 373(1743).
Krarup, A. K., & Sørensen, B. (2020). Do manners maketh man? An analysis of Kingsman: Secret Service's relation to its cultural context of 21st century Britain (p. 68). Aalborg University. https://projekter.aau.dk/projekter/en/studentthesis/skaber-manerer-folk-en-analyse-af-kingsman-the-secret-services-relation-til-dens-kulturelle-kontekst-i-form-af-storbritannien-i-det-21-aarhundrede(504eea2b-5686-4ae4-9642-0d640e6b7466).html
Krippendorff, K. (2018). Content analysis: An introduction to its methodology (4th edition). Sage publications.
Mark Millar & Dave Gibbons. (2012). Secret Service #1. https://www.marvel.com/comics/issue/42701/secret_service_2012_1
Maton, K., & Muller, J. (2007). A sociology for the transmission of knowledge. Language, Knowledge, and Pedagogy: Functional Linguistic and Sociological Perspectives, 2006, 14–33.
Moffat, K., & Bond, M. (2017). "The Ultimate Version of Who You are Now": Performing the Gentleman Spy. Adaptation, 10(3), 352–368.
Morgan, A. (2018). The suit maketh the man: Masculinity and social class in Kingsman: The Secret Service (Vaughn, 2014). Clothing Cultures, 5(3), 359–376.
Schwanebeck, W. (2018a). How the Right-Wing Blockbuster Disposes of the ' Non - Working ' Working Class. Coils of the Serpent, 2, 80–94.
Schwanebeck, W. (2018b). The Making of a Man in British Films How Masculinity is Constructed in the Editing Room. Hard Times, 102(2), 32–41.
Siregar, I. (2022). Semiotics Analysis in The Betawi Traditional Wedding "Palang Pintu": The Study of Semiotics Roland Barthes. International Journal of Linguistics Studies, 2(1), 01–07.
Situmorang, R. K., & Herman, H. (2021). An analysis of slang language styles used in charlie's angels movie. Journal of English Educational Study (JEES), 4(1), 21–29.
Sudiyanti, L. N., I Wayan Suarnajaya, & I Wayan Swandana (2018). A descriptive analysis of Slang words used in "Step Up: All In" Movie. Jurnal Pendidikan Bahasa Inggris Undiksha, 5(2). https://ejournal.undiksha.ac.id/index.php/JPBI/article/view/13585
Tairova, S. B. (2021). Features and functions of slang. Academic Research in Educational Sciences, 2(5), 795–798.
Terci, M. (2013). The Gentleman and the British Cultural Space. International Journal of Cross-Cultural Studies and Environmental Communication, 2(01), 43–55.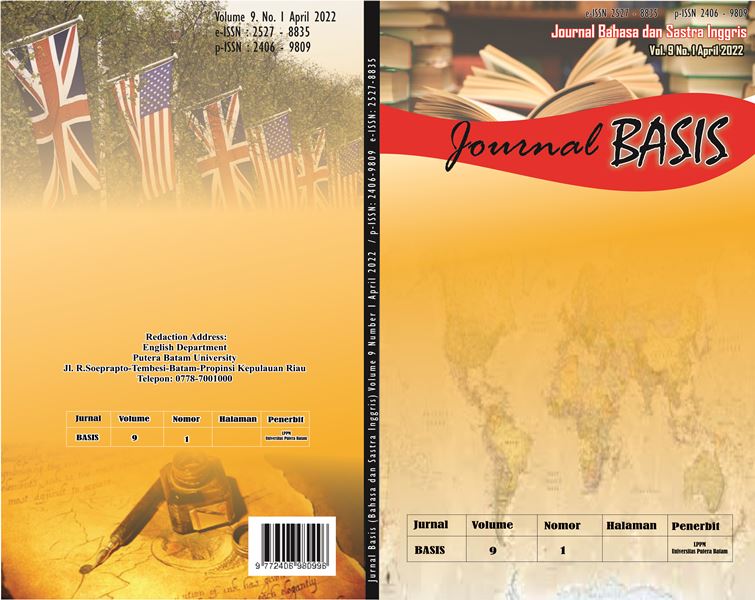 Downloads
Section
BASIS VOLUME 9 NO 1 APRIL 2022
License