ERROR ANALYSIS OF ENGLISH TO INDONESIA SUBTITLE IN THE WAY WAY BACK MOVIE
Keywords:
error analysis, lexical errors, text errors, interlingual, intralingual
Abstract
This research aims to find the error analysis that can be found in The Way, Way Back (2013) movie. The source data was taken from English to Indonesian subtitles. Based on Carl James theory (2008) there are substance error, text error, grammar error and lexical error. There are also two causes of errors: interlingual and intralingual. This research used a descriptive qualitative method. Error analysis occurs because lack of vocabulary, words, and structure. To finished this study, the researcher watched the movie, gather the data and pick which word that had error analysis. Based on the data analysis there were lexical errors and text error that found in 100 data, which consist 44 lexical errors (44%) 56 text errors (56%) 3 grammar errors (3%) and 1 substance errors (1%). The cause of error, 64 interlingual (64%) and 36 intralingual (36%)
References
Cambridge Academic Content Dictionary. (2008). New York: Cambridge University Press.
Echols, J. M. (1989). Kamus Indonesia Inggris (KII). Jakarta: Gramedia Pustaka Utama.
Hornby, A. (1995). Oxford Advanced Learner's Dictionary. England: Oxford University Press.
James, C. (1998). Errors In Language And Use, Exploring and Use. London: Routledge.
Kamus Besar Bahasa Indonesia (KBBI). (2008). Jakarta: Badan Pengembangan dan Pembinaan Bahasa.
Llach, M. (2011). Lexical Errors and Accuracy in Foreign Language Writing. Bristol: Multilingual Matters.
Manurung, E. H., Sinambela, E., & Pakpahan, C. (2015). An Analysis of The Lexical Errors in Translating English Text Into Bahasa Indonesia Done by The Students of English Department University of HKBP Nommensen Medan.
Megah, S. I. (2015). An Error Analysis of Foreign Language Learning in The Terminal Movie. JURNAL BASIS UPB, 61-69. Retrieved from https://ejournal.upbatam.ac.id/index.php/basis/article/view/427
Norrish, J. (1983). Language Learners and Their Errors. London: Macmillan Press.
Purnama Sari, E. M. (2015). Interlingual Errors and Intralingual Errors Found in The English Narrative Text Written by SMP, SMK and University Students' in Lampung.
Richards, J. C. (1974). Error Analysis: Perspective on Second Language Acquisition. London: Routledge.
Rochmaniyah, I. A., Suharjito, B., & Andayani T, M. A. (2017). An Analysis of Lexical Error in the Descriptive Text Writing Produced by the Eighth Grade Students of MTs. Wahid Hasyim Kunir.
Tata Bahasa Baku Indonesia Edisi Ke-4. (2017). Jakarta: Badan Pengembangan dan Pembinaan Bahasa.
Tesaurus Bahasa Indonesia Pusat Bahasa. (2008). Jakarta: Pusat Bahasa Depdiknas.
Wahyuni, Y. (2011). An Error Analysis On English - Indonesian Subtitle Translation In Romeo And Juliet Film.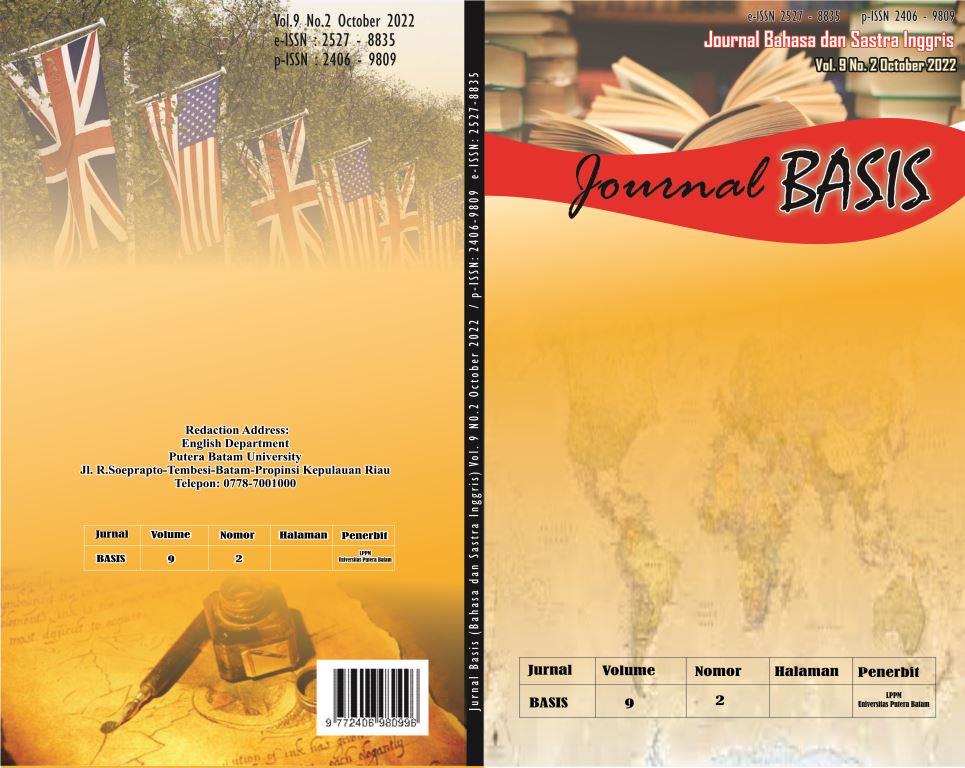 Downloads
Section
BASIS VOLUME 9 NO 2 OCTOBER 2022
License