TECHNIQUES OF TRANSLATION OF CULTURAL WORDS AND ITS QUALITY IN THE MIDNIGHT LIBRARY NOVEL
Keywords:
Keywords: Cultural words, Translation technique, Quality assessment of translation, Novel
Abstract
This research analyzed the translation of cultural words in The Midnight Library novel. The purpose of this research is to find out the cultural words based on Newmark's theory (1988). Which translation technique is used to translate the cultural words according to the theory of Molina and Albir (2002). Quality assessment of cultural words by using the theory Nababan (2013). This analysis used a qualitative descriptive approach to considering data of words and phrases contained in the novel. In this study, researchers used some techniques to collect and analyze data. The result showed that there were 5 types of cultural words in the novel, which were; ecology (28%), material culture (46%), social culture (8%), social organization and customs (8%) and gestures and habits (10%). There are 9 out of 18 translation techniques applied to cultural words; borrowing (38%), amplification  (10%), adaptation (6%), generalization (4%), particularization  (4%), established equivalent (26%), descriptive  (2%), reduction (6%), and variation  (4%). The cultural words included in the translation do not affect the quality of the translation. Therefore, the translation of the cultural words is of decent quality;  the translation is accurate, acceptable and readable in the target language.
References
Bolinger, D. (1983). Intonation and gessture. In Source: American Speech. Vol. 58 (2), 156-174. DOI: https://doi.org/10.2307/455326
Catford, J. C. (1965). A Linguistic Theory of Translation. London: Oxford University Press.
Darbelnet, J., & Vinay, J.P. (19950. Comparative Stylistic of French and English. 1-380.
Echols, J.M & Shadily, H. (1976). Kamus Inggris Indonesia. Jakarta: PT. Gramedia Pustaka Utama.
Haig, M. (2020). The Midnight Library (C. Library, ed.).
Haig, M. (2021). The Midnight Library Perpustakaan Tengah Malam. (Vol. Agustus 2021). (D. Anggraeni, Ed, & Dharmawati, Trans). Jakarta: Gramedia Pustaka Utama.
Hapsari, N. D., & Setyaningsih, R. W. (2013). Cultural words and the translation in Twilight. Anglicist, 2(2), 75-81. http://journal.unair.ac.id/ANGLICIST@cultural-words-and-the-translation-in-twilight--article-9628-media-94-category-8.html
Kuswahono, D. (2019). Analysis On Translation Of Cultural Terms In Dan Brown's The Da Vinci Code Novel From English Into Indonesia. (Doctoral Dissertation, Universitas Airlangga).
Larson, M. (1998). Larson_Meaning-based Translation. A Guide to Cross-Language Equivalence (2nd ed). Lanham: University Press of America.
Molina, L., & Hurtado Albir, A. (2002). Translation Techniques Revisited: A Dynamic and Functionalist Approach. In 498 Meta, XLVII (Vol. 4).
Nababan, M., Nuraeni, A., & Sumardiono, &. (2012). Pengembangan Model Penilaian Kualitas Terjemahan (Mangatur Nababan, dkk. 39–57.
Nauly, G. I. P. (2021). An Analysis Of Cultural Terms Translation In "Chef" Movie Script. Universitas Nasional
Newmark, P. (1988). A Texbook of
Translation. Prentice Hall International.
Oxford University Press. (2008). Oxford Learner's Pocket Dictionary (4th ed.). New York.
Tim Redaksi. (2008). Tesaurus Bahasa Indonesia
Salsabila, R., Jumanto, J., & Rahayu, E. (2020). Translation Strategies For Cultural Expression In Garuda Indonesia's Inflight Magazine Colors. Journal Basis, Vol.7 No.1, 185–198. https://doi.org/https://doi.org/10.33884/basisupb.v7i1.1899
Vanderstoep, S. W., & Johnston, D. D. (2009). Research Methods for Everyday Life_ Blending Qualitative and Quantitative Approaches (Research Methods for the Social Sciences) ( PDFDrive ). San Francisco: Jossey-Bass.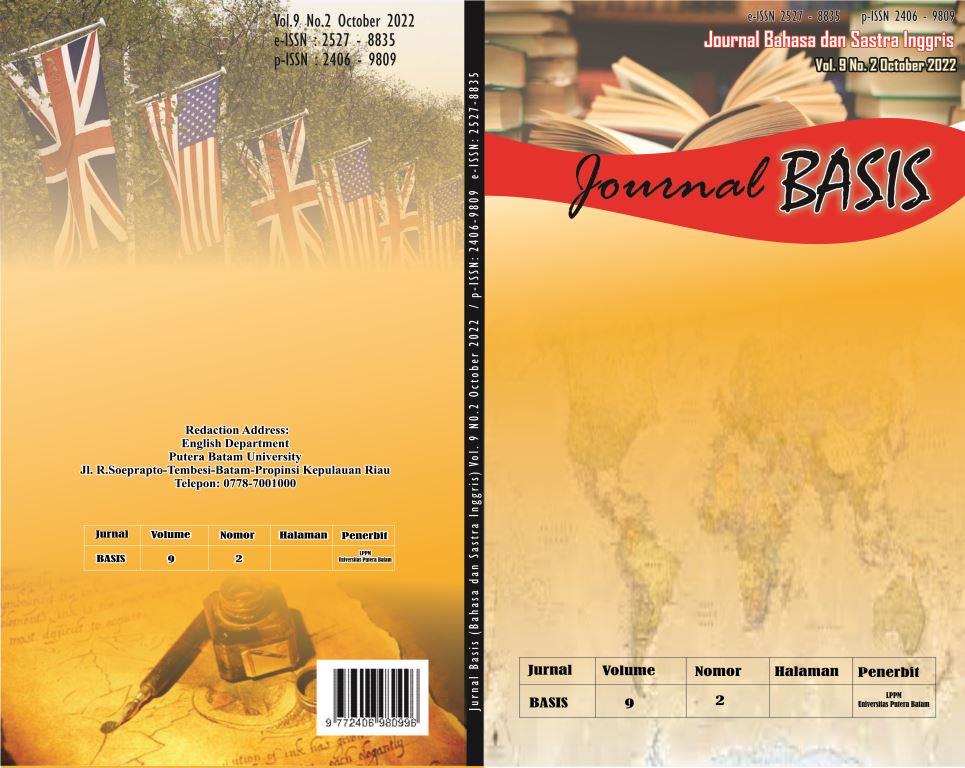 Downloads
Section
BASIS VOLUME 9 NO 2 OCTOBER 2022
License