THE USE OF SWEAR WORDS IN LIVE SPEED'S YOUTUBE VIDEO: "LOSE THE GAME, SHAVE YOUR EYEBROWS"
Abstract
This descriptive qualitative research analyzed the swear words utteranced by Speed's in his YouTube video: lose the game, shave your eyebrows. This research aimed to identify types of swear words based on context and which one the frequenly appears. The data source of the research took video from Live Speed's YouTube channel who played FIFA game with a kid (30 may 2022). This research used observational methode with non-participatory technique for collecting the data. This research used the referential identity method with technique to analyze the data. Based on finding, there were five utterances types of swear words in Live Speed's video. Those were 1 data of dysphemism, 3 data of idiomatically, 7 data of abusively, 4 data of emphatically, and 13 data of cathartically. The researchers made a conclusion that the cathartically of swearing is the most frequent utteranced by Speed and kid in his video. In other words, all types of swearing were pronounced to express the feeling to gain the attraction of the viewers without insulting anyone.
References
Anderson, L. and Trudgil. P. (1992). An introduction to language and society (Edition, F). Mishawaka: Penguin.
Beers Fägersten, K. 2012. Who's searing now?: The social aspects of conversational swearing. Cambridge: Cambridge Scholars Publishing.
Bogdan, R. C., & Biklen, S. K. (1992). Qualitatif Research for Education: An Introduction to Theory and Methods (Allyn and Bacon (ed.).
Burridge, allan. (2006). Forbidden Words: Taboo and Cencoring of Language. New York: Cambridge University Press.
Crystal, D. (2003). English as a global language (2nd editio). Cambridge: Cambridge University Press.
Hughes, Geoffrey (2006). An Encyclopedia of Swearing: The Social History of Oaths, Profanity, Foul Language, and Ethnic Slurs in the EnglishSpeaking World. New York: M.E. Sharpe .
industrycoid (https://www.industry.co.id/read/87933/sejak-pandemi-pengguna-media-sosial-tumbuh-63-persen-ini-dampak-negatifnya)
Jay, Timothy & Janschewitz, Kristin. 2008. The pragmatics of swearing. Journal of Politeness Research 4, 267-288 https://doi.org/10.1515/JPLR.2008.013.
Kristiano, Johan, & Ardi, Priyatno. 2018. Swear words in Bad Boys II: A semantic analysis. LLT Journal: A Journal on Language and Language Teaching 21(2), 191-198. Retrieved from http://e-journal.usd.ac.id/index.php/LLT/article/view/1586
Magnus Ljung. (2011). Swearing : A Cross-Cultural Linguistic Study (second). Basinstoke: Palgrave Macmillan.
Pinker, Steven. (2007). The stuff of Thought: Language as a Window into Human Nature.
Swan, M. (1996). Practical English Usage.
Sudaryanto. (2015). Metode dan aneka teknik analisis Bahasa [Method and technique of language study. Yogyakarta: Sanata Dharma University Press.
Sugiyono. (2015). Metode Penelitian Pendidikan Pendekatan Kuantitatif, Kualitatif dan R&D. Bandung: Alfabeta.
Trudgill. (2007). Swearing. Blackwell: Oxford.
Wulandari, O. (2017). Octavia Wulandari The Use of Swe ar Words in PewDiePie's YouTube Videos. 04(02), 1–24 http://repositori.uin-alauddin.ac.id/8077/.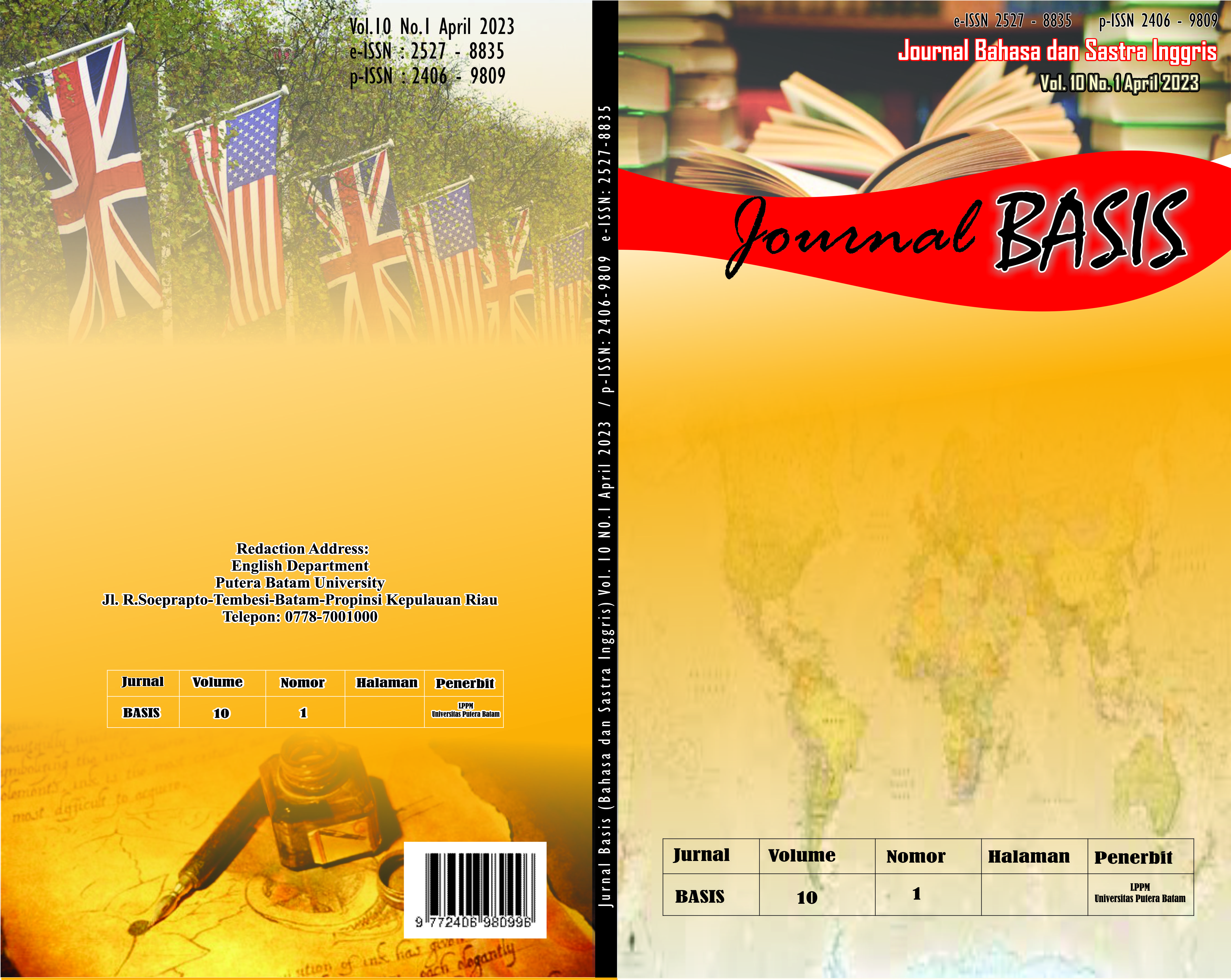 Downloads
Section
BASIS VOLUME 10 NO 1 APRIL 2023
License