EXPRESSIVE ACTS OF CHARACTERS' UTTERANCES IN THE AFTERMATH MOVIE
Abstract
The researchers conducted the descriptive qualitative research to analyze the expressive acts types. This research used The Aftermath 2019 movie as the data source and data were utterances that characters produced to show their emotions to the hearers. The researchers took the data by using observational method and note-taking. The researchers did not appear in the movie and data were collected by also writing down. In analyzing data, pragmatic identity method and pragmatic competence- in equalizing were used. It was analyzed with the theory of expressive acts by Searle and Vanderveken (1985). The result showed the characters said all expressive acts types. There were 59 data found in the utterances. One data of congratulate, 14 data of apologize, one data of welcome, 15 data of thank, 14 data of greet, seven data of complain, and seven data of compliment. Based on the result, thank was dominant because the characters commonly used this type to show their feelings. The characters frequently expressed gratitude because the speakers got good benefits from the listeners
References
Abbood, A. H., & Rasheed, N. J. (2022). A pragma-sociolinguistic analysis of complaint strategies in two selected young adults novels. Review of International Geographical Education (RIGEO), 12(2), 177–188. https://doi.org/10.48047/rigeo.12.02.20
Agung Tribawa, I. G. N., Putra Yadnya, I. B., & Ida Setianingsih, K. A. (2018). Declarative and interogative sentences in the film "American Sniper." Humanis, 22(1985), 950. https://doi.org/10.24843/jh.2018.v22.i04.p16
Alston, P. W. (2000). Illocutionary acts and sentence meaning. Cornell University.
Birner, B. J. (2013). Introduction to pragmatics. Wiley Blackwell.
Fortunasari, Adrefiza, & Febriani, N. (2019). Gender-based analysis in giving compliment by EFL students. Jambi-English Language Teaching Journal, 4(1), 16–29. https://doi.org/https://doi.org/10.22437/jelt.v4i1.7745
Masjedi, N., & Paramasivam, S. (2018). Complaint and politeness strategies used by Iranian speakers of English. International Journal of Applied Linguistics & English Literature, 7(4), 38–49. https://doi.org/http://dx.doi.org/10.7575/aiac.ijalel.v.7n.3p.38
Merriam, S. B., & Tisdell, E. J. (2016). Qualitative research: A guide to design and implementation. Jossey-Bass.
Muliawati, N. W. P., I Nyoman Sedeng, & Ida Ayu Made Puspani. (2020). The expressive illocutionary acts found in Webtoon True Beauty and their translation into Indonesian. RETORIKA: Jurnal Ilmu Bahasa, 6(2), 148–155. https://doi.org/10.22225/jr.6.2.1802.148-155
Norrick, R. N. (1978). Expressive illocutionary acts. Journal of Pragmatics, 2(3), 277–291. https://doi.org/https://doi.org/10.1016/0378-2166(78)90005-X
Piscesco, P. O., & Afriana, A. (2022). Types of expressive acts in Bohemian Rhapsody movie 2018. EJI (English Journal of Indragiri): Studies in Education, Literature, and Linguistics, 6(1). https://ejournal.unisi.ac.id/index.php/eji/article/view/1819/1110
Rahmawati, R. D. (2021). An analysis of expressive speech acts used in Crazy Rich Asian movie. Journal of Language and Literature, 9(1), 83–94. https://doi.org/10.35760/jll.2021.v9i1.2961
Rais, B., & Triyono, S. (2019). Pragmatic Analysis of Speech Acts on The Video of Prabowo Vs Jokowi - Epic Rap Battles Of Presidency. Ijllt, 2(3), 150–157. https://doi.org/10.32996/ijllt.2019.2.3.17
Ricca, H., & Ambalegin, A. (2022). Expressive speech acts found in Love at First Swipe web series. CaLLs, 8(1), 13–24. http://e-journals.unmul.ac.id/index.php/CALLS/article/view/6403/4392
Searle, J. R., & Vanderveken, D. (1985). Foundations of illocutionary logic. Cambridge University Press.
Selviyani, S., & Pujiati, T. (2019). Expressive speech act in the novel dialogue the Perfect Husband. IDEAS: Journal on English Language Teaching and Learning, Linguistics and Literature, 7(2), 343–353. https://doi.org/10.24256/ideas.v7i2.1051
Sudaryanto, S. (2015). Metode dan aneka teknik analisis bahasa. Duta Wacana University Press.
Sugiyono, S. (2013). Metode penelitian kuantitatif, kualitatif dan r & d. Bandung: Alfabeta
Tanjung, I. (2021). The expressive speech act in the Lovely Bones movie. Journal Ilmiah Spectra, 7(2), 86–98.
Virginia, F., & Mubarak, Z. H. (2021). Expressive acts realization in "I Care a Lot" Movie. Humanitatis : Journal of Language and Literature, 08(01), 14. https://journal.universitasbumigora.ac.id/index.php/humanitatis/article/view/1567/855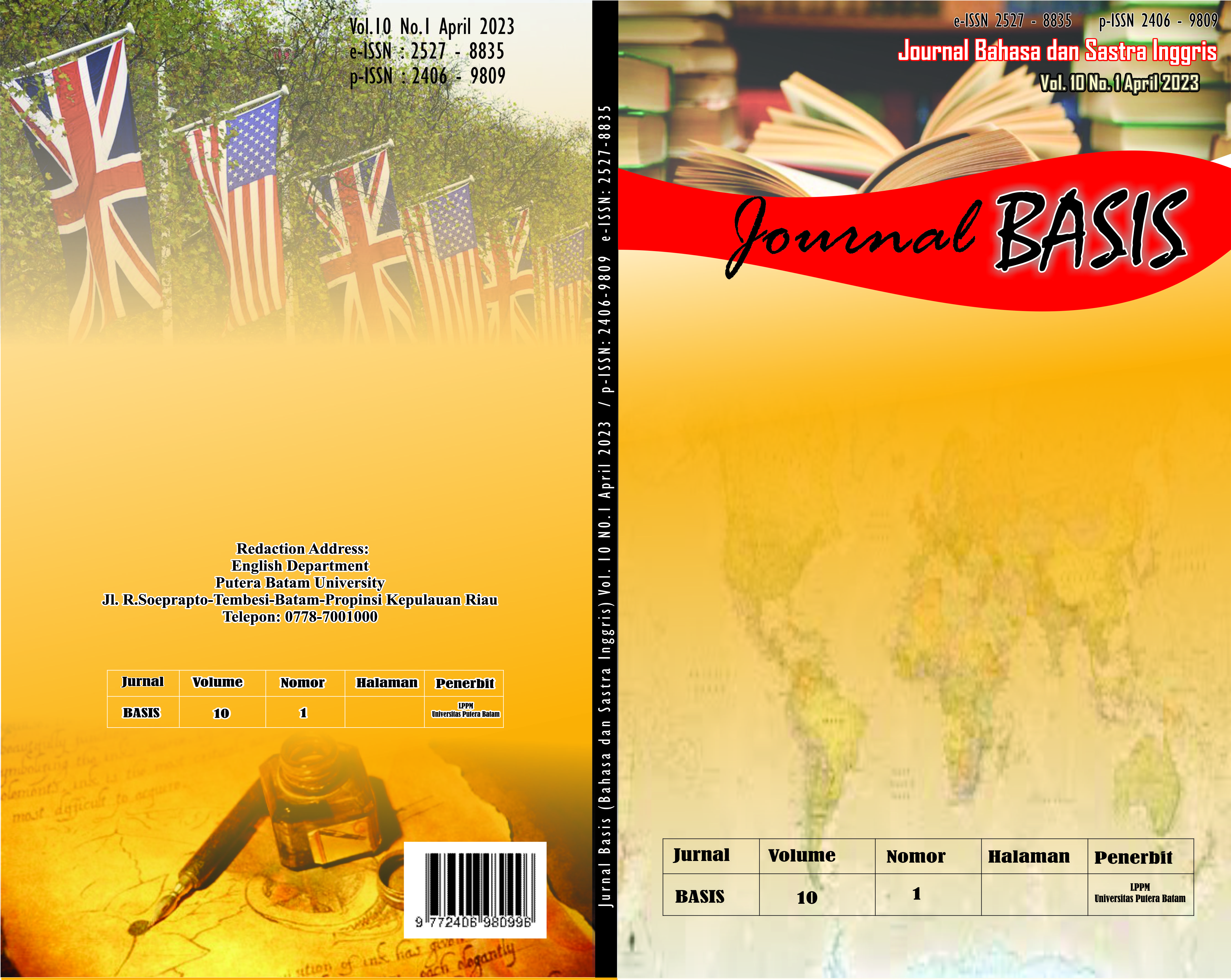 Downloads
Section
BASIS VOLUME 10 NO 1 APRIL 2023
License