DECADENCE DESCRIPTION OF THE LEXICON UNDERSTANDING IN THE PART OF THE BATAK TOBA'S BODY LANGUAGE BY TEENAGERS IN BATAM CITY
Dairi Sapta Rindu Simanjuntak

Universitas Putera Batam

Yessie Aldriani

Universitas Putera Batam
Abstract
Indonesia is known as the country "Bhinneka Tunggal Ika" that means unity in diversity also symbolizes the unity of the NKRI which is strong and sturdy even though it consists of different backgrounds. Ethnic language is one type of diversity that Indonesian have. In heterogeneous societal structures, language clashes are an unavoidable phenomenon especially in big cities. Language attitudes are tested especially in groups of teenagers. If the speech community does not have a strong language attitude, it will certainly have an impact on language retention. One of the ethnic groups that experienced in this phenomenon was the Batak Toba ethnic group as the urban people in Batam. The aim of this study is to describe the occurrence of the understanding of the Batak Toba adolescents in Batam City in terms of lexicon mastery related to body parts. To get the data on the level of understanding of respondents, as many as 45 lexicon data were tested through a questionnaire to respondents aged 12-18 years who numbered 50 people, and the results were further described. The results showed that there was a decrease in understanding in the group of adolescents towards the body language lexicon of the Batak Toba language. The majority of respondents only heard of the lexicons but did not know the references. This is evidence of the gap in ethnic language understanding between parents and adolescents. This understanding gap is a result of the lack of learning or use of ethnic language in the family. If this condition is then left alone, it is certain that the lexicon will become extinct because it will disappear from the entity's understanding of the speaker.
References
Booij, Geert. (2007). The Grammar of Words: An Introduction to Linguistics Morphology (Edisi kedua). New York : Oxford University Press Inc.
Chaer, Abdul dan Leoni Agustina. (2004). Sosiolinguistik: Perkenalan Awal. Jakarta: Rineka Cipta.
Gafaranga, J. (2011). Transition space medium repair : Language shift talked into being. Journal of Pragmatics, 43(1), 118–135. https://doi.org/10.1016/j.pragma.2010.08.001
Meakins, F., Jones, C., & Algy, C. (2015). Bilingualism , language shift and the corresponding expansion of spatial cognitive systems. Language & Communication, 1–13. https://doi.org/10.1016/j.langsci.2015.06.002
Simanjuntak, D. S. R. (2015a). Penerapan Teori Antropolinguistik Modern (Competence, Performance, Indexicality, & Partisipation) Dalam Umpasa Budaya Batak Toba. Jurnal Basis, 2 no 2, 8. Retrieved from http://ejournal.upbatam.ac.id/index.php/basis/article/view/407/265
Simanjuntak, D. S. R. (2015b). Perubahan Fungsi Sosioekologis Leksikon Flora Bahasa Pakpak Dairi. Jurnal Linguistik, 12 No 1, 35–53.
_____(2017). Flora Lexicon of Pakpak Dairi, Proceeding International Conference On Language, Literature, And Art In New Media And Technologies And Public Spaces UIN Sunan Gunung Djati Bandung, 26 Oktober 2017, hlm. 490-503.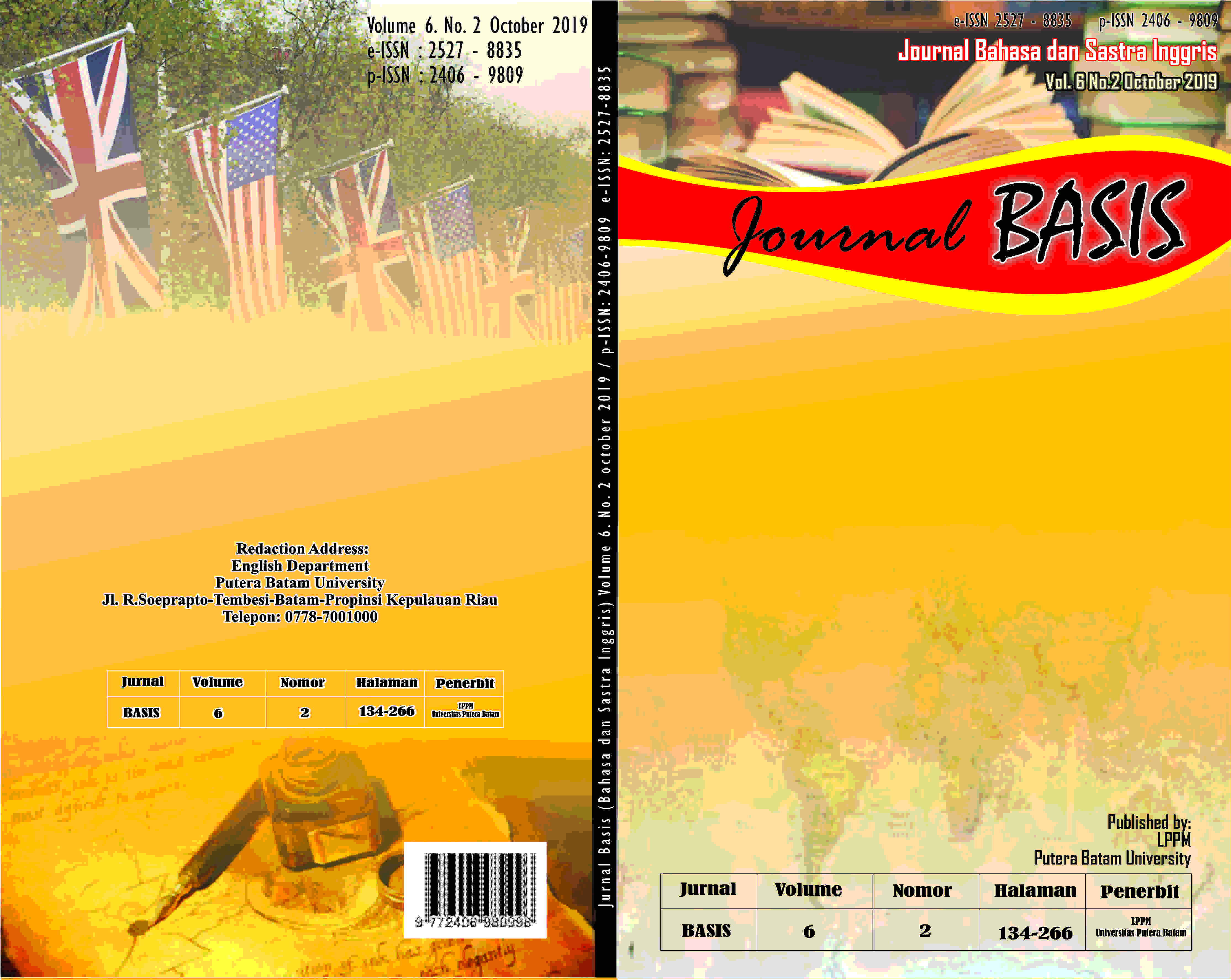 Section
BASIS VOLUME 6 NO 2 OKTOBER 2019