ANALISIS YURIDIS TERHADAP PERTANGGUNGJAWABAN PELAKU TINDAK PIDANA KORUPSI YANG DILAKUKAN SECARA BERSAMA-SAMA
ANALISIS YURIDIS TERHADAP PERTANGGUNGJAWABAN PELAKU TINDAK PIDANA KORUPSI YANG DILAKUKAN SECARA BERSAMA-SAMA
Ricky Endy Khe

Universitas Prima Indonesia

Theo Ariel Simatupang

Universitas Prima Indonesia

Immanuel Saragi

Universitas Prima Indonesia,

Rahma yanti

Universitas Prima Indonesia
Abstract
Responsibility by corruptors who carried corruption even individually or together is very important thing if we want to against corruption and give them a deterrent effect on corruptors. In Indonesia, corruption is an extraordinary crime, so it requires extraordinary punishment. This can be seen in the legislation that provides space in punishing and eradicating state losses, namely in Regulation Number 31 of 1999 Jo. Regulation Number 20 of 2001 about Eradication of Corruption. The method used in this study is a normative juridical research method, by collecting data in a literature review by research about legal norms in regulation about corruption. This study is works to searching and looking more for regulation in the context of the Responsibility of Corruption Criminals Conducted Together. The results of the research are that corruption is carried out by a person or group of people influenced by some factors, and as a result of corrupt actions, then responsibility can be imposed on the
References
Ardeno Kurniawan, Korupsi, Yogyakarta: Andi Offset, 2018.
Dwika Valderama, "Tinjauan Yuridis Pengembalian Aset Tindak Pidana Korupsi Melalui Lelang Yang Dilakukan Oleh Kejaksaan Negeri Medan", Jurnal Ilmu Hukum Prima, (Medan: UNPRI, 2017).
Edi Suharto, Analisis Kebijakan Publik, Bandung: Alfa Beta, 2005.
Evi Hartanti, Tindak Pidana Korupsi, Jakarta: Sinar Grafika, 2017.
Kamanto Sunarto, Pengantar Sosiologi, Jakarta: Lembaga Penerbit Fakultas Ekonomi Universitas Indonesia, 2004.
KUHP Kitapb Undang-Undang Hukum Pidana dan KUHAP Kitab Undang-Undang Hukum Acara Pidana, Buana press
Lamintang P.A.F., Dasar-Dasar Hukum Pidana Indonesia, Bandung: Citra Aditya Bakti, 1997.
LedenMarpaung, Asas Teori Praktik Hukum Pidana, Jakarta: Sinar Grafika, 2014.
Mahrus Ali, Dasar-Dasar Hukum Pidana, Jakarta: Sinar Grafika, 2015.
Maidin Gultom, Suatu Analisis tentang Tindak Pidana Korupsi di Indonesia, Bandung: Refika Aditama, 2018.
Moeljatno, Asas-Asas Hukum Pidana, Jakarta: Bina Aksara, 1987.
Mulyati Pawennei & Rahmanuddin Tomalili, Hukum Pidana. Jakarta: Mitra Wacana Media, 2015.
Rasyid Ariaman, H.M. dan Fahmu Raghib, Hukum Pidana, Malang: Setara Press, 2015.
Sarbudin Panjaitan, Pertanggungjawaban Pidana Dalam Delik Korupsi Atas Perintah Jabatan, Medan: Mitra Medan, 2015.
Soerjono Soekanto, Pengantar Penelitian Hukum, Jakarta: UI-Press, 1986.
Wahyu Affandi, Hakim dan Penegakan Hukum, Bandung: Alumni, 1984.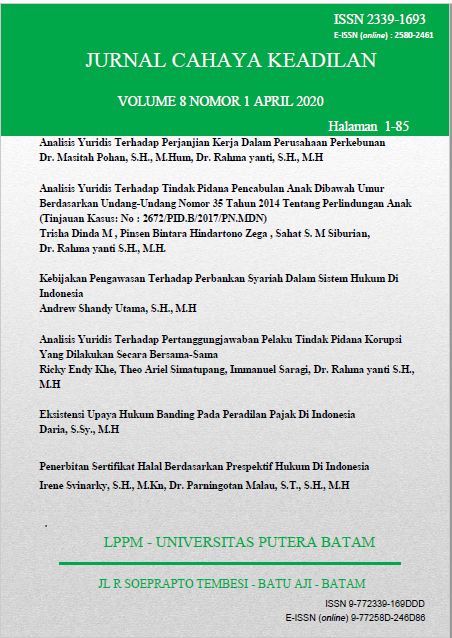 As long as this article is in the process of submission, editor, reviewer, copyright and has not been rejected, then this article is still owned by the Law Study Program of Putera University, so the authors are prohibited from publishing this article in other journals. If the writing from the author has been rejected or has been archived then the author is given the opportunity to publish to other journals.