EKSISTENSI UPAYA HUKUM BANDING PADA PERADILAN PAJAK DI INDONESIA
Daria -

STAIN Sultan Abdurrahman Kepulauan Riau
Abstract
The position of the tax court in accordance with the explanation of Article 27 paragraph (1) of Law Number 48 Year 2009 concerning judicial power is mentioned as one of the special courts within the state administrative court. In this case, according to the provisions of this article, the tax court must be in accordance with and must not conflict with the basic principles of the provisions of the judicial power law which constitutes the mandate of the constitution that should be obeyed. In Law Number 14 of 2002 concerning Tax Courts there are four legal remedies in resolving disputes namely, objections, appeals, lawsuits and reconsideration. What is meant by 'objection' 'in the implementation of the provisions of tax legislation may be that taxpayers feel less or dissatisfied with a tax assessment imposed on them or upon deduction or collection by a third party, in this case WP may submit an objection. Whereas the appeal remedies are a continuation of the objection remedies. In a sense, there is no appeal before going through the objection because the appeal filed is an objection letter as a form of tax dispute resolution at the Objection Institution level. Appeals in the Tax Court are conducted in the Tax Court, whereas if you see Law Number 48 of 2009 concerning Judicial Power, the legal remedies for appeals in a court of law should be under the authority of the Court of Appeal (Level II Court).
References
Muhammad Djafar Saidi, Perlindungan Hukum Wajib Pajak dalam Penyelesaian Sengketa Pajak, Jakarta: Rajagrafindo Persada, 2007.
Soerjono Soekanto & Sri Mamudji, Penelitian Hukum Normatif. Raja Grafindo Persada, Jakarta: 1993, hlm, 13-14.
Widayatno Sastrohardjono & TB . Eddy Mangkuprawira, Prosedur Beracara Dalam Pengajuan Banding dan Gugatan di Pengadilan Pajak, Jakarta: 2002.
Y. Sri Pudyatmoko, Pengadilan dan Penyelesaian Sengketa Dibidang Pajak, Jakarta: Gramedia Pustaka Utama, 2005.
Undang-Undang Dasar Negara Republik Indonesia Tahun 1945.
Undang-Undang Republik Indonesia Nomor 14 Tahun 2002 Tentang Pengadilan Pajak.
Undang-Undang Republik Indonesia Nomor 48 Tahun 2009 tentang Kekuasaan Kehakiman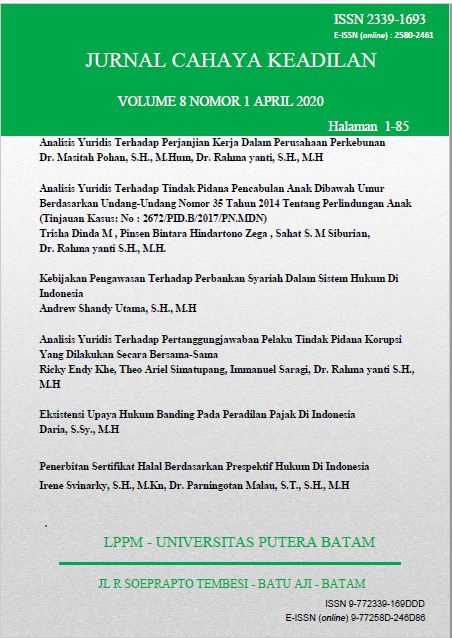 As long as this article is in the process of submission, editor, reviewer, copyright and has not been rejected, then this article is still owned by the Law Study Program of Putera University, so the authors are prohibited from publishing this article in other journals. If the writing from the author has been rejected or has been archived then the author is given the opportunity to publish to other journals.