THE ANALYSIS OF FORMULA IN THE LEGEND OF JAPANESE SAMURAI RUROUNI KENSHIN AND MIYAMOTO MUSHASI: POPULAR LITERARY APPROACH
Keywords:
Popular Literature, Formula, Arketype, Miyamoto Musashi, Rurouni Kenshin
Abstract
This research examined the formulation of legendary heroic stories and popular in Japan about the story of Rurouni Kenshin or often referred to as Samurai X and Miyamoto Mushashi atu called Samurai I. The two stories are then adapted into the screen and get a positive response and even enter in star 7 in the Box Office and imdb. It's clear that the two of the stories surged as apopular works and deserve to be analyzed by using the popular literature approach. To examine the hypothesis, researchers used the Cawelty theory with the terminology of formula/formulae. By using the Cawelty concept, this research examined the formulas used in both Japanese legend stories Rurouni Kenshin and Miyamoto Mushashi regarding similarities and differences as well as the factors that caused them to become popular according to the values and tastes of the audience. The results of the study indicated that the two action legends generally have the same action story formula as the cawelty formula, story/narrative structure, and similar motives for action. The difference from the two stories lines mainly in the way of author presents mythology and metaphor. Formula is one of the main factors that make a story like and get a positive response in the market, including consistency, originality, and the ability to attract miracles, place and style in the presentation of stories.
References
Adi Rochani, I. (2011). Fiksi populer: Teori dan metode kajian. Yogyakarta: Pustaka Pelajar.
Cawelty, J. G. (1976). Adventure, mystery, and romance. Chicago: University of Chicago Press.
faruk, & Suminto, A. S. (1997). Sastra populer. Jakarta: Universitas Terbuka.
Ibrahim, I. S. (1997). Lifestyle ecstasy: Kebudayaan dalam masyarakat komoditas indonesia. Yogyakaarta: Jalasutra.
IMDb. (2014). Rurouni kenshin part II: Kyoto inferno (2014) Rurôni kenshin: Kyôto taika-hen (original title). Retrieved from https://www.imdb.com/title/tt3029558/?ref_=nv_sr_1
Kayam, U. (1981). Seni, tradisi, masyarakat(essays) (in Indonesian). Jakarta: Penerbit Sinar Harapan.
Linda, L., & Arianto, T. (2018). Child literature genre formulation in Walt disney animation movie. Jurnal BASIS, 5(2), 11–20. https://doi.org/https://doi.org/10.33884/basisupb.v5i2.776
Stanton, R. (2007). Teori Fiksi Robert Stanton. Diterjemahkan oleh Sugihartuti dan Rossi Abi Al Irsyad. Yogyakarta: Pustaka Pelajar.
Suciati, E. (2013). Analisis formula terhadap popularitas novel the kite runner karya khaled hosseini an analysis of formula towards the popularity. DIGLOSSIA, 6(2), 78–90. https://doi.org/https://doi.org/10.26594/diglossia.v6i2.387
Swirski, P. (1999). Popular and Highbrow Literature: A Comparative View. Purdue University Press, 1(4), 36–46. Retrieved from http://docs.lib.purdue.edu/clcweb/vol1/iss4/4
Victor E. Neuburg. (1977). Popular Literature: A History and Guide, from the Beginning of Printing to the Year 1897. London: Woburn Press.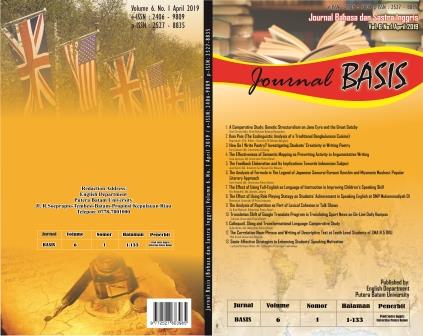 Downloads
Section
BASIS VOLUME 6 NO 1 APRIL 2019
License