THE FULFILLMENT OF MAIN CHARACTER'S DESIRE THROUGH DISTRUCTION ACTIONS IN JOKER MOVIE: PSYCHOLOGICAL APPROACH
Keywords:
Destruction, Fulfillment, Desire, Psychoanalysis
Abstract
This article represented the study of psychological to investigate the destruction as the main character's desire fulfillment. Data source applied of this research from movie Joker released in 2019. This research applied theory concept psychology of three main major Lacan related the real, the imaginary and symbolic. Method applied in this research was descriptive analysis with librarian research as collecting data and deep interpretation with psychoanalysis approach as technique analysis data. From the analysis had been done the researchers find various phenomenon relevant with concept psychology of three main major Lacan in movie. The desire for perfection was conception in the desire for fulfilment of the real beginning from desire for created mother figure ideal because joker encounter phenomenon Joker's mother was disease disorders. Joker also attached with problem financial become depressed in social life. Subject's desire always felt lack bringing on process mirror for ideal life. Subject felt itself would be happy with laughs loud. Subject started did fulfilment desire with did destruction action as achievements on satisfaction with the level symbolic. This research explored the various efforts of the subject for fulfilment desire with did destruction actions.
References
Adler, A. (2013). Understanding human nature (Psychology revivals). Routledge.
Allport, G. W. (1937). Personality: A psychological interpretation.
Arianto, T., & Ambalegin, A. (2020). Escaping of Lackness Trough Fiction for Desire and Emptiness Fulfilment. IdeBahasa, 2(1), 49–58. https://doi.org/10.37296/idebahasa.v2i1.37
Budiman, M. A., & Listyarini, I. (2018). Analyses of Short Stories Using Lacan's Psychoanalysis. E-Structural, 1(01), 1–23. https://doi.org/10.33633/es.v1i01.1816
Freud, S. (1941). Splitting of the ego in the defensive process (1938). The International Journal of Psychoanalysis.
Jung, C. G. (2014). Collected works of CG Jung, volume 6: Psychological types (Vol. 38). Princeton University Press.
Kelly, G. (1955). Personal construct psychology. Nueva York: Norton.
Khotimah, H., Yulianto, B., & Laili, E. N. (2020). Psychological Types of Main Character and Influencing Factors on " a Caribbean Mystery " : Jung-Freud Theory. Basis, 7, 395–404. https://ejournal.upbatam.ac.id/index.php/basis/article/view/2479
Lacan, J., & Miller, J.-A. (2013). The ethics of psychoanalysis 1959-1960: The seminar of Jacques Lacan. Routledge.
Mark, M. M., Donaldson, S. I., & Campbell, B. (2011). Social psychology and evaluation. Guilford Press.
Maslow, A., & Lewis, K. J. (1987). Maslow's hierarchy of needs. Salenger Incorporated, 14(17), 987–990.
Phillips, T., & Silver, S. (2018). Joker (2019) Screenplay. December.
Rahmi, E., & Arianto, T. (2019). Schizophrenia Symptoms Acute in Teddy Alias Andrew in the "Shutter Island" Novel By Dennis Lehane. Jurnal Basis, 6(2), 225. https://doi.org/10.33884/basisupb.v6i2.1422
Ratna, N. K. (2018). Ensiklopedia: 2.000 entri istilah, biografi, karya, metode, dan teori sastra. Pustaka Pelajar.
Shahwan, S. J. (2019). A Lacanian Study of Hemingway's The Old Man and the Sea. Mediterranean Journal of Social Sciences, 10(1), 87–91. https://doi.org/10.2478/mjss-2019-0009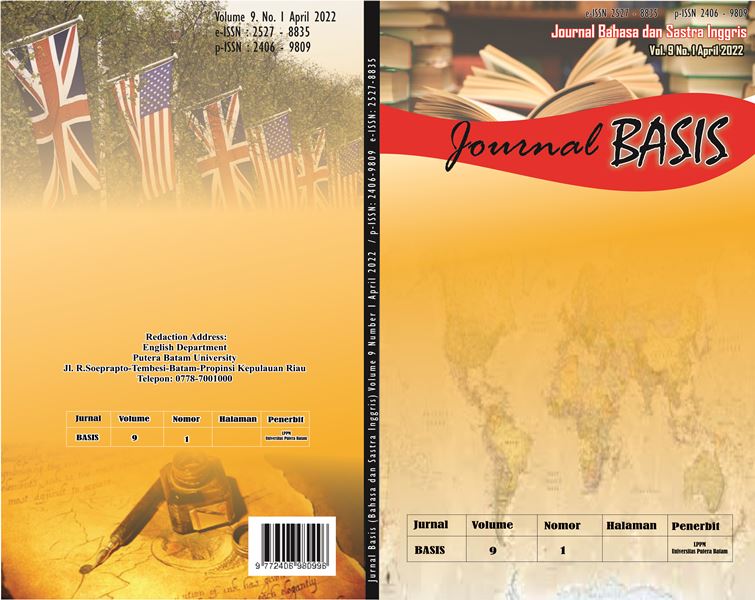 Downloads
Section
BASIS VOLUME 9 NO 1 APRIL 2022
License