AN ANALYSIS OF USING CODE SWITCHING IN INSTAGRAM
Keywords:
tag-switching, intersentential code switching, intrasetential code switching.
Abstract
The phenomenon of code switching nowadays is very often encountered in both direct and indirect communication or on social media. This research aims to describe the forms and the factors of using code switching that using in on  Instagram. After doing the analysis researcher consider there are three kinds of form code switching that found on instagram account using by instagram users they are: tag-switching, intersentential code switching, and intrasetential code switching. Then after doing the analysis based on of the types, researcher founds the reasons of using code switching there are four points: changing topic, lack of vocabulary, bilingual/multilingual, Prestige and trend. This research using sociolinguistic study because it's related to the topic in this research. Then the researcher used qualitative research methods in doing the analysis. This research are expected to be useful in the process of learning language, especially studies of sociolinguistic and the using of language.
References
Holmes, J. (2013). An Introduction to Socialinguitstic fourth edition (Fourth edi). USA: Routledge.
Lillis, T. (2013). The Sociolinguistics of Writing. Edinburgh: Edinburgh University Press Ltd.
Mubarak, Z. H. (2019). The Analysis Of Repetition As Part Of Lexical Cohesion In Talk Shows. Jurnal Basis, 6(1), 81–94. https://doi.org/10.33884/basisupb.v6i1
Stockwell, P. (2007). Sociolinguistics - a Resource Book for Students (Second Edi). New York: Routledge.
Wardugh, R. (2015). An Introduction to Socialinguistic (seventh ed). UK: Blackwell Publishing Ltd.
Zhiganova, A. V. (2016). The study of the perception of code-switching to English in German advertising. Procedia - Social and Behavioral Sciences, 236(December 2015), 225–229. https://doi.org/10.1016/j.sbspro.2016.12.011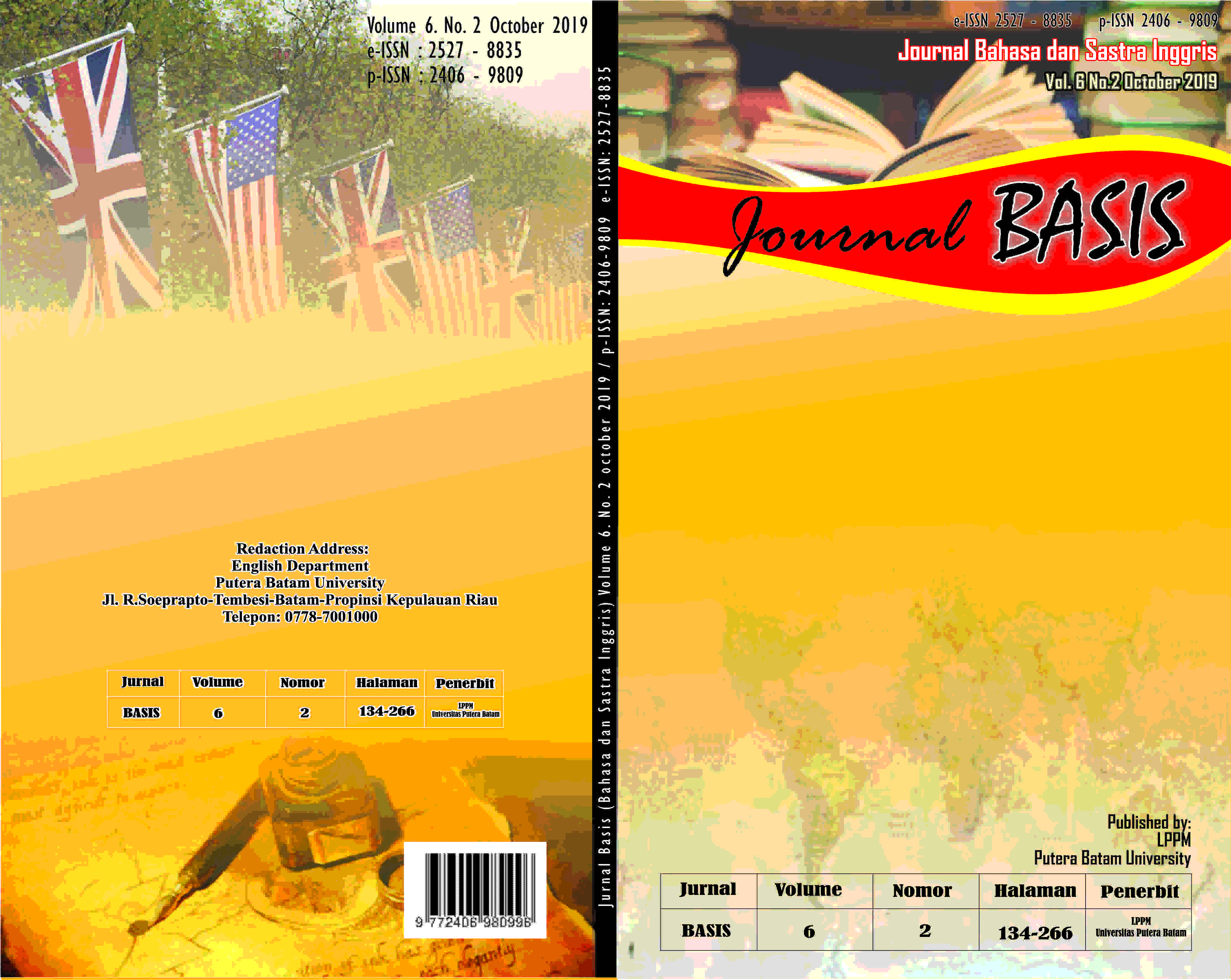 Downloads
Section
BASIS VOLUME 6 NO 2 OKTOBER 2019
License