POSITIVE POLITENESS IN "OPRAH'S 2020 VISION TOUR" HOW REASONS AND FACTORS INFLUENCED THE CHOOSING OF STRATEGY
Keywords:
Positive Politeness Strategy, Talk Show, Oprah Winfrey, Interlocutor
Abstract
Politeness can be said to be very sensitive interpersonal act carried out by someone in the form of a threat of the acting politely or not. Positive politeness influence greatly influence the attitudes and behaviors carried out by someone. Attitudes and behaviors in positive politeness are reflection of a person's character to be good or not to others. The aimed of this research is to give an example in order to prioritize using positive politeness when speaking in any situation, including talk shows. The data were taken from the utterances in every conversation that Oprah Winfrey said with her guests. Conversation data is transcribed into written data. And analyzed qualitatively based on conversations between Oprah Winfrey and her guests Michelle Obama in Oprah's 2020 Vision Tour Talk Show. The positive politeness strategy aims to minimize the distance between Oprah Winfrey and her guests which is expected to create a sense of comfort when talking on the talk show. There are 8 strategies found in this data that categorized as positive politeness, they are: Exaggerate (interest, approval, sympathy with hearer), intensify interest to the hearer, seek agreement (to find and try to approval by the opponent said), avoid disagreement, presuppose/rise/assert common ground, joke (make a joke), be optimistic, include both the speaker and the hearer in the activity, and give (or ask for) reason. This research also founds that payoff and circumstances become factor on why the speaker use certain positive politeness strategy. Circumstances which are found in this research are relative power and social distance.
References
Aldriani, Y. (2019). Euphemistic Expressions Of The Late Princess Lady Diana Marriage Life On The Online Newspaper. IdeBahasa, 1(1), 19-30. Retrieved from https://jurnal.idebahasa.or.id/index.php/Idebahasa/article/view/2
Alvina, T.S. (2019). Kesantunan Berbahasa Dalam Diskusi Mahasiswa Dan Relevansinya Terhadap Pembelajaran Profesi Kependidikan Di Fkip Uhn Pematangsiantar. IdeBahasa, 1(1), 65-76. Retrieved from https://jurnal.idebahasa.or.id/index.php/Idebahasa/article/view/9
Brown & Levinson, S. (1987). Politeness ( Brown and Levinson 1987 ). Reading.
Creswell, J. W. (2014). Research Design : Qualitative, Quantitative and Mixed Methods Approaches (Fourth). SAGE Publications.
Edi, S. (1992). Pengantar Metode Penelitian Lingustik Struktural. Surakarta: Surakarta : Sebelas Maret Univeritas Pres.
Holtgraves, T. (2010). Social psychology and language: words, utterances, and conversation. https://doi.org/10.1002/9780470561119.socpsy002036
Hymes, D. H. (1974). Foundations in sociolinguistics : an ethnographic approach. Philadelphia, PA: University of Pennsylvania Press.
Timberg, B. M., & Erler, R. J. (2002). TALK: A History of the TV Talk Show (First). Library of congress cataloging.
Surayni, Melly Siska. 2021. STRATEGI PERMINTAAN DALAM BAHASA MINANGKABAU: TINJAUAN DARI PERSPEKTIF JENDER. JURNAL BASIS, [S.l.], v. 3, n. 1, p. 64-75, apr. 2016. ISSN 2527-8835. Available at: <http://ejournal.upbatam.ac.id/index.php/basis/article/view/493>
Surayani, Melly Siska. (2016).Strategi Permintaan Dalam Bahasa Minangkabau: Tinjauan Dari Perspektif Jender. Jurnal Basis, [S.l.], v. 3, n. 1, p. 64-75, apr. 2016. ISSN 2527-8835. Available at: <http://ejournal.upbatam.ac.id/index.php/basis/article/view/493
Suryani, M. S. (2019). Impolite Responses To Donald Trump's Posts On Instagram. IdeBahasa, 1(1), 77-84. Retrieved from https://jurnal.idebahasa.or.id/index.php/Idebahasa/article/view/7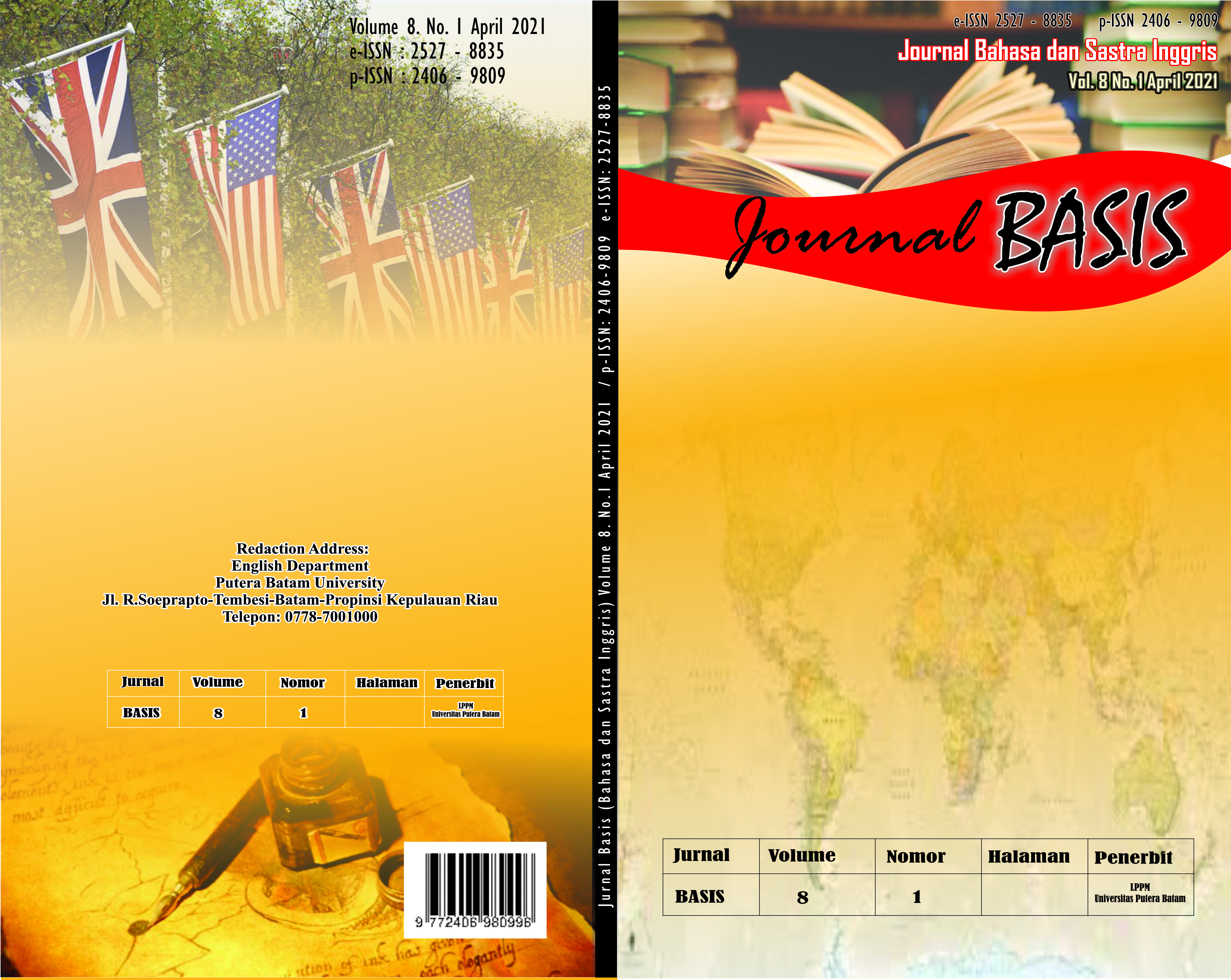 Downloads
Section
VOLUME 8 NO 1 APRIL 2021
License