THE TYPES OF EUPHEMISM USED IN THE HEADLINE NEWS BY TEMPO.CO 2022
Keywords:
Euphemism, Headline, News, Tempo.co
Abstract
Euphemism can be said as a style of language that becomes a better communication tool and avoids important actions or things that are sensitive. The use of euphemisms is used in communication to provide information or messages that usually contain taboos that are meaningful in words, phrases or sentences that contain euphemistic expressions. This study aimed to provide an insight into the strategy of using euphemisms in order to prioritize politeness when speaking in a general context or situation so that it can be understood by the entire community The data is taken from news headlines tempo.co from March to July 2022. In this study, researchers analyzed the euphemisms that emerged from news headlines Tempo.co. Usually euphemisms are things that often appear in news media, advertising media, and also on social media which are currently widely used by people and youth. The researcher focused on classifying euphemisms based on their types, namely positive and negative euphemisms and then analyzes the meaning behind euphemisms in the Tempo.co headlines. The researcher made this research using the euphemism theory of Allan & Burridge (2020). The researcher used a qualitative descriptive method to describe euphemisms. In the results of this study, the researcher found 15 data which contained types of euphemisms based on their type such as analogy and distortion of euphemisms based on their type.
References
Allan, K., Burridge, K., Crespo-fernández, E., & Jamet, D. (2020). Euphemism as a Word-Formation Process. (June 2012), 0–200. https://doi.org/10.4000/lexis.334
Allan, K., & Utama, B. (n.d.). Euphemism and Language Change: The Sixth and Seventh Ages. Université Jean Moulin - Lyon 3.URL:http://journals.openedition.org/lexis/355.
Ardhan, D. T. (2018). Euphemism Used by Anies Baswedan and Sandiaga Uno Candidate Pair in the First Round of Jakarta Gubernatorial Election Debate 2017. Anglicist, Volume 07 No 02 August 2018, 105-112.http://repository.unair.ac.id/id/eprint/69009.
Arif, N. F. (2016). Social and Cognitive Implications of Using Euphemisms in English Social and Cognitive Implications of Using Euphemisms in English. (November 2015). https://doi.org/10.5539/ijel.v5n6p151
Creswell, J. W. (2014). Research design. SAGE Publications, Inc.
Ren, C. H. I., & Yu, H. A. O. (2013). Euphemism From Sociolinguistics Perspective. 4(4), 45–48. https://doi.org/10.3968/j.sss.1923018420130404.C613
Ryabova, M. (2013). Euphemisms And Media Framing. 9(32), 33–44.European Scientific Journal November 2013 edition vol.9, No.32 ISSN: 1857 – 7881 (Print) e - ISSN 1857- 7431.
Serli, Y., Wahyuni, D., & Padang, U. N. (2018). An Analysis Of Euphemism In Crimes And Politics News. E-Journal of English Language and Literature Volume 7 No. 4 http://ejournal.unp.ac.id/index.php/jel.
C, efendi1, R N Rosa2, D Wahyuni3. (2013). Forms And Types Of Euphemism Found On Sites Of. (September) English Language and Literature E-Journal / ISSN 2302-3546 http://repository.unp.ac.id/id/eprint/4003.
Sudaryanto. (1993). Method dan teknik analysis bahasa. Yogyakarta: Duta Wacana University Press.
Wardhaugh, R. (n.d.). An Introduction to Sociolinguistics Sixth Edition.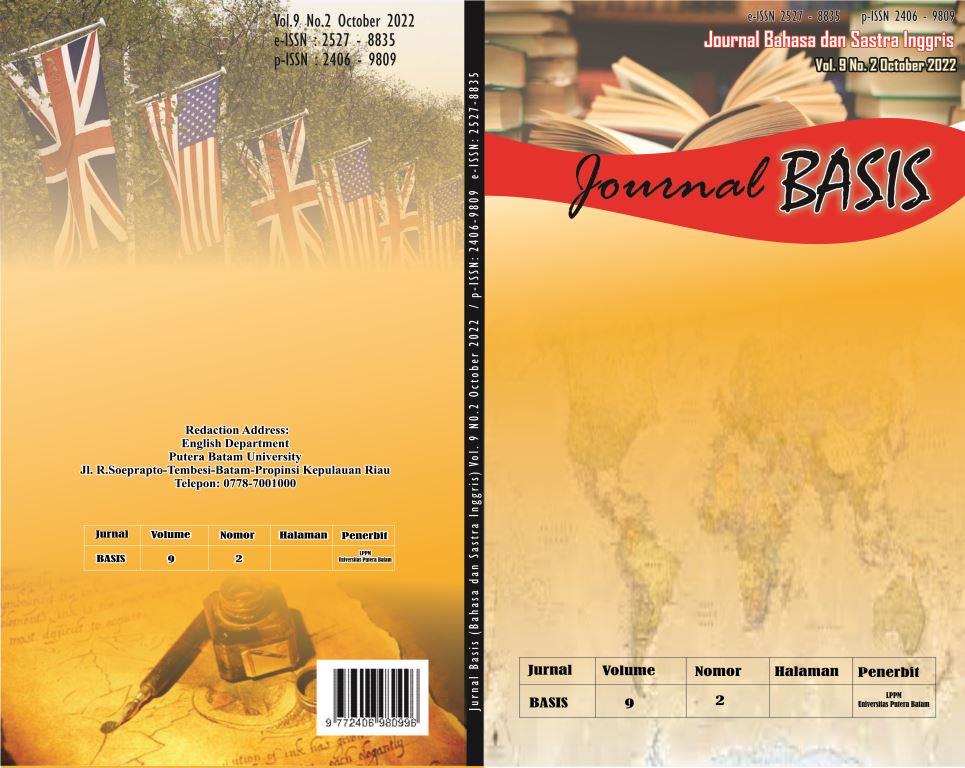 Downloads
Section
BASIS VOLUME 9 NO 2 OCTOBER 2022
License