CODE-SWITCHING USED BY CHEF JUNA ON DEDDY CORBUZIER PODCAST
Keywords:
Sociolinguistic, Code-Switching, and Types of Code-Switching.
Abstract
The phenomenon of code-switching these days can be found easily on social media, such as Instagram, Whatsapp, Facebook, Twitter, TikTok, YouTube, and so on. The purpose of this research was to analyze the types of code-switching on the YouTube platform, especially in the Deddy Corbuzier Podcast video that invited Chef Juna as a guest. This research was a descriptive qualitative to study a sociolinguistic phenomenon. The observational method and non-participatory technique were used for collecting the data. The types of code-switching were analyzed using the theory explained by Poplack. The researchers found there were three types of code-switching: tag-switching, inter-sentential code-switching, and intra-sentential code-switching. The result showed the most common type of conversation which can be found in the Deddy Corbuzier Podcast was inter-sentential code-switching. Based on the result, it can be concluded the used of code-switching between the presenter and the guest showed intelligence by using more than one language during communication.
References
Ameliza, T. C., & Ambalegin. (2020). Code switching analysis in English literature whatsapp group. 7 No.1, 141–150. Retrieved from https://ejournal.upbatam.ac.id/index.php/basis/article/view/1837
Ansar, F. A. (2017). Code-switching and code-mixing in teaching-learning process. 10(1), 29–45.
Fitriyani, I. D. (2013). Code-switching used by students. VIII(October), 55–62.
Kamariah, & Ambalegin. (2019). Analysis of using code-switching in instagram. 6 No.2, 259–266. https://doi.org/https://doi.org/10.33884/basisupb.v6i2.1431
Mesthrie, R. (2002). Code-switching: sociopragmatic models. In concise encyclopedia of sociolinguistics.
Poplack, S. (1980). Sometimes I'll start a sentence in Spanish. English.
Sudaryanto. (2015). Metode dan aneka teknik analisis bahasa. Sanata Dharma University.
Wardhaugh, R. (2010). An introduction to sociolinguistics sixth edition. Cambridge University Press.
Wati, R. (2020). An analysis of code switching and code mixing in fashion program "I Look" on Net Tv. Channing: Journal of English Language Education and Literature, 5(1), 12–25. https://doi.org/10.30599/channing.v5i1.753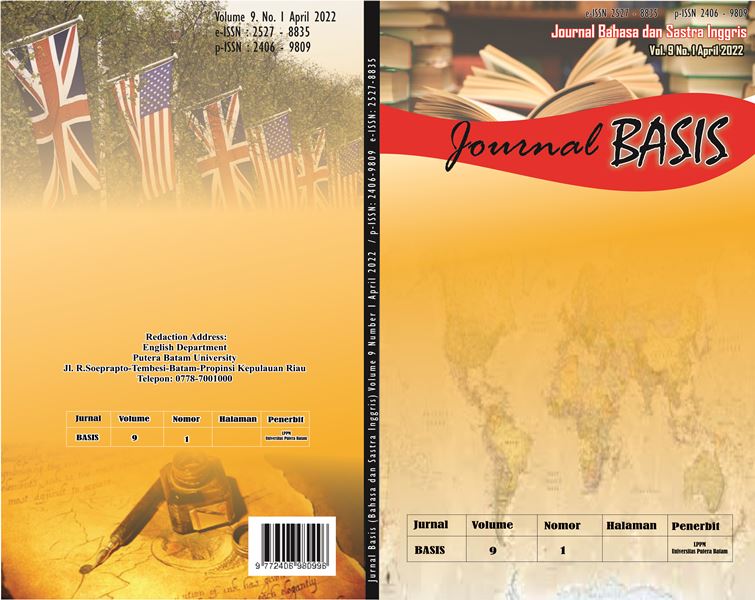 Downloads
Section
BASIS VOLUME 9 NO 1 APRIL 2022
License