FEMALE REPRESENTATION IN SELECTED DISNEY RENAISSANCE STORIES
Keywords:
Female Representation, Existential Feminism, Disney Renaissance, Disney Heroines
Abstract
The occurrence of disparities in society with female characters, Disney stories told about the existence of heroine characters in the Disney renaissance era. Disney stories had become part of a show culture that has evolved into the reproduction of gender roles. This study was conducted to find the female representation as a heroine depicted in the Disney renaissance as well as to analyze the reasons how Disney heroines struggle in claiming their equality as a woman in their society. This study was categorized into qualitative and descriptive research methods. Furthermore, this study used the theory of the renowned feminist existentialism by Simone de Beauvoir, one of the Feminist icons and Philosophers of existentialism, with her book; The Second Sex, Beauvoir represented the section of the independent woman; a woman could choose independence, which means continuing to carry out the process toward freedom without having the insight of a predetermined goal. Therefore, this study aimed to elaborate how the female representation as the women to fight their equality to their desire for freedom. Thus, the heroine character was expected to be able to contribute to society in terms of gender awareness, including women.
References
Autumn. (2019). Disney Princess A Treasury of Enchanting Tales. In The Story of Pocahontas (p. 99). sywell: Autumn Publishing.
Barber, M. (2015). Disney's Female Gender Roles: The Change of Modern Culture. Honors Thesis.
Beal, C. (1994). Boys and girls: The development of gender roles. New York: McGraw-Hill.
Beck, K. A. (2018). Beyond the Independent Woman: A Reading of Simone de Beauvoir's When Things of the Spirit Come First with The Second Sex. School of Historical and Philosophical Inquiry, 18.
CIDA. (1999). CIDA's policy on gender equality. Hull, Quebec: Canadian International Development Agency.
Crowell, S. (2004). Existentialism. Stanford Encyclopedia of Philosophy.
Daulay, R. (2021). Heroine and Princess: Women Image Portrayed in Selected Disney's Stories. Journal BAsis, 110.
Dundes, L. (2001). Disney's modern heroine Pocahontas: revealing age-old gender stereotypes and role discontinuity under a facade of liberation. The Social Science Journal, 353.
Fernanda, A., & Ranto. (2021). Representation Of Bangka Belitung'swomen On Novels Written By Bangka Belitung's Female Authors: Feminisim Studies. Journal Basis, 3-4. https://ejournal.upbatam.ac.id/index.php/basis/article/view/2703
Garabedian, J. (2014). Animating Gender Roles: How Disney is Redefining the Modern Princess. James Madison Undergraduate Research Journal, 2(1), 22-25.
Garuba, I. O. (2020). Jung's Psychological Types Andcharacterisationin Alex Laguma's Literary Works. Celtic: A Journal of Culture, English Language Teaching, Literature, and Linguistics, 45.
Kristen Schiele, L. L. (2020). Marketing feminism in youth media: A study of Disney and Pixar animation. journals elsevier, 2 .
Lant, J. (2018, September 7). A Briefish History of The Disney Renaissance. Retrieved from theopinionarcade: https://theopinionarcade.com/a-briefish-history-of-the-disney-renaissance/
Lindgren, A. (2020). Animated Stereotypes – An Analysis of Disney's Contemporary Portrayals of Race and Ethnicity. Master Thesis, 90.
May, J. P. (1981). Walt Disney's Interpretation of Children's Literature. Language Arts, 463.
Merriam-Webster. (n.d.). Relationship. Retrieved from Definition of Relationship by Merriam-Webster: https://www.merriam-webster.com/dictionary/relationship
Oza, P. (2020). Film and Literature. Mumbai, India: ResearchGate.
Parks, M. (2014, october 23). How Fourth-Wave Feminism is Changing Disney's Princesses. Retrieved from HighBrow Magazine: https://www.highbrowmagazine.com/4388-how-fourth-wave-feminism-changing-disney-s-princesses
Ramrao, D. T. (2016). Film and Literature: An Overview. International Journal of Multidisciplinary Research, 150.
Salden, M. (2019). 'Disney's Damsels' A representation of femininity in Disney's animated movies Snow White, Mulan, and Brave. Master Thesis Creative Industries Radboud University Nijmegen, 6.
Sawyer, N. (2003). Feminist Outlooks at Disney Princess's. James Madison University, 3.
Setyaningrum, R. w. (2020). IHab Hassan Postmodernism's Indeterminacy And Irony: Laura Brown's inner Conflict In The Hours. Celtic: A Jurnal of Culture Language Teaching, Literature, and Linguistics, 1.
Stover, C. (2013). Damsels and Heroines: The Conundrum of the Post-Feminist Disney Princess. A Journal of Transdisciplinary Writing and Research h from Claremont Graduate University: Vol. 2: Iss. 1, Article 29., 4.
Tongs, R. (2009). Feminist Thought Third Edition. Boulder : Westview Press.
Tonn, T. (2008). Disney's Influence on Females Perception of Gender and Love. A Research Paper, 5.
Walters, M. (2005). Feminism: A Very Short Introduction. United States: Oxford University Press Inc., New York.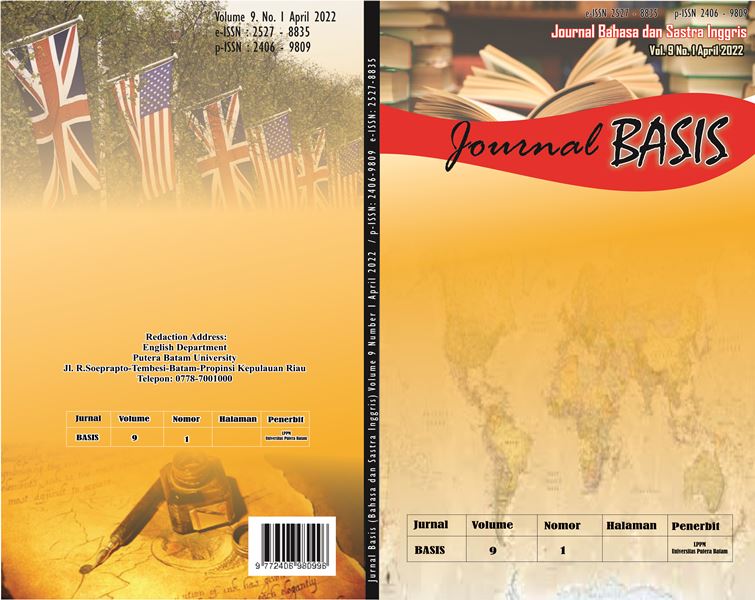 Downloads
Section
BASIS VOLUME 9 NO 1 APRIL 2022
License