SEMIOTIC ANALYSIS ON KIMETSU NO YAIBA MOVIE POSTERS
Keywords:
Connotation, Denotation, Semiotics, Signs, Symbols
Abstract
This research is aimed to explain the types of semiotic signs and symbols, the denotations and connotations meaning of signs and symbols found in the posters on Kimetsu no Yaiba. The researchers use the descriptive qualitative method to identify, analyze, and explain the signs and symbols in Kimetsu no Yaiba the movie posters. The theory used by the researchers in carrying out this research is the theory of Dyer (2009) to analyze the types of semiotic signs and symbols. In addition, Barthes' theory (1983) is used to analyze the denotation and connotation meaning. The data in the analysis chapter are taken from pictures, words, expressions, and colors in four posters on Kimetsu no Yaiba the Movie. The results of this research show that there are 26 symbols consisting of both verbal and visual signs, each of which is viewed from the meaning of denotation and connotation. Further, after translating the symbols and signs using the theory of Dyer (2009) and Barthes (1983), it is found that the meanings revealed give a teaser or clue about the story which tells about the journey in carrying out missions.  
References
Chandler, D. (2002). Semiotics: The Basic. London: Routledge.
Creswell, J. W. (2014). Research design: qualitative, quantitative, and mixed methods approaches (Fourth ed.). United State of America: SAGE Publications, Inc.
Chapman, C. (2010, 28th January). Color Theory for Designers, Part 1: The Meaning of Color. Retrieved from https://www.smashingmagazine.com/2010/01/color-theory-for-designers-part-1-the-meaning-of-color/
Dyer, G. (2009). Advertising As Communication. New York: Routledge.
Eco, U. (1976). A Theory of Semiotics. Bloomington: Indiana University Press.
Glazer, T. (2017). The Semiotics of Emotional Expression. Transactions of the Charles S. Peirce Society: A Quarterly Journal in American Philosophy 53(2), 189-215.
Kimetsu no Yaiba official twitter account https://twitter.com/kimetsu_off?s=08
Kimetsu no Yaiba official website https://demonslayer-anime.com/
Kurniawan, A. B. (2015). Semiotic Analysis of Advertisement Meaning on the Panglima Sudirman Street of Pacitan in 2015. Pacitan: Oase Pustaka.
Pratiwi et al. The Analysis of Semiotic Signs on Forest Fires' Posters. Humanis, [S.l.], v. 25, n. 2, p. 135-144. ISSN 2302-920X. doi: https://doi.org/10.24843/JH.2021.v25.i02.p02.
Sebeok, T. A. (2001). Signs: An Introduction to Semiotics Second Edition. Toronto: University of Toron to Press Incorporated.
Sobarna, A. (2010). Efektifitas Metode "Storytelling" Bermedia Boneka untuk Kemampuan Berkomunikasi. MIMBAR Vol. XXVI no. 1, 71 - 80.
Suhardi. (2013). Pengantar Linguistik Umum. Jogyakarta: Ar-Ruzz Media.
Utami, R., Setia, E., & Deliana. (2021). A Semiotic Analysis Found on Movie Poster "Shutter Island". LingPoet: Journal of Linguistics and Literary Research, 2(3), 20-26. Retrieved from https://talenta.usu.ac.id/lingpoet/article/view/6642
Wirhayati, & Sudrajat. (2019). A Semiotic Analysis on Symbol in Selected Hollywood Horror Movie Posters. The 3rd IICLLTLC 2019 (pp. 528-540). Tangerang: Universitas Pamulang.
Hasanuddin, L., et al. (2015). Investigation of the head impact power of a sepak takraw ball on sepak takraw players. Movement, Health & Movement Journal, 4(2), 47-58.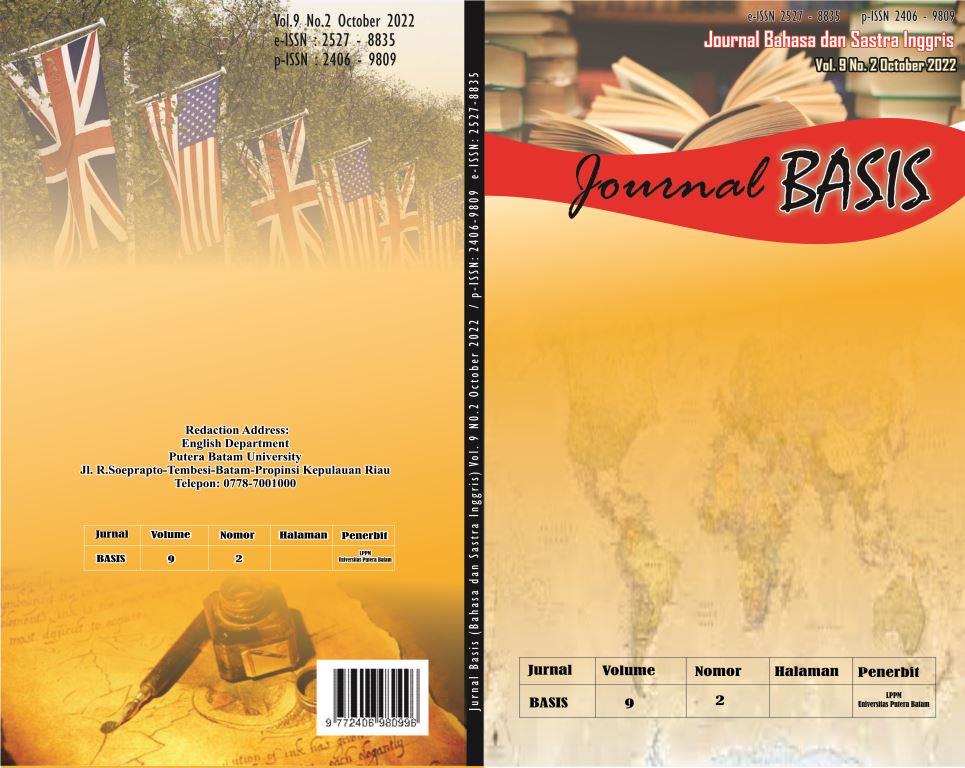 Downloads
Section
BASIS VOLUME 9 NO 2 OCTOBER 2022
License