CODE-SWITCHING AND CODE-MIXING ANALYSIS IN INDONESIAN SONGS LYRICS BY UN1TY
Abstract
This research analyzed the language codes used in the song lyrics of an Indonesian group called Un1ty. The purposes of this research were to identify the types of code-switching and code-mixing and the reasons for using the codes in the lyrics of the songs. This research used descriptive qualitative method and the data were analyzed using the theory of Hoffman (1991) to investigate the types of code switching and code mixing and to find the reasons of using the codes in the song lyrics. The results of this research indicated that there were 31 data points. For the type of code-switching, the researchers found that there were 21 data, namely 5 types of intra-sentential switching, 15 inter-sentential switching, and 1 tag switching. Meanwhile, there were 9 data for code-mixing, 8 for intra-sentential mixing and 1 for change pronunciations. Furthermore, for the reasons, there are 13 being empathic about something (express solidarity), 4 talking about particular topic, 1 expressing group identity, 8 intention of clarifying the speech content for interlocutors, 1 repetition used for clarification and 3 interjection (insert sentence fillers or sentence connectors).
References
Aba, Oussama. (2020). Bilingualism: Causes, Advantages, and Disadvantages. https://www.researchgate.net/publication/338342415_Bilingualism_Causes_advntages_and_disadvantages
Dreamers.id. (2020, November 21). Bikin Bangga, Boyband UN1TY Dapat Penghargaan Dari MTV Amerika. Web. 2022, August 29. https://hiburan.dreamers.id/article/93576/bikin-bangga-boyband-un1ty-dapat-penghargaan-dari-mtv-amerika
Luthfiyani, F. (2014). Code-switching and Code-mixing On Korean Television Music Show After School Club. Jakarta: Universitas Syarif Hidayatullah.
Gottardo, A., & Grant, A. (2008). Defining Bilingualism. Encyclopedia of Language and Literacy Development. 1-7. London, ON: Canadian Language and Literacy Research Network. http://www.literacyencyclopedia.ca/pdfs/topic.php?topld=236
Hoffman, C. (1991). An Introduction to Bilingualism. New York: Longman.
Holmes, J. (2013). An Introduction to Sociolinguistics (4th edition). Routledge.
Jocelin, E., & Tryana. (2019). Code Mixing and Code Switching In A Korean-Song Lyric. Lexeme: Journal of Linguistics and Applied Linguistics, 1(2). https://doi.org/http://dx.doi.org/10.32493/ljlal.v1i2.5127.
Kokturk, S., Odacioglu, M. C. Uysal, N. M. (2016). Bilingualism and Bilingual Education, Bilingualism and Translational Action. June. https://doi.org/10.5296/ijl.v8i3.9601
Ria, R. N. (2016). Code-Switching and Code-Mixing in the Lyrics of Bondan Prakoso Featuring Fade 2 Black's Songs. Yogyakarta: Islamic University Sunan Kalijaga.
Wirhayati & Safitri, H. (2020). Code Mixing and Code Switching in Teaching Listening Skills to Intermediate 3 Students at LBPP Lia Bekasi. 2(2), 113–122.
Yule, G. (2010). The Study of Language (4th ed). Cambridge University Press.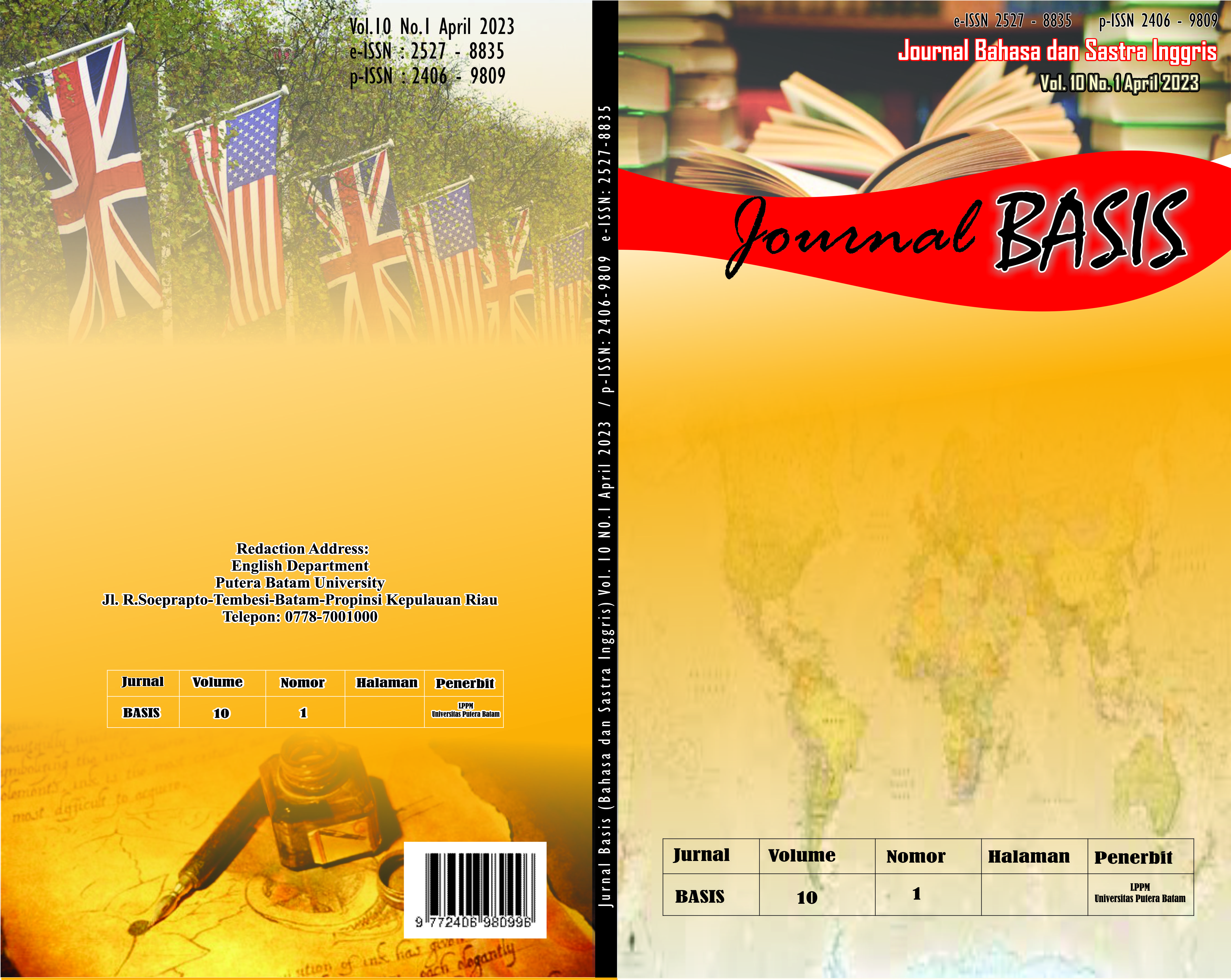 Downloads
Section
BASIS VOLUME 10 NO 1 APRIL 2023
License