AN ANALYSIS OF STUDENTS' ABILITY IN BUILDING COHESION AND COHERENCE IN ARGUMENTATIVE ESSAYS WRITTEN BY THE FOURTH YEAR STUDENTS OF ENGLISH DEPARTMENT AT UNIVERSITY OF BENGKULU
ABILITY IN BUILDING COHESION AND COHERENCE IN ARGUMENTATIVE ESSAYS WRITTEN
Abstract
Ada beberapa permasalahan mendasar menulis seperti; kesalahan gramatikal, kohesi dan koheren, dan isi serta organisasi. Berdasarkan permasalahan yang ditemukan pada awal penelitian maka tujuan penelitian ini adalah untuk menemukan kemampuan mahasiswa tahun ke-empat dalam membangun kohesi dan koheren dalam menulis essai argumentatif pada program studi pendidikan bahasa Inggris Universitas Bengkulu. Penelitian ini adalah penelitian deskriptif. Populasi penelitian adalah mahasiswa tahun ke-empat program studi pendidikan bahasa Inggris Universitas Bengkulu yang terdaftar pada tahun ajaran 2012/2013. Sampel dipilih dengan menggunakan teknik purposive sampling. Data diperoleh melalui test menulis essai argumentatif. Data di analisa dengan menggunakan metode kuantitatif. Hasil penelitian menyimpulkan bahwa kemampuan mahasiswa dalam membangun kohesi adalah Low Average (LA) dan kemampuan mahasiswa dalam membangun koheren adalah Low Average (LA) dimana skor rata-rata menunjukkan bahwa beberapa siswa memiliki skor dengan rentang 3-3.5 yang berarti bahwa mereka memiliki pemahaman yang rendah terhadap macam-macam kohesi dan koheren.
References
Bailey, Stephen. 2003. Academic Writing: A Practical Guide for Students. New York: RoutledgeFalmer.
Brown, H Douglas. 1994. Teaching by Principles: An Interactive Approach to Language Pedagogy. New Jersey: Prentice Hall Regents.
Brown, H Douglas and Priyanvada Abeywickrama. 2010. Language Assessment: Principles and Classroom Practices (Second Edition). San Fransisco: Pearson Education.
Coulmas, Florian. 2003. Writing Systems: An Introduction to their Linguistic analysis. New York: Cambridge University Press.
Gerot, Linda and Peter Wignell. 1994. Making Sense of Functional Grammar: An Introductory Workbook. Sydney: Gerd Stabler.
Gordon, Louise. 2008. "Writing and good language learners", in Griffiths, Carol (ed.), Lessons From Good Language Learner (p. 244-254). Cambridge: Cambridge University Press.
Halliday, M. A. K. and Ruqaiya Hasan. 1976. Cohesion in English. London: Longman Group Limited.
Hamp-Lyons, L. 1992. "Holistic writing assessment for LEP students", in Office of Bilingual Education and Minority Languages Affairs (ed.), Proceedings of the Second National Research Symposium on Limited English Proficient Student Issues: Focus on Evaluation and Measurement, Volume 2. Washington, DC: OBEMLA. 317-358.
Kehler, Andrew. 2002. Coherence, Reference, and the Theory of Grammar. California: CSLI Publications.
Knapp, P. and Megan Watskin. 2005. Genre, Text, Grammar: Technologies for Teaching Writing and Assessing Writing. Sydney: A UNSW Press Book.
Louwerse, M.M. and Graesser, A.C. 2005. Coherence in Discourse. In Strazny, P. (ed), Encyclopedia of Linguistics. Chicago: Fitzroy Dearborn.
Linguistik, K., Sastra, D., & Silitonga, F. (2017). THE TEENEGERS' CHARACTERISTICS IN GENDER WRITTEN TEXT BY DISCOURSE ANALYSIS AT BATAM. Kajian Linguistik Dan Sastra/ KLS, 2(1), 61–75. https://doi.org/https://doi.org/10.23917/kls.v2i1.5353
Matthews, P.H. 2007. The Concise Oxford Dictionary of Linguistics. Oxford: Oxford University Press.
Murray, Rowena and Sarah Moore. 2006. The Handbook of Academic Writing: A Fresh Approach. Berkshire: Mc. Graw-Hill Open University Press.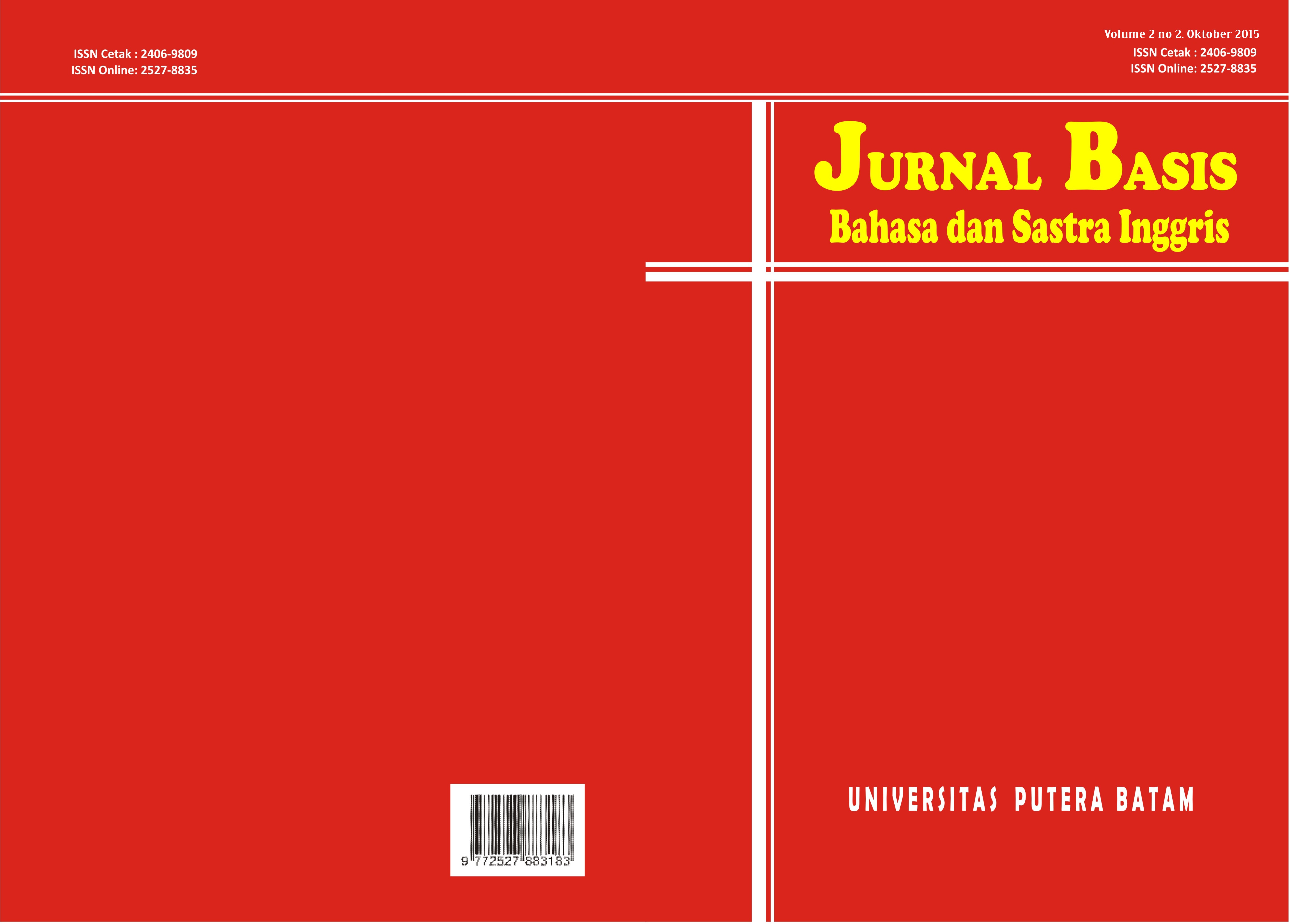 How to Cite
MUBARAK, zia hisni. AN ANALYSIS OF STUDENTS' ABILITY IN BUILDING COHESION AND COHERENCE IN ARGUMENTATIVE ESSAYS WRITTEN BY THE FOURTH YEAR STUDENTS OF ENGLISH DEPARTMENT AT UNIVERSITY OF BENGKULU.
JURNAL BASIS
, [S.l.], v. 2, n. 2, p. 51-60, oct. 2015. ISSN 2527-8835. Available at: <
http://ejournal.upbatam.ac.id/index.php/basis/article/view/426
>. Date accessed: 11 apr. 2021.
Section
BASIS VOLUME 2 NO 2 OKTOBER 2015