FIGURES OF SPEECH REFLECTING LOATHING
Keywords:
aesthetic expression, figure of speech, loathe
Abstract
This descriptive qualitative research identified briefly the figurative expressions on Donald Trump's tweeter post. It used Abrams and Harpham's theory. This research applied observational method and non-participation technique in collecting the data. Then, this research applied semantic identity method and semantic-competence in equalizing to analyze the data. The figure of similarity found mostly in the comments or responses. There were expressions of simile, metaphor, allusion, and personification. The comments or responses mostly compared the one to the other living or non-living things to express how loathe the writers of comments. The figures of speech criticized the one's works and acts. On the other hand, the expressions attacked the face (FTA). Previously, the figures of speech were used in the literary works to show the expression aesthetically. But now, the freedom to express the ideas makes the figures of speech not only to show the 'sweet and smooth' language but also 'rude' language.  
References
Abrams, M. H., & Harpham, G. G. (2012). A glossary of literary terms (10th ed.). Wadsworth, Cengage learning.

Agustini, E., Resen, W., & Yadnya, P. (2016). Figurative languange in William Wordsworth's poem "She Was a Phantom of Delight." Jurnal Humanis, Fakultas Ilmu Budaya Unud, 16(3), 30–36. https://ojs.unud.ac.id/index.php/sastra/article/view/28939/17954

Ambalegin, & Arianto, T. (2020). Segmental phonemic system of Riau Malay subdialect Kepulauan as local knowledge in Batam. EduLite: Journal of English Education, 5(5), 159–175. https://doi.org/DOI: http://dx.doi.org/10.30659/e.5.1.159-175

Andy, & Ambalegin. (2019). Maxims violation on "Night at The Museum" movie. Journal Basis, 6(2), 215-224,. https://doi.org/DOI: https://doi.org/10.33884/basisupb.v6i2.1421

Ayu, D. M. I., & Maili, S. N. (2016). The analysis figurative meaning of Jakarta Post a paper. DEIKSIS, 8(8), 102–110. https://doi.org/https://journal.lppmunindra.ac.id/index.php/Deiksis/article/view/672

Creswell, J. W. (2012). Educational research; planning, conducting, and evaluating quantitative qualitative research (4th ed.). Pearson Education Inc.
Dancygier, B., & Sweetser, E. (2014). Figurative language (1st ed.). Cambridge University Press.

Daniswara, R., Winaya, I. M., & Parthama, I. G. N. (2016). Meanings of figurative language with reference to Four Iron Maiden songs. Jurnal Humanis, Fakultas Ilmu Budaya Unud, 17(2), 241–247. https://ojs.unud.ac.id/index.php/sastra/article/view/34494

Effendy, C. (2014). Peranan sastra dan bahasa Melayu dalam membangun karakter bangsa. Jentera, 3(2), 126–134. https://doi.org/DOI : 10.26499/jentera.v3i2.443

Fitria, T. N. (2018). Figurative language used in One Direction's album entitled Up All Night. ELITE Journal, 5(1), 69–79. https://doi.org/https://doi.org/10.24252/elite.v5i1a7

Hayati. (2016). Figurative language on Maya Angelou selected poetries. Script Journal: Journal of Linguistics and English Teaching, 1(2), 131-143. https://doi.org/https://doi.org/10.24903/sj.v1i2.30

Kusumawardhani, O. A., & Doyin, M. (2019). Figurative and imagery language in poetry set Melihat Api Bekerja by M. Aan Mansyur: stylistic review. Seloka: Jurnal Pendidikan Bahasa Dan Sastra Indonesia, 8(3), 63–69. https://doi.org/DOI 10.15294/seloka.v8i3.35382

Leech, G. N. (2016). Principles of pragmatics. Routledge.

Sobrino, P. P. (2007). Multimodal metaphor and metonymy in advertising (vol 2). John Benjamins Publishing Company.

Sudaryanto. (2015). Metode dan aneka teknik analisis bahasa. Duta Wacana University Press.

Suryani, M. S. (2019). Impolite responses to Donald Trump's post on instagram. Jurnal IdeBahasa, 1(1), 77–84. https://doi.org/DOI: https://doi.org/10.37296/ide%20bahasa.v1i1.7

Tambak, S., & Sukenti, D. (2017). Implementasi budaya Melayu dalam kurikulum pendidikan Madrasah ibtidaiyah di Riau. Miqot, XLI(2), 362–383.

Wibisono, R. T., & Widodo, P. (2019). An analysis of figurative language in online short story posted on The Jakarta Post. Prasasti Journal of Linguistics, 4(2), 156–165. https://doi.org/DOI: https://doi.org/10.20961/prasasti.v4i2.33876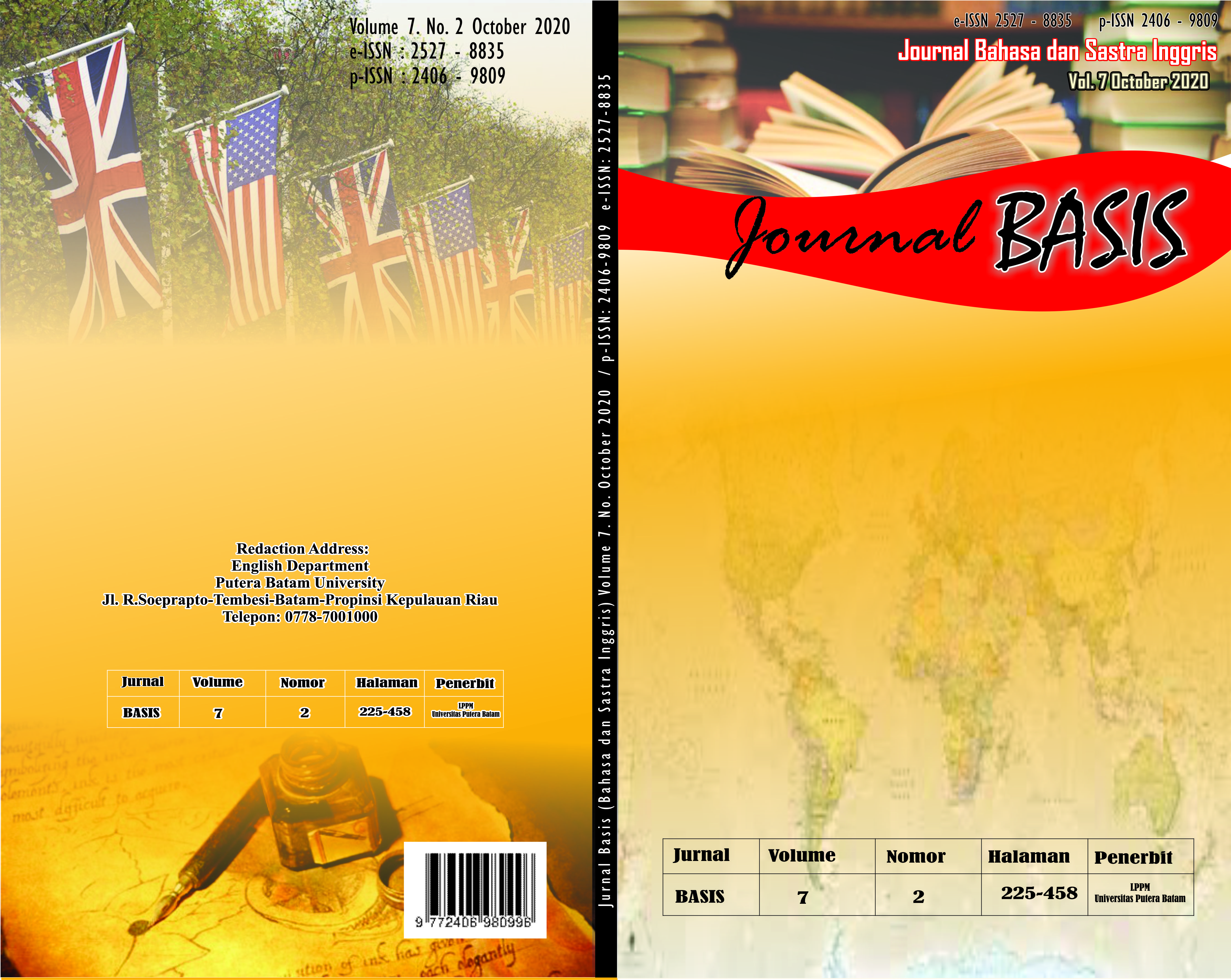 Downloads
Section
BASIS VOLUME 7 NO 2 OKTOBER 2020
License