PSYCHOLOGICAL CONFLICT OF THE MAIN CHARACTER REFLECTED IN LADY BIRD MOVIE
English
Keywords:
psychoanalysis, main character, Sigmund Freud
Abstract
This research was useful for knowing the personality of the main character in the film. The researchers used the film Lady Bird as the object of research because this film was very interesting and told the story of a teenager who had very strong ambitions. This film was written by Greta Gerwig in 2017. The researcher used the psychoanalytic theory by Sigmund Freud. The study aimed to analyze the psychological conflict between ego, id and super ego trough the attitude and utterances of the main character.  The method was qualitative descriptive. In result, researchers found 6 aspects of the id that are directly related to the main character, 2 aspects of the ego and 2 aspects of the superego. Therefore, the researcher concludes that in the main character in this film, she was more controlled by his id, where she was a form of personality that a person carried when she was born. The Id on Ladybird showed how she fulfilled a wish she deserved and felt that she enjoyed it more without realizing it.
References
Arianto, T & Simanjuntak, D. (2020). Representation of ecocriticism in the folklore of Mak Ungkai spirit. Studies in English Language and Education, [S.l.], v. 7, n. 2, p. 576-591, sep. 2020. ISSN 2461-0275. http://e-repository.unsyiah.ac.id/SiELE/article/view/16822
https://doi.org/10.24815/siele.v7i2.16822.
Bulan, N. P., Ida Setianingsih, N. K. A., & Winaya, I. M. (2019). The Psychological Analysis of Jamie Sullivan's Behaviors in Nicholas Sparks' Novel "A Walk to Remember." Humanis, 23(4), 271. https://doi.org/10.24843/jh.2019.v23.i04.p03
Gerwig, G., Lee, B., & McWilliams, J. (217). Lady Bird (p. 115). Universal Picture.
Goh, M., & Arianto, T. (2019). An effect of psychological conflict to Elsa personality development in Frozen: psychological approach. Jurnal Basis, 6(2), 163. https://doi.org/10.33884/basisupb.v6i2.1412
Koswara, E. (1991). Teori-teori Kepribadian: Psikoanalisis, Behaviorisme, Humanistik.
Eresco. McLaughlin, T. (1989). Literature the Power of Language. Harcourt Brace Jovanovich, Inc.
McLeod, D. S. (2019). Psychoanalysis. Simply Psychology. https://www.simplypsychology.org/psychoanalysis.html
Nurgiyantoro, B. (2007). Teori Pengkajian Fiksi. Gadjah Mada.
Qodariyah, B., Rohmah, A., & Sugiyani, N. (2017). The Major Characters in Gillian Flynn Novel "Sharp Objects" (A Psychoanalysis Freud). Channing: Journal of English Language Education and Literature, 2(2), 78–85. https://doi.org/10.30599/channing.v2i2.268
Ratna, N. K. (2013). Teori, Penelitian, dan Teknik Penelitian Sastra. Pustaka Belajar. Sayuti, A. S. (2000). Berkenalan dengan Prosa Fiksi. Gama Media.
Wellek, R., & Warren, A. (1954). Theory of literature. Jonathan Cape Thirty Bedford Square London.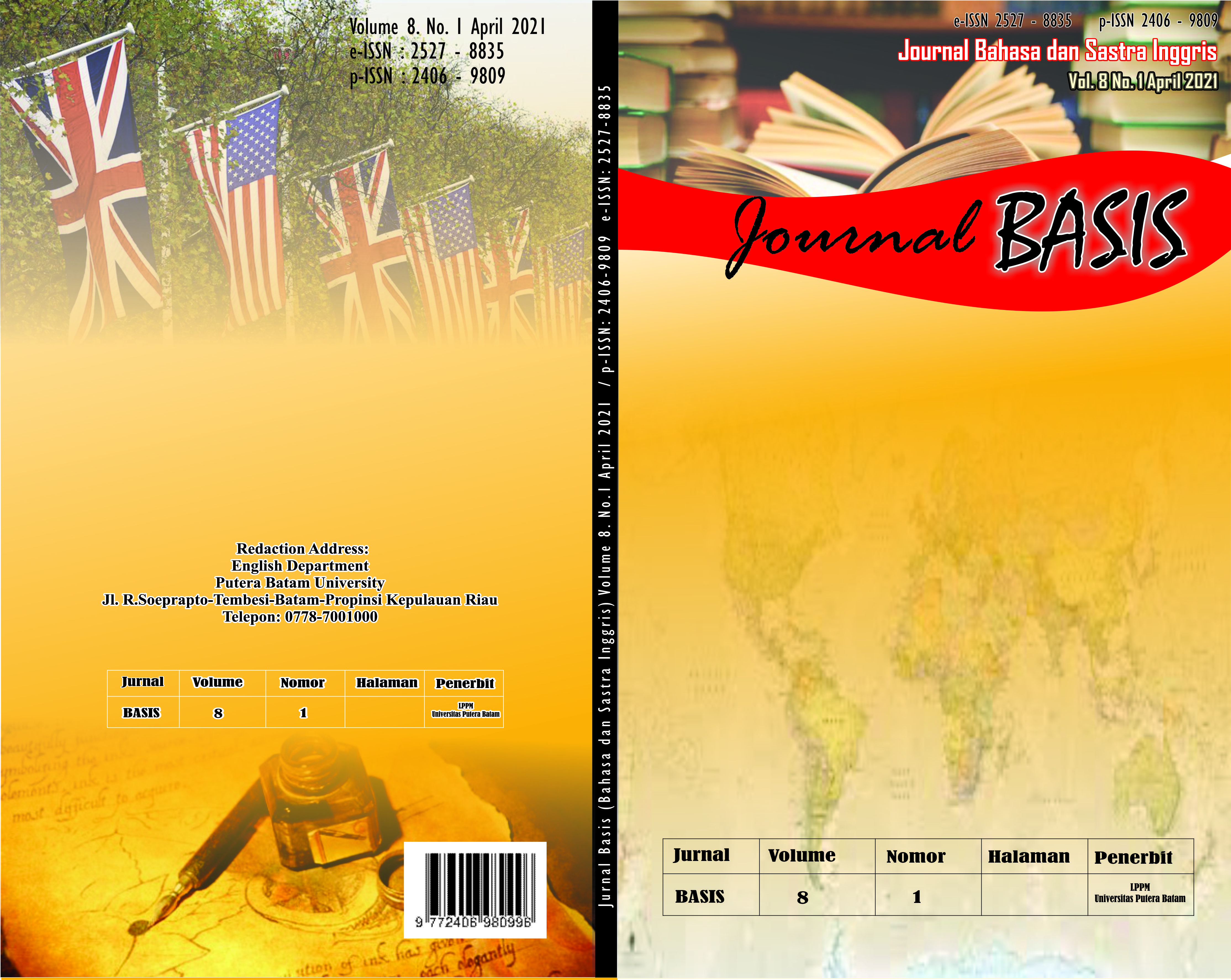 Downloads
Section
BASIS VOLUME 8 NO 2 OCTOBER 2021
License