WOMAN STRUGGLES TO GET THE EQUALITY IN "MOTHER COURAGE AND HER CHILDREN" DRAMA BY BRECHT
Keywords:
Feminist Approach, Existentialism Feminism, Woman Struggles
Abstract
This research shows gender inequality in the drama Mother Courage and Her Children, feminism dominates the male role. With this domination Mother's courage lived in the nineteenth century, when patriarchal customs were still firmly held by the community. Women were still enslaved by male superior and the character of the Mother Courage opposes her domination by doing various struggles. This research uses feminist existentialism (Beauvoir S. , 1949) encourages women to step outside the boundaries and social circles that make them lose their freedom for themselves. This research is a qualitative research that produces descriptive data. This study uses content analysis techniques, starting with looking for similarities in data, combining them into a single unit in subchapters, critical and evaluative studies with the help of Beauvoir's social theory. The researcher's findings regarding the movements described in the play "Mother Courage and Her children" are as follows: In the study of women's struggles, Simone de Beauvoir's theory is highly valued because women are involved in various struggles in an effort to overcome themselves. The result show women can improve themselves in the face of gender inequality that is driven by men. This shows when women struggle to prove that women are capable of working, intellectually capable, capable of being fearless women and also able to resist public policies.
References
Abrams, M. (1998). A Glossary of literary terms. New York: Holt, Rinehart and Wiston.
Beauvoir, S. (1949). The Second Sex (Vol. 2). (C. B. Malovany-Chevalier, Trans.) Prancis: Random House : Alfed A. Knopf.
Beauvoir, S. d. (1949). The Second Sex (Vol. 2). (C. B. Malovany-Chevalier, Trans.) Prancis: Random House : Alfed A. Knopf.
Brecht , B. (1939). Mother Courage and Her Children. New York: English Version by Eric Bentley, Samuel French.
Brecht , B. (1939). Mother Courage and Her Children.
Bressler, C. E. (1994). Literary Criticism. New Jersey: Prentice Hall,Inc.
Creswell, W. J., & Creswell, D. J. (2018). Research Design Qualitative, Quantitative, and Mixed Methods Approaches (Fifth Edit). SAGE Publications, Inc. .
Faradina, F. A., & Fajrianti. (2012). Konflik Pekerjaan-Keluarga dan Coping pada Single Mother. 1-111.
Geleuk, M., Gede Mulawarman, W., & Hanum, I. (2017). Perjuangan Tokoh Perempuan dalam Novel Tanah Abu Karya Anindita S. Thaif : Kajian Femisme Eksitentialis. Ilmu Budaya, 1, 1-12. Retrieved from
http://e-journals.unmul.ac.id/index.php/JBSSB/article/view/673/613
Khatakk, S. (2011). Feminism in Education : Historical and Contemporary Issues of Gender Inequality in Higher Education. 5, 67-81.
https://go.gale.com/ps/i.do?id=GALE%7CA570200129&sid=googleScholar&v=2.1&it=r&linkaccess=abs&issn=10241256&p=AONE&sw=w&userGroupName=anon%7E67754054
Khoirihyah, N., & Nugroho. (2016). Woman existence reflected in Laksmi Pamuntjak's the questios of red Novel. Retrieved from
http://eprints.ums.ac.id/48495/17/02.%20PUBLICATION%20ARTICLE%20.pdf
Muzakka, & Suyanto. (2020). The gender equality struggles in the novel of Perempuan Berkalung Sorban and Gadis Pantai. Poetika: Jurnal Ilmu Sastra, 8, 1-12. doi:10.22146
Novarisa, G. (2019). Domination of Patriarchiin the Form of Symbolic Violence on Women in SoapOpera. Jurnal Magister Ilmu Komunikasi, 05, 1-17.
Nugroho, W., Mutiara Prameswari, N., & Sastri Mahadewi, N. (2019). Eksistensi Perempuan Mesir dalam Novel Perempuan di Titik Nol Karya Nawal El-Saadawi. Jurnal Ilmiah Sosilogi, 1, 1-13. Retrieved from DOI:10.15575/azzahra.v1i2.10438
https://www.researchgate.net/publication/356056248_Eksistensi_Perempuan_Mesir_dalam_Novel_Perempuan_di_Titik_Nol_Karya_Nawal_El-Saadawi.
Rahayu, A. S. (2017). Kehidupan Sosial Single Mother dalam Ranah Domestik dan Publik. Jurnal Analisa Sosiologi, 6, 1-17.
Ruether, R. R. (1996). Women Healing Earth: Third World Women on Ecology. New York: Orbis Books.
Sugihastuti, & Suharto. (2002). Kritik Sastra Feminis (Teori dan Aplikasinya). Yogyakarta: Pustaka Pelajar.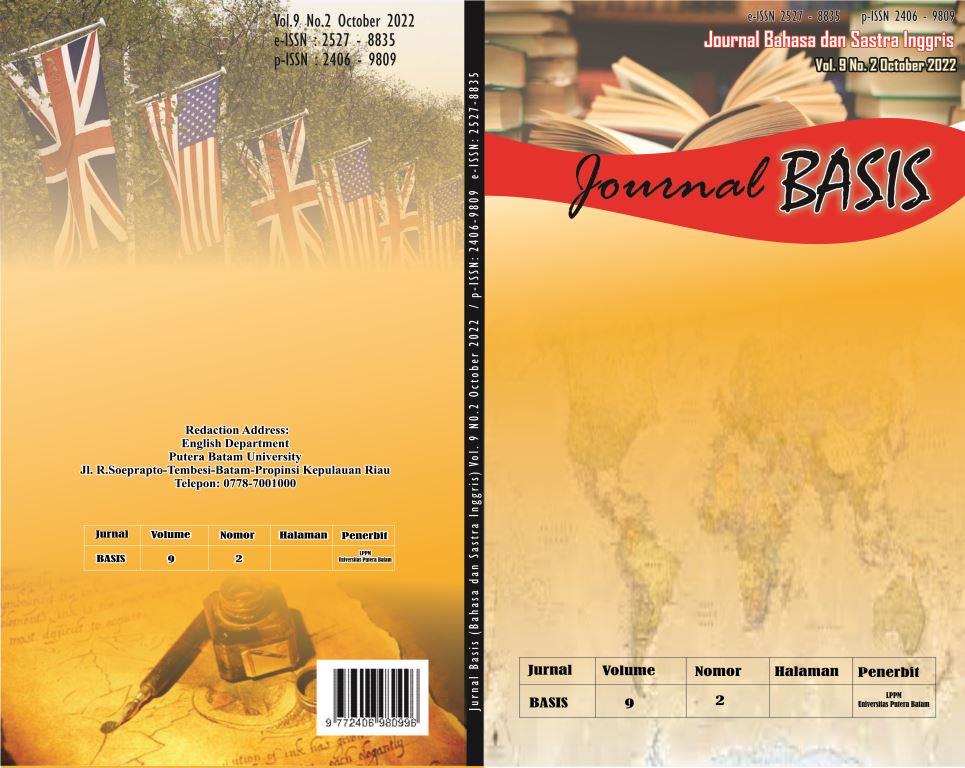 Downloads
Section
BASIS VOLUME 9 NO 2 OCTOBER 2022
License