REPRESENTATION OF FAMILY GENDER ROLES IN "BIG LITTLE LIES" NOVEL BY LIANE MORIARTY
Keywords:
Big Little Lies, Feminism, Gender Role, Literature, Stereotypes
Abstract
This research describes family gender roles in Big Little Lies novel. Gender roles discussion has been important to see how social creates expectation or standard that men and women should behave. Society gives appropriate role to appropriate gender. In order to describe this phenomenon in the novel, the researcher used Eagly's social role theory with feminist approach. The research is designed with qualitative approach. In collecting and analyzing the data, the research applied method of documentation and content analysis. The result showed that there are two kinds of gender roles in family domain in the novel; the breadwinner and the homemaker. Mainly, women were expected to be the homemaker whereas men were expected to be the breadwinner. The expectation came from the typical activity of men and women in the novel's environment. However, the research also found that agentic women like Madeline, Renata, and Jackie, they could participate in the role of the breadwinner. Communal men like Ed, Jonathan, and Stu, they could participate in the role of homemaker. The research concluded that the novel's society did not project the typical gender roles strictly because husbands and wives in the novel are allowed to shift roles.
References
Afandi, M. D. (2020). The shift in gender roles in Amy Tan's "The Joy Luck Club" and Khaled Hosseini's "The Kite Runner." Lensa: Kajian Kebahasaan, Kesusastraan, Dan Budaya, 8(1), 1–21. https://doi.org/10.26714/lensa.8.1.2018.1-21
Arif, M., Bashir, T., & Mehmood, A. (2020). Gender Role as Relative Phenomenon in Bharati Mukherjee's Novel Desirable Daughters. Liberal Arts and Social Sciences International Journal (LASSIJ), 4(1), 293–302. https://doi.org/10.47264/idea.lassij/4.1.25
Azisah, S. (2020). Gender roles Depiction in English textbooks of an Islamic Junior high school in South Sulawesi, Indonesia. Asian EFL Journal, 27(33), 95–109.
Badinjki, T. (2019). Stereotypical gender roles and new construct of marriage in Pride and Prejudice. International Journal on Studies in English Language and Literature (IJSELL), 7(1), 43–47. https://doi.org/10.20431/2347-3134.0701005
Blackstone, A. M. (2003). Gender roles and society. Human Ecology: An Encyclopedia of Children, Families, Communities, and Environments, 8, 335–338.
Dobie, A. B. (2012). Theory into practice: An introduction to literary criticism (3rd ed.). Wadsworth Cengage Learning.
Eagly, A. H. (1987). Sex differences in social behavior: a social role interpretation (1st ed.). Psychology Press. https://doi.org/10.4324/9780203781906
Eagly, A. H., & Wood, W. (2016). Social role theory of sex differences. In The Wiley Blackwell Encyclopedia of Gender and Sexuality Studies (pp. 1–3). John Wiley & Sons, Ltd. https://doi.org/10.1002/9781118663219.wbegss183
Felski, R. (1989). Beyond feminist aesthetics: Feminist literature and social change (1st ed.). Harvard University Press.
Kofer, M. (2020). Transformations of gender identities and roles in novels of flight and exile by Olga Grjasnowa and Shida Bazyar. Annali Di Ca' Foscari. Serie Occidentale, 54(10), 201–220. https://doi.org/10.30687/AnnOc/2499-1562/2020/54/010
Köseoğlu, B. (2018). The gender roles in Fielding's The History of Tom Jones: A foundling in the light of Hélène Cixous's feminist approach. Conference of the International Journal of Arts & Sciences, 11(2), 95–100.
Lobova, A. (2019). Family gender roles at the beginning of 20th century in Su Tong's novel "Wives and Concubines." Vestnik of Saint Petersburg University. Asian and African Studies, 11(2), 198–207. https://doi.org/10.21638/spbu13.2019.205
Mahmud, M. (2015). Exploring gender role in the story of I La Galigo. Sosiohumaniora, 16(1), 31. https://doi.org/10.24198/sosiohumaniora.v16i1.5681
Moriarty, L. (2014). Big Little Lies (1st ed.). Penguin Publishing.
Putri, A. S., & Anzari, P. P. (2021). Dinamika peran ganda perempuan dalam keluarga petani di Indonesia. JIHI3S: Jurnal Integrasi dan Harmoni Inovatif Ilmu-Ilmu Sosiall, 1(6), 757–763. https://doi.org/10.17977/um063v1i62021p757-763
Saewyc, E. (2017). A global perspective on gender roles and identity. Journal of Adolescent Health, 61(4), S1–S2. https://doi.org/10.1016/j.jadohealth.2017.07.010
Sczesny, S., Nater, C., & Eagly, A. H. (2019). Agency and communion: Their implications for gender stereotypes and gender identities. In A. E. Abele & B. Woiciszke (Eds.), Agency and communion in Social Psychology (1st ed., pp. 103–116). Routledge.
Tabassum, N., & Nayak, B. S. (2021). Gender stereotypes and their impact on women's career progressions from a managerial perspective. IIM Kozhikode Society & Management Review, 10(2), 192–208. https://doi.org/10.1177/2277975220975513
Zuhdi, S. (2019). Membincang peran ganda perempuan dalam masyarakat industri. Jurnal Jurisprudence, 8(2), 81–86. https://doi.org/10.23917/jurisprudence.v8i2.7327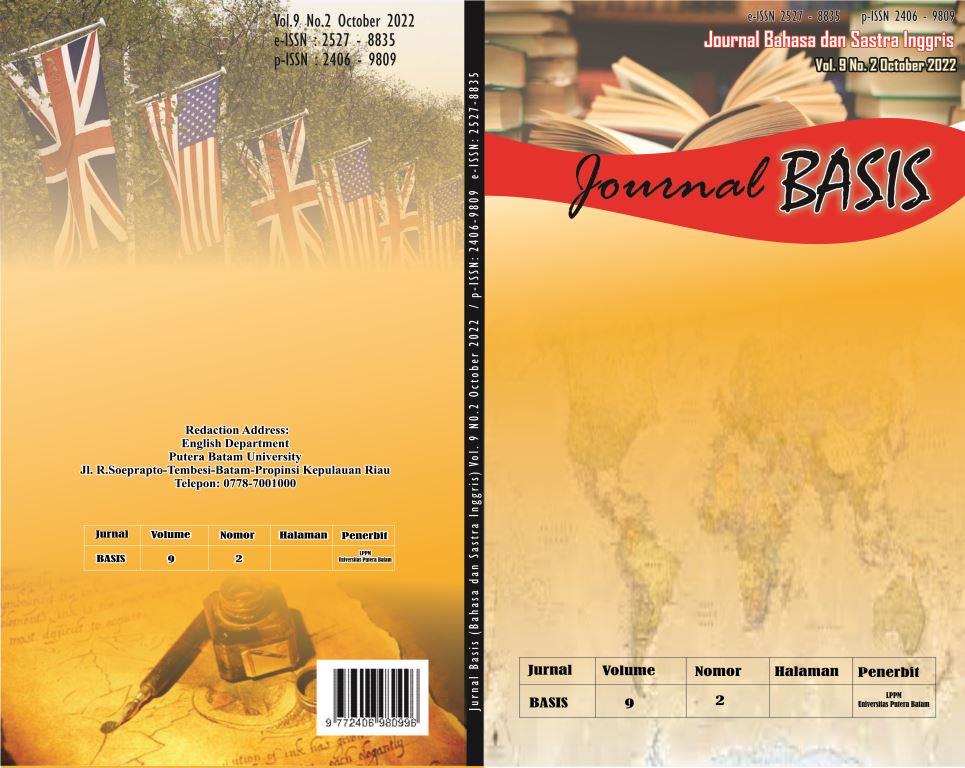 Downloads
Section
BASIS VOLUME 9 NO 2 OCTOBER 2022
License