AN EFFECT OF PSYCHOLOGICAL CONFLICT TO ELSA PERSONALITY DEVELOPMENT IN FROZEN: PSYCHOLOGICAL APPROACH
Marson Goh

Universitas Putera Batam

Tomi Arianto

Universitas Putera Batam
Abstract
In this research, the researcher was focusing on the psychological conflict and the character development in which it could be found in the character of Elsa in Frozen. There were two theories that the researcher used for the research problems in this research. The first theory that the researcher used to answer the first research problem was about the psychological conflict that was proposed by Kurt Lewin to find variety of psychological conflict that was expressed by the character of Elsa in the story itself. As for the second theory that the researcher used to answer the second research problem was about the personality development which was proposed by Elizabeth B. Hurlock to explain the effect of psychological conflict to Elsa personality development. In this research, the researcher used descriptive qualitative method. The result of this analysis showed that there were two kinds of psychological conflict which was shown in Elsa character which were approach-avoidance conflict and avoidance-avoidance conflict and those two conflicts which gave a huge effect to Elsa personality development in which the researcher found that there are five determinants they are emotional, aspiration and achievement, intellectual, social, and family. 
References
Arianto, T., & Ambalegin. (2019). Suicide Experiments Due to Unmet Love Needs in Jhumpa Lahiri's Hell-Heaven Story. IdeBahasa, 1(1), 41–50.
Bruno, F. J. (2002). Psychology: A Self-Teaching Guide. New Jersey: Wiley & Sons Inc.
Drislane, R., & Parkinson, G. (2011). Qualitative Research. Athabasca University and ICAAP.
Fabdriah, & Zakrimal. (2017). The Analysis Of Heathcliff Character In Wuthering Heights By Emily Bronte: A Sigmund Freud's THEORY. Jurnal Basis, 4(2), 29–42. https://doi.org/ISSN 2527-8835
Hurlock, E. B. (1976). Personality Development. New Delhi: Tata Mc Graw Hill.
Lewin, K. (1957). Approach to Conflict and Its Resolution: A Review with Some Extensions. In The Journal of Conflict Resolution (Vol. 1). Sage Publications, Inc.
Maslow, A. H. (1954). Motivation and Personalities. Harper & Row,Publishers, Inc., 395.
Moawad, N. M. I. (2016). A Study of Wole Soyinka's play The Lion and the Jewel in the light of cultures in conflict. International Journal of English and Literature, 7(12), 179–188. https://doi.org/10.5897/IJEL2016.0992
Nathan, S., & Roman, S. (2013). Frozen : The Junior Novelization. Parragon Book Service Ltd.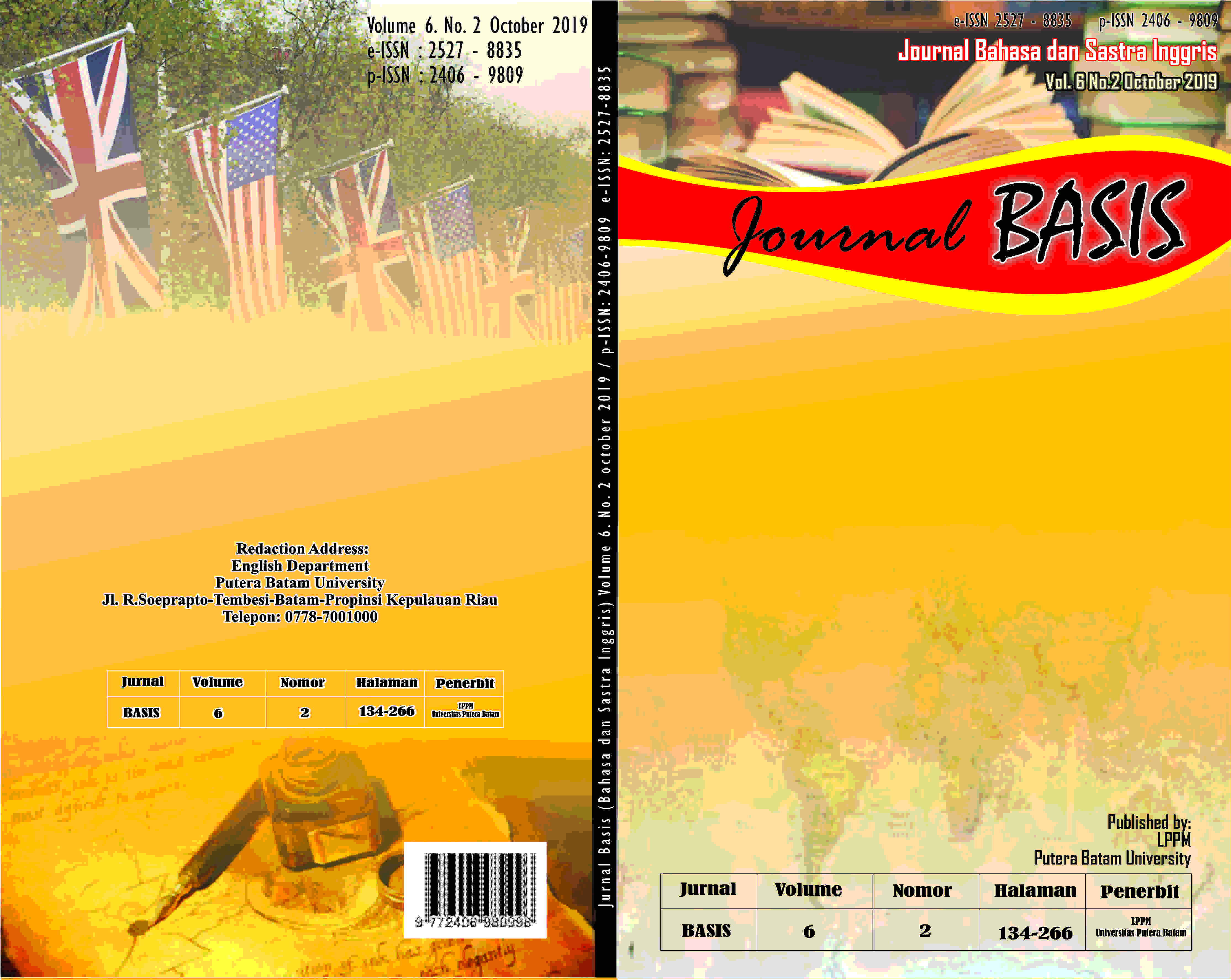 Section
BASIS VOLUME 6 NO 2 OKTOBER 2019