MAXIMS VIOLATION ON "NIGHT AT THE MUSEUM" MOVIE
Keywords:
cooperative principle, maxim violation, movie
Abstract
This research was created based on concerning the importance of efficient language use. The language use can be called efficient if the message is clear, unambiguous and can be understood by both speaker and hearer. Cooperative principles proposed by Grice (1975) explained the way people use the language well and efficiently. There are at least four maxims that should be followed in order to have achieve connection during conversation which are 1) maxim of manner, 2) maxim of quantity, 3) maxim of quality, and 4) maxim of manner. In fact, there are several maxim violations happened in human life especially figured in the movie. The maxim violations may cause misunderstanding while the conversation is going on. This paper aims to analyze the maxim violations that exist in the movie titled Night at the Museum 1. It uses descriptive qualitative method with pragmatics identity analysis. The findings show that maxim of manner and quantity are the dominant maxims which are violated.
References
Ambalegin, & Suryani, M. S. (2018). Morphosyntactic analysis of inconsistent formation of English words , phrases , and sentences. 200(Aisteel), 472–478. https://doi.org/https://doi.org/10. 2991/aisteel-18.2018.102
Attardo, S. (1993). Violation of conversational maxims and cooperation : The case of jokes. 19, 537–558. North-Holland: Elsevier.
Barry, M. C., Khosravizadeh, P., & Sadehvandi, N. (2011). Some instances of violation and flouting of the maxim of quantity by the main characters ( Barry & Tim ) in Dinner for Schmucks. Singapore: IACSIT Press.
Fukumura, K., & Gompel, R. P. G. Van. (2017). How do violations of Gricean Maxims affect reading? Journal of Memory and Language, 95, 1–18. https://doi.org/10.1016/j.jml.2017.01.008
Grice, H. P. (1975). Logic and conversation. New York: Academic Press.
Paltridge, B. (2012). Discourse analysis an introduction (2nd ed). Retrieved from http://linguistics.paltridge2e.continuumbooks.com
Rahmi, S. S., Refnaldi, & Wahyuni, D. (2018). The violation of conversational maxims found in political conversation at Rosi Talkshow (Vol. 7). Padang: English Language & Literature Universitas Negeri Padang.
Sudaryanto. (2015). Metode dan aneka teknik analisis bahasa. Yogyakarta: Sanata Dharma University Press.
Yule, G. (2010). The study of language (4th ed). New York: Cambridge University Press.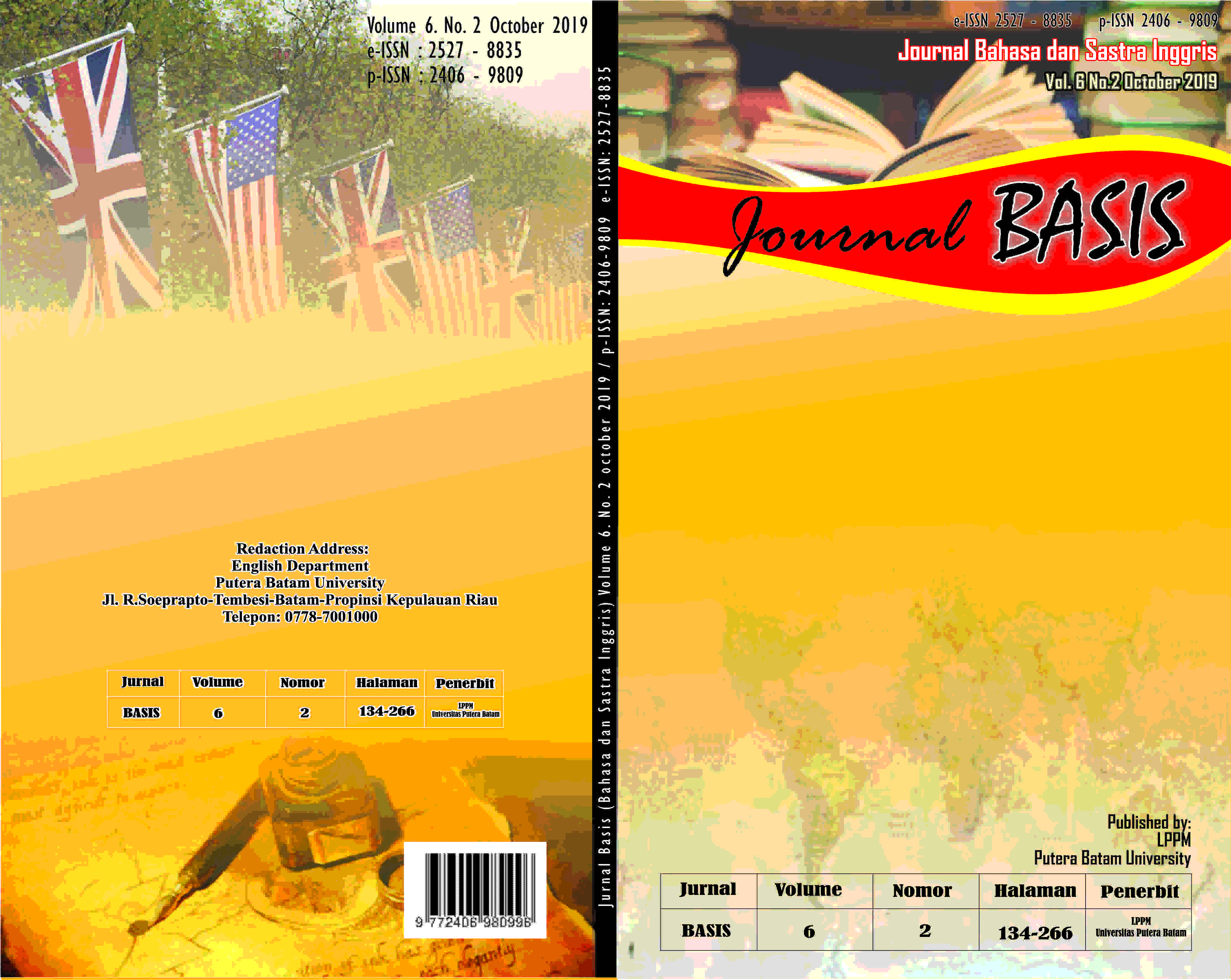 Downloads
Section
BASIS VOLUME 6 NO 2 OKTOBER 2019
License