THE TYPES OF POLITENESS STRATEGY IN "17 AGAIN" MOVIE SCRIPT: PRAGMATIC APPROACH
Keywords:
17 Again, politeness strategy, pragmatics
Abstract
Politeness strategy is a language phenomenon that is based on the form and purpose of each. Strategy is needed to deliver communication with meaning and purpose to be conveyed and interpreted properly. This study aimed to identify and analyze the politeness strategy used in the "17 Again" movie script. This study used a qualitative descriptive approach in research. The movie script of "17 Again" is used as a data source in this research. This research used Brown and Levinson theory about the types of politeness strategies. The results of the study found that there were 15 data politeness strategies found in the movie script, which were divided into: positive politeness (4), negative politeness (2), bald-on record (6), and off record (3). This research has significances which are theoretically and practically. This research theoretically is expected to contribute about future research in pragmatics especially for the types of politeness strategy. Practically this research is expected to be a comparison and support for future researchers.
References
Azwan. (2021). The Strategies of Politeness Used by the Ambonese in Refusing Invitations. Jurnal Bahasa Dan Sastra Inggris Universitas Putera Batam, 8(1), 115–128. https://doi.org/https://doi.org/10.33884/basisupb.v8i1.3687
Biatrik, D., Natsir, M., & Kuncara, S. D. (2020). The functions of directive speech acts of Maleficent character in Maleficent movie. Jurnal Bahasa, Sastra, Seni, Dan Budaya, 4(3), 460–475.
Brown, P., & Levinson, S. (1987). Politeness. Some Universals in Language Use. Cambridge University Press.
Creswell, J. W., & Poth, C. N. (2018). Qualitative Inquiry & Research Design (4th ed.). SAGE Publications.
Damayanti, A., & Mubarak, Z. H. (2021). Positive Politeness in "Oprah's 2020 Vision Tour": How Reasons and Factors Influenced the Choosing of Strategy. Jurnal Bahasa Dan Sastra Inggris Universitas Putera Batam, 8(1), 13–22. https://doi.org/10.33884/basisupb.v8i1.2790
Filardi, J. (2007). 17 Again Movie Script. https://imsdb.com/scripts/17-Again.html
Goffman, E. (2016). On face-work: An analysis of ritual elements in social interaction. Psychiatry, 213–231. https://doi.org/10.1080/00332747.1955.11023008
Goody, E. N. (1980). Questions and politeness: Strategies in social interaction. Philosophy and Rhetoric, 13(3), 210–213.
Murliati, Y. (2013). Politeness Strategies used by George Milton in John Steinbeck's of Mice and Men. Institutional Repository: UIN Sunan Kalijaga Yogyakarta.
Pishghadam, R., & Navari, S. (2012). A study into politeness strategies and politeness markers in advertisements as persuasive tools. Mediterranean Journal of Social Sciences, 3(2). https://doi.org/10.5901/mjss.2012.v3n2.161
Steers, B. (2009). 17 Again. Warner Bross. Pictures.
Sudaryanto. (2015). Metode dan Aneka Teknik Analisis Bahasa. Sanata Dharma University Press.
Suryani, M. S. (2016). Strategi Permintaan Dalam Bahasa Minangkabau: Tinjauan dari Perspektif Jender. Jurnal Bahasa Dan Sastra Inggris Universitas Putera Batam, 3(1), 64–75. https://doi.org/https://doi.org/10.33884/basisupb.v3i1.493
Tzuyang. (2022). 구룡포 대게라면? 포항 과메기와 라면 먹방. https://www.youtube.com/watch?v=G5VVUL5tjIY&t=1s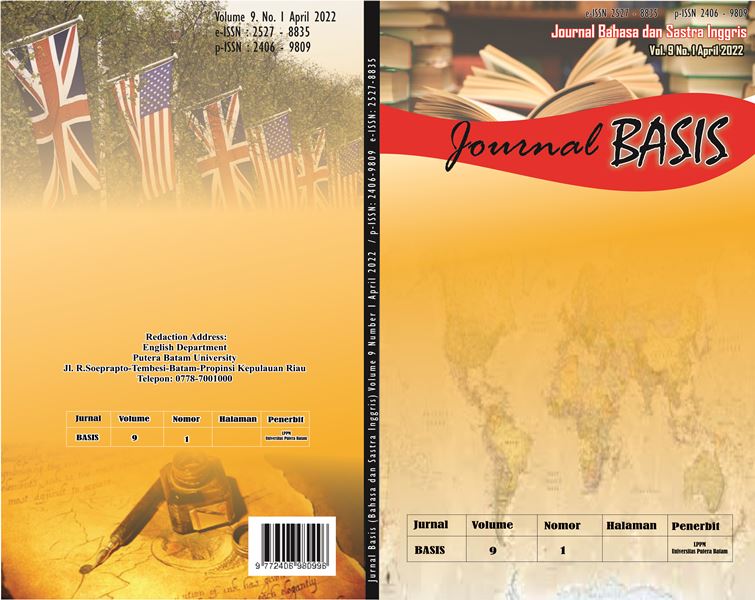 Downloads
Section
BASIS VOLUME 9 NO 1 APRIL 2022
License