THE STEREOTYPE TOWARDS WOMAN REFLECTED IN THE NOVEL "ON THE COME UP" BY ANGIE THOMAS
Keywords:
Stereotype, Feminism, Woman, On the Come Up
Abstract
Stereotypes created by society toward women still can be found around. Women could not be leaders, could not have a decent job, did not have to have high education, and their position only to please their family. In this research the researcher is discussing about stereotypes that happened towards women. By using Barbara Walter's theory, where it is portrayed how men find women should be under their position whether in work position or in general, this study is examined. The method used in this research is qualitative method, where the data taken from sentences or conversations from the novel On the Come Up by Angie Thomas. The results of this study indicate the main character is not following the stereotypes that society has created. It can be concluded that she is not the ideal type based on societal stereotypes.
References
Alya, L., Ningsih, S., & Wahyuni, D. (2015). The interpellation of misogyny by female characters in novel EILEEN by otessa moshfegh (2015). 9(3).
Arianto, T., & Ambalegin, A. (2018). Indoctrination Against Women in "The Lowland" by Jhumpa Lahiri. OKARA: Jurnal Bahasa Dan Sastra, 12(2), 153. https://doi.org/10.19105/ojbs.v12i2.1935
Arianto, T., & Simanjuntak, D. (2021). Paradoxical Representation of Female Naration in the Spirit of Mak Ungkai Story. Jurnal Basis, [S.l.], v. 6, n. 2, p. 173-184, oct. 2019. ISSN 2527-8835. Available at: http://ejournal.upbatam.ac.id/index.php/basis/article/view/1413
Desmawati, E. (2018). Analysis of Feminism in the Novel of Little Women By Louisa May Alcott. Journal of Language and Literature, 6(2), 91–96. https://doi.org/10.35760/jll.2018.v6i2.2487
Sri Minda Murni, W. B. M. A. (2017). The sexism in jane austen's pride and prejudice. Linguistica, 6(2). https://doi.org/10.24114/ling.v6i2.7586
Taylor, S., Bogdan, R., & DeVault, M. (2015). Introduction to Qualitative Research Methods (4th Editio, Vol. 3, Issue 2). John Wiley & Sons, Inc. http://repositorio.unan.edu.ni/2986/1/5624.pdf
Thomas, A. (2019). On the come up (1st Editio). Balzer + Bray.
Weitzer, R., & Kubrin, C. E. (2009). Misogyny in Rap Music. Men and Masculinities, 12(1), 3–29. https://doi.org/10.1177/1097184x08327696
Windratama, F. (2019). Woman resistance against nazi regime reflected in markus zusak's The book thief.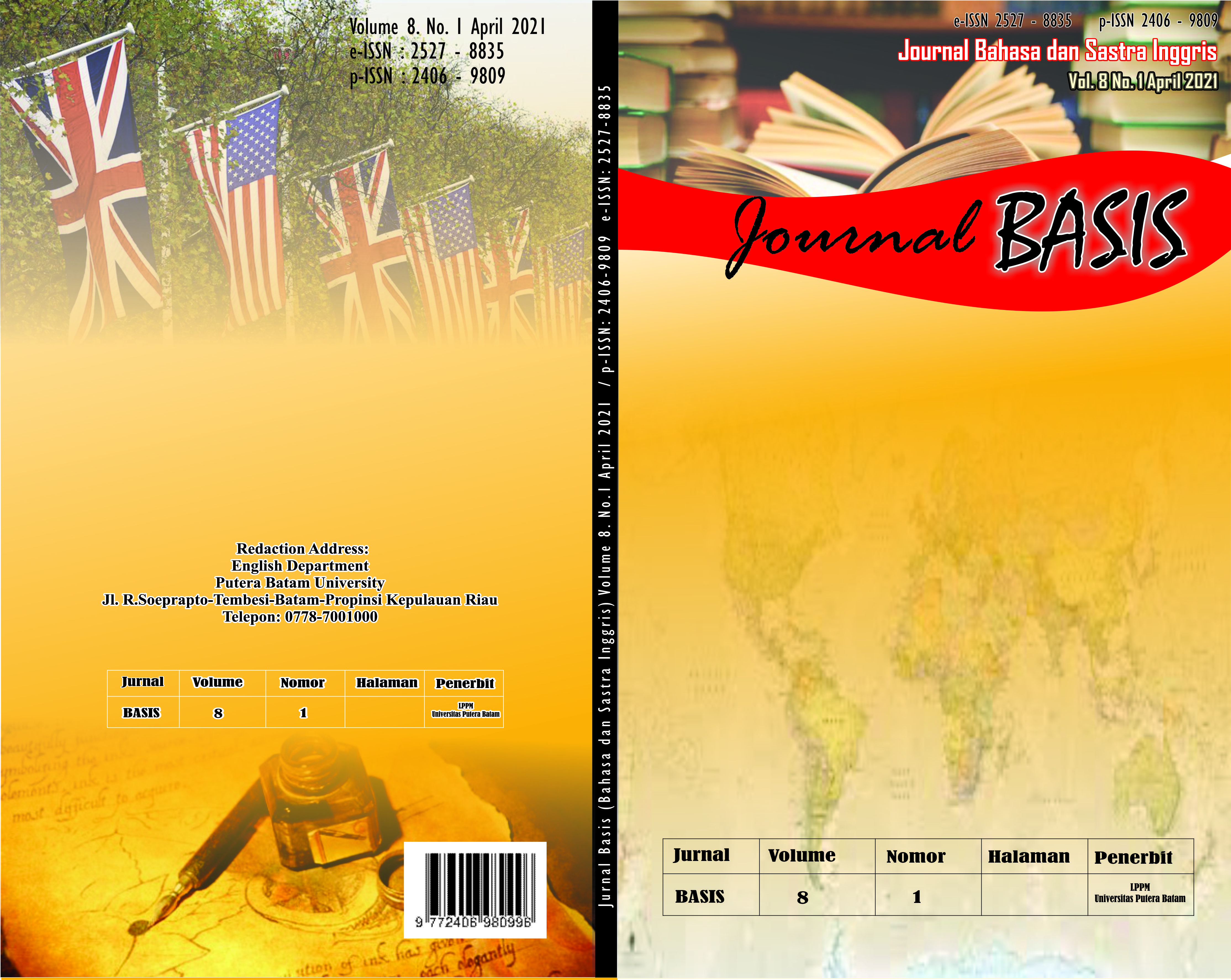 Downloads
Section
BASIS VOLUME 8 NO 2 OCTOBER 2021
License