FLOATING IDENTITY REFLECTED IN ROBERT OLEN BUTLER'S SHORT STORY "CRICKET"
Keywords:
Floating Identity, hybridity, Cricket Story
Abstract
This research is aimed to analyze the floating identity from the main character, Ted, represented in Robert Olen Butler's short story titled "Cricket". Then, using post-colonialism approach, the identity of the main character, Ted, will be analyzed in relation to the occurrence of ambivalence and mimicry in the short story "Cricket." The method used to analyze the short story is by using descriptive qualitative method. The author seeks, describes, and analyzes the data. The data is taken from the narration and dialogue of the short story which is related to the research. The theory used in this research is the post-colonial theory from the post-colonial theory expert, Homi K. Bhabha. The occurrence and phenomena of hybridity in form of ambivalence and mimicry in the short story used to determine the main character's identity reflected in the story, based on Bhabha's definition of mentioned term. The results of this study show the existence of identity crisis in which the main character, Ted, couldn't sure which identity he belongs to. Ted has a "defective" identity where he accepted Western superiority but didn't let go his Eastern roots, trapped in his own dilemma in achieving his identity.
References
Alfiah, Novtarianggi, G., & Sulanjarai, B. (2020). Hibriditas , mimikri , dan ambivalensi dalam novel kirti njunjung. JISABDA, 2(1), 28. https://doi.org/doi:10.26877/jisabda.v2i1.6220
Ashcroft, B., Griffiths, G., & Tiffin, H. (2002). Post-colonial studies: the key concepts. Choice Reviews Online, 39(06), 39-3153-39–3153. https://doi.org/10.5860/choice.39-3153
Bhabha, H. K. (1984). Of mimicry and man: The ambivalence of colonial discourse. Discipleship: A Special Issue on Psychoanalysis, 28, 125–133. https://doi.org/https://doi.org/10.2307/778467
Butler, R. O. (2015). Cricket. A Good Scent from A Strange Mountain, 320.
Furqon, S., & Busro, N. (2020). Hibriditas postkolinialisme homi k. bhabha dalam novel midnight's and children salman rushdie. JENTERA: Jurnal Kajian Sastra, 9(1), 73. https://doi.org/10.26499/jentera.v9i1.494
Spivak, G. C. (1988). Can the subaltern speak. Die Philosophin, 14(27), 42–58. https://doi.org/10.5840/philosophin200314275
Taylor, S., Bogdan, R., & DeVault, M. (2016). Introduction to qualitative research method (4th ed.). New Jersey: John Wiley & Sons, Inc.
Waworuntu, M., & Arianto, T. (2019). Hybridity of the characters in my son the fanatic. BASIS, 6(2), 197–208. https://doi.org/https://doi.org/10.33884/basisupb.v6i2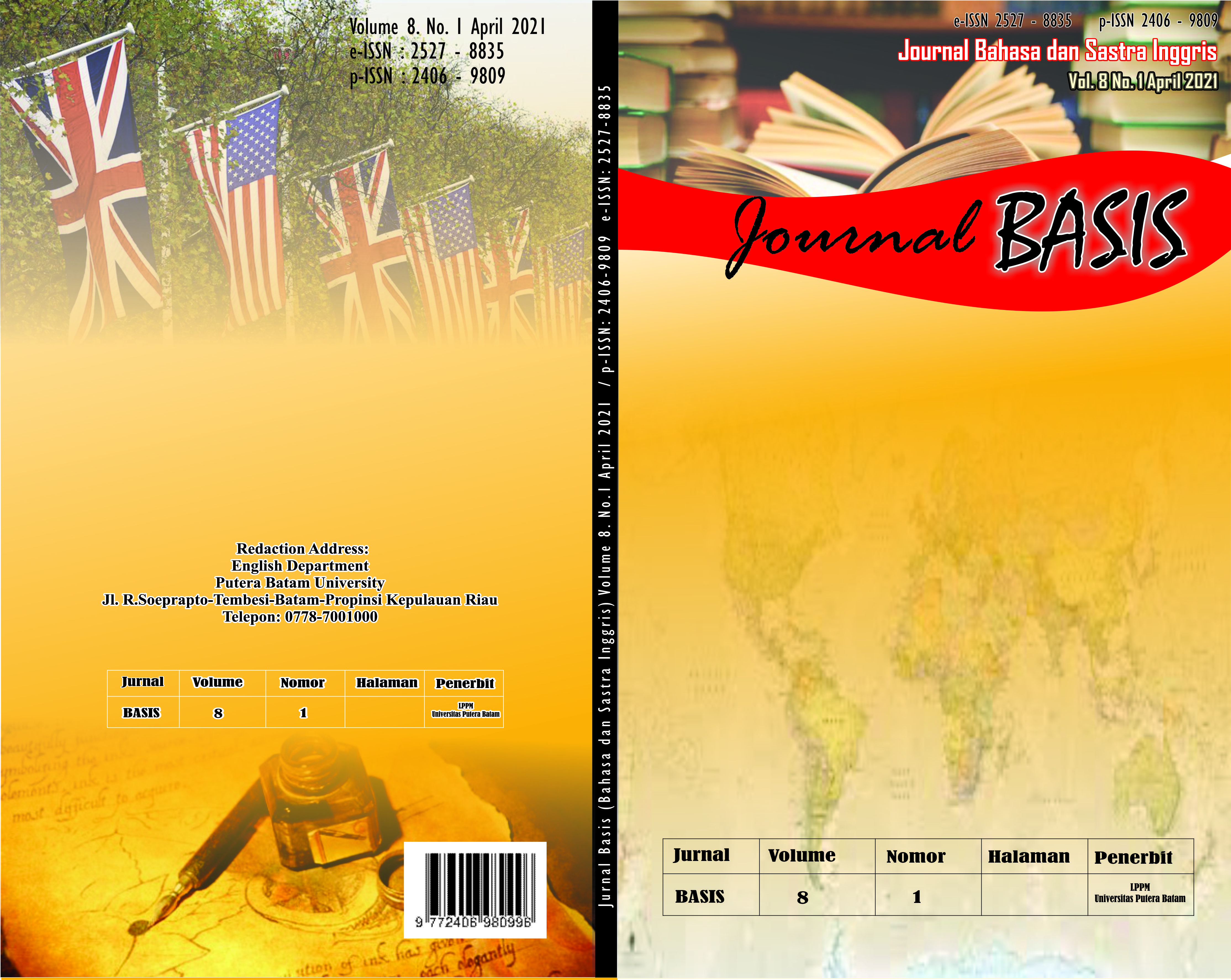 Downloads
Section
BASIS VOLUME 8 NO 2 OCTOBER 2021
License