THE ANXIETY THAT CONVEYING TRAGEDY IN OTHELLO DRAMA BY SHAKESPEARE
Keywords:
Anxiety, Safety Needs, Hierarchy of Needs, Othello Drama.
Abstract
Humans are always in touch with the needs in this life. In order to survive, one of the most important examples is the need for safety needs. The phenomenal drama Othello by Shakespeare was chosen as the main data source in this research. This research aimed to analyze the unfulfilled of safety needs in the form of anxiety and its impact on the main character in Shakespeare's drama "Othello". This drama was set in 1603 with a tragedy and was written by the world-famous playwright William Shakespeare. The story that ended in tragedy is inseparable from the anxiety used by others to overthrow power and the Othello family. With these problems, the researchers explored the anxiety factor by using Maslow's psychological theory about the hierarchy of needs, especially at the level of safety needs. This research used qualitative descriptive method because the data collection technique used is to describe the analysis through words and sentences that exist in the data source. The approach used in this research was psychological approach in a literary work. The results found from this research that there is an anxiety factor that underlie Othello's feeling that he is always threatened. Jealousy is a factor that causes anxiety in the character "Othello" which focused on household relationships. This excessive anxiety then causes impacts in the form of misunderstanding, the death of Othello's wife, and Othello's suicide.
References
Anggraeni, D., Manalu, H. F., & Anggraini, D. (2021). The esteem needs in the main character of 'me before you' movie. Studies in English Language and Education, 8(3), 1285–1298. https://doi.org/10.24815/siele.v8i3.18878
Dwi Permana, A., Tri Wedawati, M., & Dhika Arif Rizqan, M. (2021). Love and Belonging Needs in John Green's The Fault in Our Stars. Udayana Journal of Social Sciences and Humanities (UJoSSH), 5(1), 21. https://doi.org/10.24843/ujossh.2021.v05.i01.p03
Farlina, N., & Khaleda, N. (2019). The Love and Belonging Needs Character in The Girl on The Trains Novel. Buletin Al-Turas, 25(1), 113–128. https://doi.org/10.15408/bat.v25i1.10071
Freud, S. (2003). An outline of psychoanalysis. In Penguin Classic. Penguin.
Lumbantoruan, A., & Evyanto, W. (2021). Analysis Love and Belonging Needs in Novel " Persuasion " by Jane Austen : Psychological Approach. 7(2), 161–172. https://doi.org/https://doi.org/10.30812/humanitatis.v7i2.1245
Maslow, A. H. (2017). A theory of human motivation. Dancing Unicorn.
Rahmi, E., & Arianto, T. (2022). Self-manipulation as a form of desire fulfillment in "Catch Me If You Can" novel by Frank W. Abagnale Jr. EScience Humanity Journal, 2(1), 17–28. https://doi.org/10.37296/esci.v2i1.25
Ruth, G., & Satria, R. (2020). Love and Belonging Needs of Main Character in Novel "Me Before You" By Jojo Moyes. Scentia Journal, 02(02).
Shakespeare, W. (1603). Othello. http://shakespeare.mit.edu/othello/full.html
Sianipar, A. R., & Jusmaya, A. (2019). The unfulfilled love and belonging needs found by the main character in "Anna Karenina" by Leo Tolstoy: Psychological approach. Scentia Journal, 01(02).
Suadnyana, S. (2022). Diduga depresi, pria di Bangli Bali tewas gantung diri jelang menikah. Detik News. https://news.detik.com/berita/d-5997875/diduga-depresi-pria-di-bangli-bali-tewas-gantung-diri-jelang-menikah
Sugiyono. (2013). Metode penelitian kuantitatif, kualitatif dan R & D (Alfabeta (ed.); 19th ed.).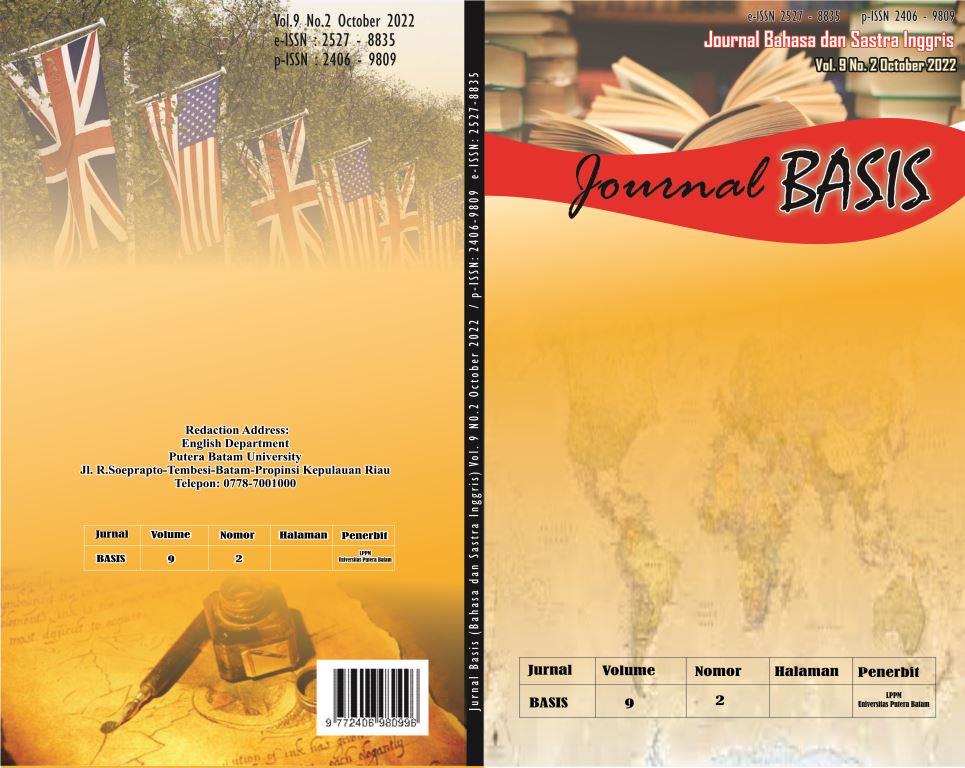 Downloads
Section
BASIS VOLUME 9 NO 2 OCTOBER 2022
License