UNIFIKASI DAN KODIFIKASI TERHADAP JUAL-BELIDALAM PERDAGANGAN INTERNASIONAL
Ukas -

Universitas Putera Batam

Lenny Husna

Universitas Putera Batam
Abstract
Dalam globalisasi, perdagangan internasional merupakan suatu kenyataan bahwa kehidupan aktivitas ekonomisetiap negara tidak dapat terpisah dari negaralain, apalagi setelah meratifikasi Uruquay Roundpada tahun 1994. Bahkan masyarakat suatu negara tertentu,mau tidak mau akan berhubungan  dengan masyarakat negara laindalam menjalankan kegiatan jual belinya. Halini menjadi semakin penting dengan adanya saling ketergantungan antara negara maupun masyarakatnya dengan negaralain ataupun masyarakat lain dalam rangka memenuhi kebutuhan hidup mereka sehari-hari.Jual beli barangatau produk internasionalhampir tidak bisa dihindari lagi oleh pelaku ekonomidalam hal transaksi barang/produk disuatu negara. Masalah dikemudian hari mengenai jual-beli internasional ini karena melibatkan berbagai unsur, antara lain adalah sistem ekonomi masing–masing negara, kebijakan ekonomi dan politiksuatu negara, dan yang paling banyak mendapatkan perhatian diantara kalangan ilmuwan juga kemungkinan adanya perbedaan budaya dan kebiasaan masing-masing dari sistem hukum yang berbeda di suatu negara tersebut.
References
Glive M. Schmitthoff, Gommercial Changing Economic, Dalam Chia Jaited Sclect International Martinus Nijhoff Publisher, 1988.
C.M. Schmitthoff, The Inification of International Trade, (International Trade Law) Najhoff Publishers, 1988.
Sudargo Gautama, Hukum Perdata Internasional, Alumni, Bandung, 1980.
John. H. Jackson, William J. Davey, Second American Book Series West Publisheng Co St. Paul, 1986.
A.F. Filly Erawati, (membandingkan) Peranan Uncitral Dalam Masalah Perdagangan Internasional, Makalah untuk Bahan Penataran Hukum Organisiaisi Internasional Fakultas Hukum Universitas Padjadjaran, Bandung, September 1993
O. Landa, The Law Applicable The Mcnts of the Dis Putes, dalam P.Sevic (ed), Graham Totrman, (membandingkan AF.Elly Erawanty), 1989
The modern Law International Tarde " International Legoislation dan " International Commercial Custom.
Program Kerjasama Proyek Elips & Fakultas Hukum Universitas Indonesia, Seri Dasar Hukum Ekonomi tentang Jual Barang Secara Internasional, Elips, 1998.
Elsi Kartika Sari, Advedi Simangungsong, Hukum Dalam Ekonomi, Penerbit PT. Gramedia Widiasarana Indonesia, Jakarta, 2007
H.S.Kartodjoemena, GATT WTO dan Hasil Uruquay Round, Penerbit UI-Press, Jakarta, 1997
Moch Faisal, Pertumbuhan Hukum Bisnis Indonesia, Penerbit Pustka, Bandung, 2001.
Soerjono Soekanto, Pengantar Penelitian Hukum, Penerbit UI-Press, Jakarta, 2010.
The United Nations Commission on International Trade Law (UNCITRAL)
The International Institute for the Unification of Private Law (UNIDROIR-Roma)
Undang-Undang Nomor 7 Tahun 2014 tentang Perdagangan
Undang-Undang Nomor 7 Tahun 1994 ttg Pengesahan Agreement Establishing…
Kitab Undang Hukum Perdata (BW)
dan beberapa peraturan lainnya yang terkait.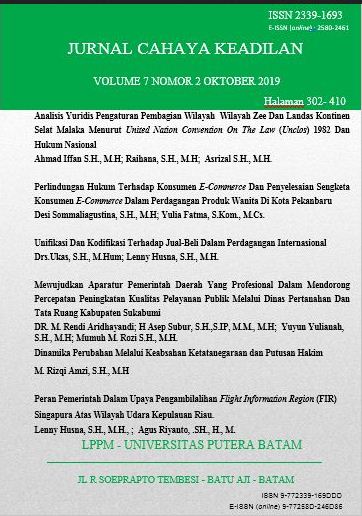 As long as this article is in the process of submission, editor, reviewer, copyright and has not been rejected, then this article is still owned by the Law Study Program of Putera University, so the authors are prohibited from publishing this article in other journals. If the writing from the author has been rejected or has been archived then the author is given the opportunity to publish to other journals.